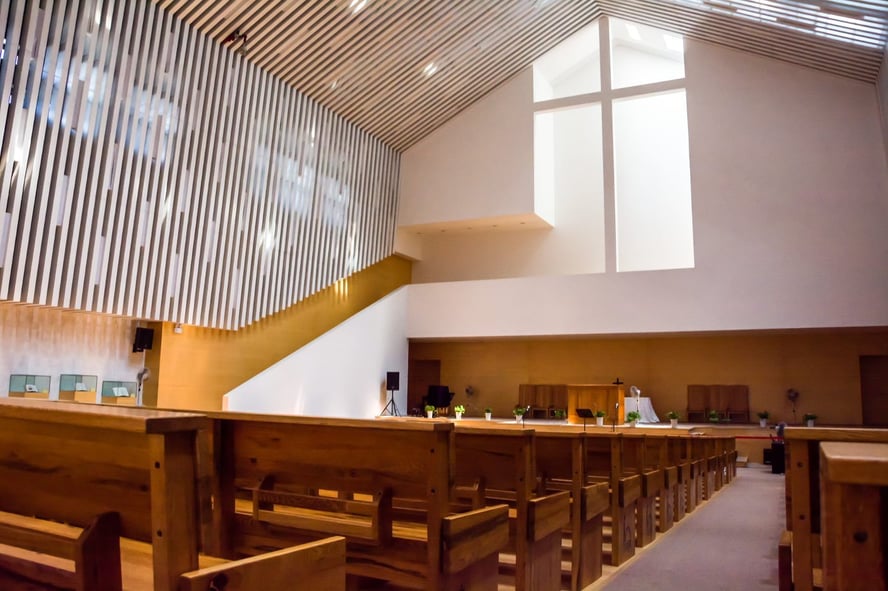 If your church needs a new building, then you will also need a church building fund to pay for it. Your church building is a vital part of your church ministry and community. To ensure your church is safe, comfortable and meets the needs of your members, look to your congregation and the wider community to help you build or maintain your church for current and future generations.
Funding church building projects and many other priorities make fundraising an important activity for churches. To help you learn how to raise money for a church building fund, this article explains why having a formal fundraising plan is best and provides helpful advice on getting your campaigns off the ground. We'll also provide a list of the top church building fundraisers used by ministries across the globe to fund the churches of their dreams.
Table of Contents
Why You Need a Church Building Campaign
A church building campaign can be one of the trickiest fundraisers to plan. The stakes are higher because the outcome could literally change your church. Plenty of people are bursting with creative church building project fundraising ideas, but they often aren't sure how to bring everything together to form a comprehensive campaign.
That's why we're firm advocates for making formal fundraising campaign plans for any big initiative a church wants to take on.

How to Raise Money for a Church Building Fund
For a project of this size, a formal fundraising plan for a church building project is the right way to go. Before you jump into specific church building campaign ideas, it's important to have a solid foundation in place.
Regardless of the individual events you're planning — such as an old-fashioned bake sale or a fun new virtual event to raise money — first, do some planning to ensure your larger campaign goes off without a hitch.

Work Toward a Timeline
Do you need to have your new building built by a certain time? Are you trying to follow a strict timetable for raising money so you can source building companies and contractors?
A fundraising campaign should be built around concrete project dates so you can tell your congregation you have a specific end-date in mind.
Adding a timetable can also motivate your congregation to give more because they'll understand the immediacy of your fundraiser and might be more willing to contribute.
Generate Excitement
It's rare for a building fund to be the only thing a church is raising money for. There are still plenty of donations needed for missionaries, local charities and even members of the congregation.
People may be enthusiastic about the possibility of having a new building, but the true need for it can get lost in the shuffle of everything else you're doing. That's why putting together a separate church building fund campaign can be so effective.
When you have a dedicated fundraising campaign, you aren't just raising money for one of many causes or goals. You're getting people excited and passionate about your new building.
Announcing you're having a church fundraiser specifically aimed at fundraising for the church building project lets people know the new building is very important. They'll start focusing on all the great things that could come from meeting your financial goals and that excitement can easily lead to more donations.
Formalize Your Goals
Perhaps expansion has been a goal for your church for a while, but there was never any formal movement or plans around it. It has always been seen as a "someday" kind of aspiration, but now you need to start making things happen.
Setting up a fundraiser for your church building fund doesn't just give your congregation goals, it also gives your internal team something to work toward.
Your trustees can spend time carefully creating a budget for your new building. Church volunteers can start planning fundraising activities and marketing collateral. Overall, everyone gets a much clearer idea of what they need to do to succeed.
Define Your Community
We think of crowdfunding as a modern idea, but it's been around since biblical times.
When Nehemiah undertook the task of rebuilding the wall of Jerusalem, he knew he couldn't accomplish it alone. That's why he mobilized the whole Jerusalem community, knowing that together, they could accomplish the unimaginable.
The first step in crowdfunding is figuring out what crowd you're talking to. Who are you inviting to contribute to your mission — your immediate church community, your whole city, or even the whole world?
Once you identify your crowdfunding crowd, you can begin working on your strategy, including a projected timeline, fundraising events and communication.
Go Outside of Your Congregation
Members of your church are the first people you'll want to reach out to about your fundraiser, but they aren't the only people that can help. If you truly want your church building fundraising to be successful, it's time to start reaching out to other people in your community.
There are plenty of other churches and faith-based organizations that would be happy to help you raise money for a new building. Reach out to some you have ties with to see if they're willing to spread the word about your latest fundraiser. There may even be some sites or e-newsletters where you can advertise your church for a small fee.
The local media can also be helpful when you're fundraising for a church building project. Reach out to local reporters and news stations about the work you're doing. A blurb in the local paper or even a story on the nightly news can help motivate people to donate.
Get Donors' Attention
The most important secret to crowdfunding success is making your fundraiser memorable. In a world overwhelmed with ads and pop-ups, your crowdfunding concept needs to be catchy and clickable.
In the area of church building fundraising, get inspired by scriptures and faith-based ideas, like:
"Build up the walls of Jerusalem" (Psalm 51:18)

"A day for building" (Micah 7:11)

"The cornerstone" (Psalm 118:22, Matthew 21:42)
With the abundance of references to building, you'll find one that suits your project. Adapt it into a catchy name like "The Cornerstone Project" or use the scripture verse as a tagline to anchor your fundraising.
Use this theme to keep your messaging consistent so it sticks in your donors' minds.
Identify Your Allies
A fundraiser is going to take a lot of time and effort to put together. You'll need people who can help spread the word about your church building fund campaign and volunteers to help with events and initiatives. Before you start thinking about what you want to do for your fundraiser, spend a little time thinking about who can help you along the way.
Putting out a few general calls for volunteers can be helpful, but to find the right people for the job, you need to be more proactive. Take time to think about specific skills and talents congregation members have that you can use.
A member of your deacon board may work in marketing and might be the best person to help promote your event. Parents that like to volunteer at school events could help at your fundraising event. If you know someone that has a skill you can use, don't be afraid to reach out to them to ask them for help.
Set Goal Tiers
Your trustee board determined the amount you need to raise for the church building fund, but that doesn't mean it's time to stop thinking about money.
What if you don't just meet your financial goals? What if you exceed them? What would you do with the extra money?
It's important to think about different tiers for your fundraising work before starting your campaign. This can give people more insight into how your church handles money. It can also help motivate people to give a little more if they understand the impact if they meet certain goals.
Let people know that if you exceed your fundraising goal, you could add more great features to your building. An extra thousand dollars could give you a keyless entry system or could allow you to add an extra room.
Having a backup plan in case you don't meet your goals is helpful too. Let the congregation know that if you're 20% short, you'll put 60% toward your building goal, donate 20% to a charity the church supports and plan another fundraiser to make up the difference.
Show the Benefits
Your congregation knows that your church wants to put up a new building, but do they know why?
If people don't understand how having a new building could benefit them, they may not feel motivated to give. Take time to lay out why your church needs a new building and clearly outline how they can benefit from it.
A new building may mean you can add new members or branch out into different ministries like outreach to the elderly or the homeless. A bigger sanctuary could make attending services more comfortable for everyone. Some churches even use their new spaces as rental halls.
Remember to weave those benefits into any messaging you're putting out around your church building fund campaigns. When you keep benefits top of mind, people might be more willing to give.
Find Your Leaders
You might get an outpouring of volunteers when you first start looking for them. It's great to have a lot of help from different people, but you want to be sure everyone has clearly defined roles as soon as they start.
Too many churches fall into the trap of not having a designated leader for fundraising events. They want everyone to have the chance to help out, but not having a formal leader can create a lack of direction and make it harder to get things done.
It's okay to have a committee help put things together, but someone on it should be the key decision-maker. Tell different teams to feel free to pick a representative that can report to you or the trustee board or pick someone on your own.
Invite, Don't Sell
The number one barrier to church building fundraising is discomfort with asking others for money. After all, most pastors and ministers have a heart for people, not dollars. Asking for donations can feel salesy and inauthentic.
Turning to scripture, we see that the earliest disciples relied on the goodwill of others to cover their financial costs. A few wealthy Roman converts supplied the funds that apostles like Peter and Paul couldn't earn while they were devoting all their time to the Gospel.
Don't be afraid to invite others to contribute to your mission. Not everyone can travel to Africa to lay the bricks of your new church or donate their Saturday morning to painting the walls of your new worship space. But those who can't build the church with their hands may be able to build it with their funds, so why not extend this wonderful opportunity?
Design your church building fund outreach approach around an attitude of invitation. You'll be amazed at the enthusiastic response.
Communicate Early and Often
Picture it. You've made your Sunday morning pitch, given a moving appeal and invited donors to contribute. You're sure your church building fund campaign is off to a booming start. Then you check your online crowdfunding platform and...
no progress.
Does that mean your church community doesn't care about your amazing new project?
No! It means that hearing something once isn't enough. Marketers have concluded that we need to hear a message between six and 20 times before we are willing to take action in response.
What does that mean for your fundraising strategy? How to raise money for a church building fund in this situation?
It this case, repetition is a priority. Your crowd will need to hear the message many times before it sinks in, and even more times before they feel motivated to give.

Communicate on All Fronts
Churches have more communication options than ever in 2023. Instead of trying to pick one platform for your campaign, think about the best way to use them all.
There's power in a well-written fundraising letter. There may be a lot of digital communication platforms you can use for fundraising, but nothing beats a thoughtful and persuasive letter.
Letters can appeal to some of the older members of your congregation who may not be very tech-savvy. They also allow you to easily reach out to members of the community that you may not have established relationships with.
Other church building campaign ideas can include email, which is an effective way to keep people informed about fundraising progress. Or, you can create a special section in your weekly or monthly email newsletter. In fact, you can create an entirely separate church building fund campaign newsletter as well.
Don't forget to use social media for timely reminders about church building fundraising goals. Someone could see you pop up on their newsfeed then feel compelled to give. Think about creating branded images or even videos to help promote your fundraiser.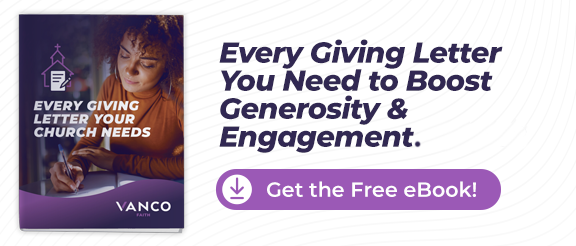 Make Giving Easy
Most churches are used to collecting donations and offerings through cash and checks. There's nothing wrong with traditional giving efforts. However, if you want your fundraiser to have the most impact, you should branch out and offer different payment methods.
A lot of people don't carry cash or checks anymore, but they do have debit and credit cards. Set up a way to receive card payments to make it easier for people to give.
There's also a lot to be said for digital payment methods. Members appreciate being able to pay digitally.

Lean Into Recurring Giving
Church giving is more effective when it's automatic. Your online giving provider should offer a recurring gifts service because it makes a huge difference in the funds you raise. Here are just a few of the reasons recurring giving works for church building funds and general giving.
Predictable Revenue:

Unlike one-time donations, recurring gifts provide the church with a steady and predictable stream of income. This consistent cash flow simplifies budgeting and ensures that the necessary funds are always available to push the project forward, one step at a time.
Strengthened Community Bonds:

When congregants commit to recurring giving, they are not just making financial pledges; they are expressing their continuous faith and commitment to the church's vision. This creates a sense of collective ownership and strengthens the bond of the community.

Easier for Donors:

Let's face it, we all lead busy lives. By allowing members to set up automatic recurring donations, they can contribute consistently without the need to remember to do so every month or week. This ensures their desire to support the church doesn't get overshadowed by daily tasks.

Long-term Support:

Building a church doesn't end when the construction is complete. Continuous upkeep, renovations, and potential expansions are always on the horizon. With recurring donations, your church building fundraising continues beyond the established base of support for your initial project.
By leaning into recurring giving, churches can not only ensure their church building funds are full, but foster a culture of generosity, faith and long-term vision within their communities.
Give Feedback
Donors want to know they're more than just numbers. They want to feel like a valued part of the process.
Keep them engaged with regular updates. If you can, talk about your building project milestones on Sunday mornings. Reach online donors with email updates about how the project is moving ahead.
Most importantly, show images. Take pictures of the building site and the people who are looking forward to using it.
Don't forget to share other personal touches when you can. For instance, interview the people who will use the new church and share their grateful comments throughout your campaign.
Finally, don't forget to formally thank each donor for their contribution. The best method is a phone call or a message from the pastor. However, a good thank-you note will do the trick as well. If you're looking for tips and templates for creating thank-you notes, read our free Church Thank-You Note Guide to get started
These personal touches will reinforce that your members are crucial contributors to this wonderful work.

Plan for the Future
One of the biggest church building fundraising mistakes a church can make is to assume it's a one-and-done deal. They put all of their time and energy into one effort, then feel discouraged if it doesn't meet all their goals.
Fundraising can be a lengthy process. Something as costly as an entirely new building or addition to a church may require several fundraisers over a period of time.
Today's bake sale may not bring in what you were hoping for, but a charity auction a few months in the future could help you close the gap. Focus on the work you're doing today, but keep yourself and your congregation open to new church building campaign ideas in the future.
The Secret Sauce: 29 Fundraisers Elevating Church Building Funds Everywhere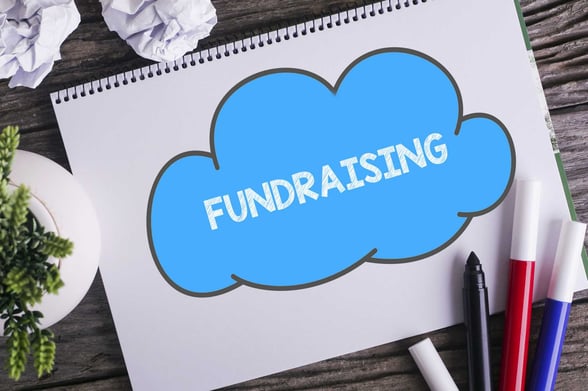 At this point, you're probably wondering how to raise money for a church building fund. Choosing the right fundraising ideas isn't easy. There is no perfect set of ideas that work for all church building funds. That's why it's important to tap into a diverse set of church building campaign ideas to choose from.
To help you get started with your church building fundraising, our team identified the most effective fundraisers you can use to get your new facility shovel-ready in no time. However, it's important to keep in mind that no church fundraiser will work for every church. It's important to consider all your options. We've built an expansive list of church fundraiser ideas to help you find the perfect options for your ministry.
Ever found yourself overwhelmed by brainstorming while trying to figure out the best fundraising methods for your church? Sometimes, the best ideas might seem elusive. That's exactly why we decided to do something about it.
With a blend of dedication, expertise and passion, our team did the legwork and discovered 29 golden church building campaign ideas that are making waves in church building fundraising today. These aren't just any ideas; they are the ones that resonate, connect and deliver.
Keep reading to answer the key question: How to raise money for a church building fund?
1. Host a Silent Auction
Cost: $

Difficulty: Moderate
Consider a silent auction to raise money for your church building fund. To host a silent auction, collect donated items from congregation members and have an event where you dedicate all the funds to the church building fundraising campaign.
Silent auctions are the perfect opportunity to raise funds and unite the community to fight for a common cause. Once the silent auction concludes, the bidder with the highest bid on a specific item or experience wins. These auctions are so effective because they add fun to the experience, encouraging higher engagement from the community.
2. Spaghetti Dinner
Cost: $$

Difficulty: Moderate
Who doesn't love a celebration with some food? Spaghetti dinners are classic fundraising events where you and your community can share food and spread love. During spaghetti dinners, participants pay for a plate of food and other offerings, depending on the congregation. When you bring together a tight-knit community of people and some good food, there's no doubt that your church building fundraising efforts will succeed.
3. Rummage Sale
Cost: $

Difficulty: Moderate
A rummage sale is a fun and relatively inexpensive way to raise money for your church building fund. To host a successful rummage sale, invite your community to donate gently used items they no longer need and set up a sale on your church grounds. Set times when the community can come together to browse your offerings. This type of fundraising event is often successful because it benefits your church's fundraising efforts and the individuals donating by encouraging them to free up additional space in their homes and reduce waste.
4. Ice Cream Social
Hosting an ice cream social is an incredibly simple and cost-effective way to fund church-building efforts. Ice cream socials bring together community members and create a fun environment where everyone can find something they like. This popular fundraising method is perfect and easy — just make sure you have enough variety in ice cream and toppings and the right supplies to make it a success!
5. Benefit Concert
Cost: $$$

Difficulty: Hard
If you're up for a challenge and want to go all out with your fundraising event, consider hosting a benefit concert. This option requires organizing a community event, typically at a larger venue, and hiring local performers for an exciting show lineup.
Through ticket sales and optional donations, there's a big chance you can raise significant funds with a benefit concert if you organize and plan it correctly. Consider having vendors at the concert to earn more through food and drink sales and offering additional items like shirts and merchandise for people who want memorabilia. With many options to earn, a benefit concert goes far beyond money from ticket sales alone.
6. Trivia Night
As long as you have people dedicated to picking out the best trivia questions possible, trivia night is a relatively inexpensive and easy church building fundraising event that your community will love. Participants pay an entry fee for a fun night of trivia and camaraderie and extra for any snacks and drinks you offer at the event.
This fundraising effort is unique because it can be held more frequently than many other fundraising methods. Consider hosting these events monthly for your community to bring people together and have a consistent funding stream to rely on to fund your new church building.
7. Walk-a-thon
Cost: $

Difficulty: Moderate
Walk-a-thons are the perfect way to bring your community together for two common efforts: one, to raise funds for your church and two, to get up and get active! These events are best held in the spring because of the ideal weather. This community fundraiser requires participants to raise funds for their donation efforts by collecting pledges or donations from others in the community. Individuals pledge money for participants to walk a set course and length during the event.
For a successful church walk-a-thon fundraiser, you need participants from your church who know people interested in donating to your cause. Ensure the route you choose for the walk-a-thon is safe, well-thought-out and easy to follow. Also, promote the event in advance to get as many people involved as possible — more participants means more pledges and donations!
Additionally, remember to have food and water readily available for participants to ensure everyone stays in optimal condition. Have a prize for the person who raises the most money during the walk-a-thon to entice people to participate in the event.
8. Movie Night
Cost: $-$$

Difficulty: Easy
What's more fun than a movie and some tasty snacks? Hosting a community movie night event is an excellent and fun idea to raise money for your church building fund. Movie nights are fun for the whole family and you can earn money by charging for tickets. To keep costs low, you can host the event on your church lawn or inside your venue, depending on the size and location. Encourage participants to bring lawn chairs, pillows and fuzzy blankets to create a warm and comfortable environment.
If you're willing to pay extra, you can go the extra mile and host your movie night event at a local movie theater in an empty showing room you rent out. Pick a flick that the whole family can enjoy to keep people engaged throughout the event and excited for more movie nights in the future!
9. Bake Sale
Cost: $

Difficulty: Moderate
Any event combining good food and good company is a success and bake sales are no different. While these events take some extra time to organize, they're incredibly affordable and cost-effective, making them a viable church building fundraising option to get your campaign up and running.
Ensure that you have various items for sale so people with all different tastes and preferences can purchase something. When profits go to a good cause and they're already something the person loves, you're more likely to get donations.
Always have enough options to suit dietary needs, for instance, have gluten-free, vegetarian and vegan options to make the most of your event. Recruit enough volunteers and prepare a sufficient menu to make the bake sale possible. Remember to advertise the event to get your community involved and excited!
10. Carnival/Fair
Cost: $$$

Difficulty: Hard
While it might not be the most budget-friendly option on our list, there's no doubt that a carnival or fair is a fun — and usually successful — fundraising event. Everyone loves a classic church fair, so why not transform your lot into a flourishing carnival for a weekend?
By charging for games, rides, food, drinks and tickets, there's no shortage of ways to profit from this event. Get as many community volunteers as possible dedicated to this cause to make the most of the experience and save money where possible.
11. Car Wash
Have a couple of volunteers you know want to help in whatever way possible? Consider hosting a community car wash to raise money for your church building fund. All you need to do is gather a few people, advertise the event and prepare your church parking lot for a successful time!
Invite community members to get their vehicles cleaned. Charge per vehicle and ensure that everyone knows where the funds are going, to encourage more people to join the event and support the church.
12. Talent Show
Cost: $

Difficulty: Moderate
Why not get everyone involved in showing off their hidden talents? A community talent show is an amazing opportunity to engage people with your church building fundraising efforts and bring people together to learn more about others in the community.
Charge an admission fee and have options for snack and beverage purchases to make your talent show profitable. You can host the show from your church venue to keep costs low. This option is highly cost-effective but requires careful planning to ensure you have enough performers and a big enough audience to make the event successful. Advertise with flyers and social media to guarantee that people know about your event.
13. Online Crowdfunding
One of the most common ways to raise money today is to use online crowdfunding platforms to raise awareness of your cause. Platforms like GoFundMe, Kickstarter and Indiegogo are perfect ways to collect donations and expand your audience. When you raise funds for a good cause, people from all over are inspired to contribute, making online crowdfunding one of your best options to reach an audience outside your immediate community.
Encourage your community to make donations and share your online crowdfunding campaign on their social media pages to broaden your reach and achieve your fundraising goals and promote the campaign on your church's existing social media pages to get the process started!
14. Art Show
Cost: $

Difficulty: Moderate
How to raise money for a church building fund? By discovering the vibrant, unique individuals in your community who are gifted in ways you might not have known. Celebrate their talents by hosting a community art show to raise money for your church building fund and support your congregation.
Charge an entry fee for people who want to see the flourishing talent in your community and sell the pieces to community members. The artists can profit and donate a portion of their earnings to your church's fundraising efforts. It's the perfect opportunity to show your community members that they matter and are valued and respected as individuals with special talents, not only as church members.
15. Farmer's Market
Cost: $$

Difficulty: Moderate
Hosting a farmer's market is a fun, innovative way to raise funds for your church. Have local community members and farmers come together to sell their fresh produce and goods on your church grounds, charging an entry fee. Farmers can earn money by selling their goods, and a portion of their sales go toward your church building fund.
To make the most of this event, consider hiring local talent or having additional booths at the market with games and other activities. This option will make the farmer's market fun for the whole family, providing community members with the nutrition they need and fostering a sense of community.
16. Professional Photography Sessions
Cost: $$

Difficulty: Moderate
While you'll have to put in an initial investment to hire a professional photographer for this event, a photography fundraiser remains an excellent option to raise funds for your church. Family portraits make beautiful memories, and this event brings families across your community together for a memorable and heartwarming experience.
Charge a fee for each family getting a picture taken and a separate fee for people who want individual portraits. If you advertise the event properly, you'll find plenty of people in your community interested in the idea.
17. Cooking Classes
Cost: $$

Difficulty: Moderate
This church building fundraising option requires some advance preparation; however, cooking classes can be an amazing way to get your community involved and dedicated to your cause. Hire a chef or get help from a talented cook in your community to lead the class. You can charge an admission fee for this event and host a few separate class sessions to ensure everyone interested can take the lesson.
18. Seasonal Events
Cost: $-$$

Difficulty: Easy-Moderate
Seasonal fundraisers are an excellent way to earn extra funds for your church at different times of the year. From selling Christmas trees and holiday items in the winter to having farmers sell pumpkins in the fall, there's no shortage of options for selling seasonal items for year-round fundraising efforts.
Depending on the season and associated holidays, you'll spend varying amounts on seasonal fundraisers. However, if you plan correctly, these events can be incredibly affordable and easily put together.
19. Karaoke Night
Cost: $$

Difficulty: Moderate
The biggest challenge with this fundraiser is getting the right sound system and professional talent to ensure the night is a success. However, if you take time to plan your event, a karaoke night fundraiser can be the perfect way to raise money to support your church building fund.
Organize a fun-filled karaoke event and invite people from all over the community to participate. Charge an entrance fee for each participant and have options for food and beverages to increase profits from the event. You can incentivize community members to participate by offering prizes for the best performers.
20. Holiday Gift Wrapping
When the holiday season rolls around, you'll find plenty of people looking for help wrapping all their presents. Gather a few volunteers and offer gift-wrapping services during Christmas to make life easier for you and your community members. Charge a basic fee for people to have their wrapping done based on how many presents they need wrapped and in what time frame.
This fundraiser is the perfect chance to encourage your community to come together for the holidays while moving toward your goal of funding church-building efforts.
21. 50/50 Raffle
Cost: $

Difficulty: Moderate
A 50/50 raffle is fun and engaging to get people involved in your church building fundraising efforts. For a 50/50 raffle, simply sell tickets to a drawing. Both church members and community members can get involved and purchase tickets for the raffle. Whoever owns the ticket you draw at the end of the raffle receives part of the money raised during the event, while the rest of the funds are donated to your church building fund.
This is an incredibly cost-effective way to raise money for your church, but it will require sufficient planning and promotion to be successful. Ensure that as many people as possible know about the raffle to sell plenty of tickets and raise enough money for your church.
22. Parents Night Out
As long as you have volunteers ready to help, you can fundraise through a "parents night out" event. This event involves your church offering childcare services for a night, so parents in the congregation can get together and enjoy an adult, child-free night on the town. The money spent on childcare services will directly fund your church's ongoing projects, benefiting everyone involved.
23. Community BBQ
Cost: $$

Difficulty: Moderate
Have BBQ professionals in your community? No matter where you're from, you'll probably be able to find an experienced barbecue lover locally, which is the first step to an incredibly successful community BBQ event. Have a few people ready at the grill and invite the community to a night of fun and celebration. You can charge for entry and tickets to the event and consider including some additional booths for family-friendly games and activities to increase funds from the event. It's a fun, delicious and relatively simple method of fundraising for a church building project.
24. Commemorative Brick Fundraiser
Cost: $$$

Difficulty: Hard
This fundraiser takes time, effort and money, but a commemorative brick fundraiser might be right up your alley if you're looking for something that stands out and gets people excited. If you're raising funds to build a new church or make significant alterations to your current property, you can hold a brick fundraiser, where community members pay to have their names engraved in bricks that will go on or around the new building. The engravings can be family names, individual names or tributes to people who have passed.
A brick fundraiser is a beautiful way to celebrate your community and remember the people that make your church building fund project possible. Each brick should cost at least a couple hundred dollars to ensure that your fundraising efforts are effective and profitable, as the engraving process will likely be expensive.
25. Pet Pageant
Cost: $

Difficulty: Moderate
Why not celebrate the beloved pets in your community by hosting a pet pageant as your church fundraiser? This church building campaign idea is a fun and exciting way to let your community members show off every member of their family in a tradition that everyone loves. Gather church members and families together to parade their pets, charging for entry to the competition and tickets to the show.
Ensure that you have enough participants to make the show memorable and exciting and offer guests additional ways to donate, such as purchasing from food and beverage vendors during the pageant.
26. Book Sale
A used book sale is an excellent way to raise money for your fundraising for church building project efforts. Encourage your community members to get involved by donating books they no longer need and display them on your lot over a couple of days to ensure everyone finds a book for their preferences.
This fundraising opportunity isn't only an excellent way to raise for your church — it encourages healthy habit-building. It lets families eliminate unnecessary clutter, making it a useful opportunity for everyone involved.
27. Sponsorship Opportunities
Cost: $

Difficulty: Moderate
They might not always be easy, but there's great potential in sponsorship opportunities. Finding sponsors to fund your church building fundraising efforts is an incredibly popular way to earn sufficient funds for your church building fund. Ensure that you find sponsors that align with your and your church's values and consider offering incentives for sponsors, such as naming sections of your new church building after the donors that supported the project.
28. Sports Tournament
Cost: $$$

Difficulty: Moderate-Hard
Depending on the scale of this fundraising effort and the size of your community, the difficulty of hosting a sports tournament will vary. However, sports tournaments are incredibly fun and engaging, making them an excellent opportunity to raise funds for your church.
Choose different sports and unite local players and teams to compete for a greater cause. Have teams and participants pay an entry fee to enter the tournament and charge spectators ticket fees. Sell food and beverages to make the event even more profitable. Also, consider venue costs, as you will likely need to host this event off your premises. If you're not opposed to a little extra planning, a sports tournament can be the perfect fundraising opportunity for your church.
29. Family Fun Day
Cost: $$

Difficulty: Moderate
Bringing families together for a fun day is the perfect way to raise money for your church and remind everyone that your community is your backbone. A family fun day can consist of different games, activities and entertainment to keep the fun going all day.
Provide people with food and beverages and charge an initial entry fee to the event. When families know their participation funds a greater cause for their congregation, they'll have no problem donating.
From Empty Plates to Overflowing Blessings: A Church Leader's Guide to Boosting Revenue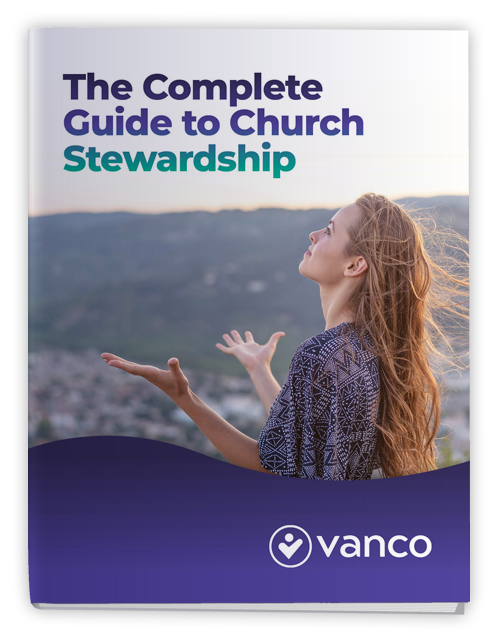 Attention church leaders! Do you cringe when it's time to talk money? You're not alone. But what if we told you there was a guide — a treasure map, if you will — that breaks down the art of financial stewardship into bite-sized pieces? Introducing an eBook that will revolutionize your church's finances:
Learn 8 rules so powerful they could fill the collection plate to the brim.

Discover 11 hidden treasure troves of revenue most churches are completely blind to.

Get a 17-step master plan to making stewardship as natural as Sunday worship.
Unlock Unprecedented Growth in Church Donations
and
Fundraising!
A Revolutionary Blueprint for Church Prosperity!
Behold the tools that have empowered 25,000 churches to elevate their financial game:
Ready to witness the transformation? Dive into our short demo video and explore the zenith of church fundraising technology!