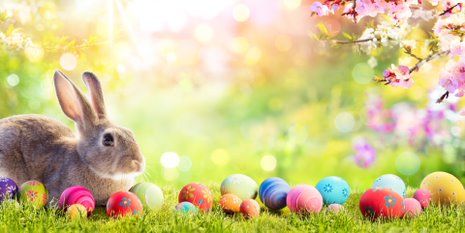 He is Risen!
For Christians, Easter is one of the most important holidays of the year. After all, loving Christ and celebrating His birth is one thing, but without Easter, there wouldn't be much to celebrate.
Easter is also a great time for spring fundraising. Spring fundraiser ideas for the church provide an opportunity to unite around a common cause, whether it's the needs of the church or fundraising for other missions or charitable needs.
Here are 15 Easter fundraising ideas to help your members and supporters keep honoring God with their gifts.
Hold a Garage or Yard Sale
Spring cleaning always leads to getting rid of things we no longer need. Sometimes we even find things we've forgotten about like knickknacks, new or lightly used clothing, sports gear and dozens of other things.
Since Easter is a major spring holiday, why not have a churchwide garage or yard sale? If a member of your congregation has a large lawn or garage, you can ask them to host, then the congregation can pool its resources and sell everything at the same time. (Make sure to pick a weekend when the weather is good.)
Maximizing the amount you make from a garage sale is practically an art. Follow these tips to get startedand make sure to advertise your sale in advance. Price things appropriately and display your items so people can see them. After all, we're visual creatures.
Use Crowdfunding
Crowdfunding is a popular method of raising funds. It works especially well if you have a specific goal in mind such as raising funds for a mission trip or your local youth group. It's even common for teachers to use crowdfunding.
A crowdfunding project can be a quick way to raise funds.
Have an Easter Egg Hunt
An Easter Egg hunt is a very unique event that only comes around once a year. It's a great event for families and small children.
You only need a few volunteers to set up for the event and run it. You can either dye real eggs and hide them or choose plastic eggs and hide small candies inside them. Then simply charge a small fee for each egg hunter.
You could also make the egg hunt free and have other paid fundraising events happening at the same time, such as selling food or holding raffles.
Have an Easter Basket Raffle
An Easter basket raffle is a simple raffle that can have multiple prizes. Encourage people to buy multiple tickets by offering multiple basket prizes. You can have the grand prize basket and a few smaller ones.
Encourage members of your congregation to donate items for a basket or funds towards buying the gifts for each basket. Have some of your craftier members decorate and assemble the baskets for greater visual appeal to help sell tickets.
Use Text Giving
Text giving is a service that allows users to give directly from their cell phones. As the name suggests, text-to-give requires only a few simple steps and allows your members to easily donate from their phones.
A donor simply has to text the church's dedicated text givingnumber with the amount they desire to give. This donation can be either a recurring or one-time donation. The process is quick and simple, with donors receiving a receipt of their giving, incurring no additional charges.
Its ease of use means that even those that are not the most tech-savvy can still use it.
Sell Easter Candy or Chocolate
Easter… the kids think of Easter baskets with lots of candy. So, it's a great time of the year to sell chocolates or other candy, with profits going towards your cause.
You don't have to make your own, though. Plenty of companies offer various spring and Easter-themed chocolate and candy for your church to sale. See's Candies and Sarris Candies are two great examples.
These Easter candies come in a wide selection, from chocolate rabbits to peanut butter eggs, brittle and chocolate covered pretzels. 
Keep in mind, you will have to order and plan in advance due to shipping times, so you will most likely need to finalize your initial chocolate order at least four weeks in advance. Contact each company to determine when their cutoff date for ordering is. They will also be able to tell you how much potential giving you could earn from the sales, as well as any discounts they may have for ordering in bulk. 
Hold an Easter Bake Sale
Bake sales are one of the most popular types of fundraisers out there. After all, who doesn't enjoy delicious sweets? 
So why not combine the Easter holiday with a bake sale? Your church can raise funds by selling homemade baked goods. Cakes, fudge, brownies, cookies, cupcakes, pies – there are tons of different types of baked goods and flavors you can incorporate into your bake sale.
Have an Easter Bakeoff Contest
Similar to a bake sale, a bake-off is a friendly competition between the members of your congregation. Do you know who makes the best cookies or the best brownies? A bake-off competition is a great way to find out. 
Contestants can simply pay a small donation to enter and have their baked goods judged. It's a simple and fun way of raising funds and allowing your congregation to show off their baking talent.
Have a 50/50 Raffle
A 50/50 raffle is a very simple idea. You sell raffle tickets, with half of the proceeds going towards your organization. The other half goes towards the winner. Because 50/50 raffles are so easy to fund, they are super popular.
They're a low impact fundraiser that prevents organization burnout. Plus, who doesn't love winning a cash prize?
You can sell tickets for as low as $1. You can even offer "discount tickets," like 6 tickets for $5 to encourage additional fundraising. 
Be sure to set a firm goal, so you know how to price your tickets and how many you need to sell. That will also allow for easy marketing (i.e. "We're looking to raise $1,000-and half of that can be yours!"). 
Also, since a 50/50 raffle is considered a game of chance, be sure to follow your local laws on raffles. Not all states allow them, and some states that do allow them to have certain requirements that charities must fulfill.

Have an Easter Egg Decorating Contest
An Easter egg decorating contest is another fun event that's a good way to fundraise. It appeals to all ages. Many of us decorated eggs as a kid, so it's also a very nostalgic time.
Participants could pay a small fee to enter.  You could also have people vote for their favorite decorated egg by dropping their spare change into a collection plate or bucket in front of the egg. The egg that receives the most "votes" wins. 
You could also have different categories for each participant, such as the best-decorated egg for each age group or the funniest egg.
Hold a Silent Auction
A silent auction is similar to a regular auction. The congregation can donate gently used items and put them up for auction. Unlike a regular auction, all bids are secret.
Design and Sell Your Own Custom T-Shirts
There are tons of companies online that can make custom shirts for your church. Maybe there's even a graphic designer in your church that can help you come up with a custom design.
Custom t-shirts can be a great way to commemorate an event such as an Easter service. You can design, order and sell them in advance. Then you can have everyone wear their new shirts to any other Easter events your church may be having.
Have an Easter Bonnet Parade
While the idea of the Easter Bonnet has fallen out of fashion recently, it's still a popular tradition in some parts of the world. Homemade Easter bonnets can be a fun way to allow the more fashionable members of your congregation to shine and show off their creativity. 
The "parade" consists of the participants showing off their Easter headwear. There's great room for flexibility and creativity here. Homemade hats can be simple, floral decorated pieces or wildly extravagant pieces that compliment a themed outfit.
You can charge a small fee to enter the parade, set up a donation box, or do both to raise funds.
Have a Pie-in-the-Face Fundraiser
The pie-in-the-face fundraiser asks donors to raise money to win the honor of pieing a church member in the face. The person who raises the most money gets the honor of pieing their favorite volunteer in the face.
Sorry church staff, but this method of fundraising is most effective if you volunteer to be a recipient of the pie to the face. Church clergy, youth group leaders, and Bible study leaders can all volunteer to be fair game. It's a fun way to both raise funds and have a laugh as you bond with your congregation.
A simple way to increase your Easter giving is to ask. There are a few different ways of doing this, 
You can give reminders from the pulpit in advance of Easter Sunday, reminding the congregation of the upcoming giving date. If your church is raising funds for a specific charity or missions, you should talk about how they will use their funds and tie in your reminder with a message on giving.
If your church has either a physical or digital weekly bulletin or newsletter, you can add reminders in there. 
Your church's social media pages can also be used in a similar way. You can post status reminders about your fundraising events. You can even create an event for your fundraising efforts and invite your followers to attend. 
You can also ask via email. Email the members of your congregation in advance and remind them of how their support impacts your organization's efforts. Inform them of how their donations will be collected and what the money will be going toward. 
It's okay if you don't feel comfortable asking for donations or aren't sure how to suggest it. Many church leaders struggle with this. Fortunately, there are templates available online to make the process easier for you.
See How You Can Make This Easter a Success

Easter is one of the most important days for the financial stewardship of your church. We know this because we've worked with tens of thousands of churches over two decades. We have seen time and time again that Easter is responsible for one of the biggest donation spikes of the year.
Use stewardship strategies and resources that have been tested by 26,000 churches and counting. Get our free Easter giving kit complete with...