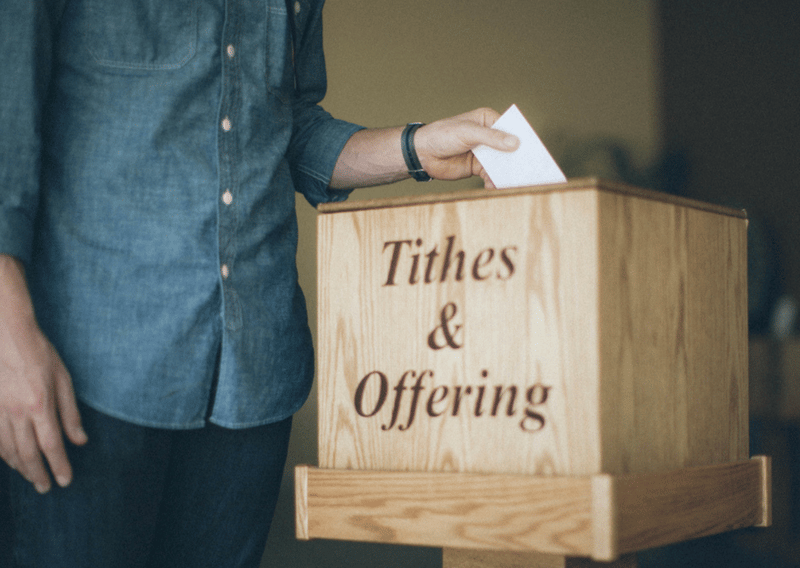 Learning how to increase church tithing comes down to two factors:
First, ask with the right heart: a spirit of humility and confidence. Second, use the right methods: making it easy for churchgoers to tithe in ways that make sense to them.
Keep reading to learn how you can achieve these two tasks to increase church tithing.
Live a Culture of Generosity
When it comes to church giving, it's tempting to jump right to the Sunday morning appeal.
But a healthy culture of church giving doesn't start with savvy fundraising strategies, however attractive they may be. It starts with one thing: the Gospel.
Have you reminded yourself lately of the Good News? Take a minute and recall the scriptures that tell about Christ's amazing love and his total generosity:
"I have come that they may have life, and have it abundantly" (John 10:10).
"Freely you have received; freely give" (Matt 10:8).
"While we were still sinners, Christ died for us" (Rom 5:8).
"Christ emptied Himself, humbling Himself to death, even death on a Cross" (Phil 2:7-8).
Christ has given us new life in himself. His generosity changes everything for us. Now we get to respond to his love with our own generosity.
In the Sermon on the Mount, Christ warns us against getting too caught up in money matters. But he gives us the perfect antidote: "Seek first the Kingdom of God and righteousness" (Matt 6:33).
Preaching the Gospel is the foundation for a healthy church in every way, especially finances. Put Christ at the center of all that you do so that money matters don't become your main focus.

Teach Authentic Stewardship
Money can be a tricky question for Christians.
On one hand, we know that our real treasure is in heaven, not on earth. Christ even insists that the poor are blessed (Luke 6:20).
On the other hand, when God entrusts us with families and children, we have a financial responsibility to them as well. We honor God by being prudent with our finances and managing the responsibilities he gives us.
It's not always easy to understand an authentic theology of stewardship or put it into practice. But even if we make mistakes along the way, every church is called to try.
What is Christian stewardship? Simply put, stewardship is about letting our money serve God, not the other way around.
Make sure your church gets comfortable hearing about money matters from the pulpit. Teaching about stewardship sets the stage for healthy church finances. But don't teach biblical stewardship just to drum up tithes; teach it so that all of your church members can live in a more Christ-centered way.
Lead by Example
The best way to inspire others with the joy of authentic stewardship is to show it to them firsthand.
As a pastor or church leadership team, ask yourself: how does your financial life reflect the Gospel?
Take an honest inventory of your spending and set aside some time to pray about it. Ask god to show you any areas of your life where you may be serving money instead of him (Matt 6:24). If necessary, make courageous changes to your financial habits.
Integrity is always attractive. If your life reflects real stewardship, others will be excited to follow your example.
This doesn't mean you should spend Sunday mornings complaining to your fellow churchgoers about the new car, cool vacation, or amazing new shoes that you didn't buy. Christ has some stern words for people who brag about their financial gifts (Luke 18:10-14).
However, don't hesitate to be honest with your church about your sacrifices. A good way to do this? Mention in your weekly appeal, "Our leadership team holds stewardship close to our heart, and we strive to live it out in our own lives."
Ask Frequently
Speaking of weekly appeals: don't forget to make them!
One of the top reasons that churchgoers don't give is that churches don't ask. Once you've inspired your congregation by preaching the Gospel and leading the way in stewardship, you still need to remind people to give. This lets you build momentum and make tithing a normal part of your church life.
Most churches have a designated time during the service when they remind congregants to donate. If your services are online right now, use that time to remind everyone how your online giving platform works. Those watching at home can donate via a mobile app.
Provide Giving Opportunities
Sunday morning shouldn't be the only chance your church members have to give towards the mission. There are lots of additional ways that you can invite people to give, including:
Short-term fundraising campaigns.
Giving towards specific causes (like fuel costs, funeral flowers or a specific ministry).
Giving in memory of a deceased loved one.
For those who are tired of reminding themselves to tithe, offer automated giving. This lets your church members say goodbye to church tithe envelopes and hello to a convenient, modern solution.
Then again, if your church members hardly ever put their smartphones down, text-to-give might be your best option.
Get Excited About Church Projects
Your congregation in the pews (or at home on the video call) might not know where their tithe is going. To increase church tithing and encourage tithers in their commitment, make sure you tell your congregation about the work you are doing. Share your excitement on your church's wonderful projects, and they'll get excited too.
Telling stories is the most powerful way to capture donors' imagination. Did you have a touching encounter with someone at your food bank? What about an incredible testimony from your street outreach group?
Make sure you bring those successes back to your church members and let them in on the work that their donation is doing. That way, you'll do more than just drum up donations: you'll support a culture of giving that focuses on God's work in your church.
Show Gratitude
Speaking of giving feedback to donors, when is the last time your tithers heard a heartfelt thank-you?
In the New Testament, the Apostle Paul writes to his far-away friends with love. He isn't shy about receiving financial gifts. Neither does he skimp on saying thank-you to those who support him (Phil 4:18)!
Gratitude creates loyal donors. In a church context, it's easy to forget about the importance of thanking tithers. If you want to strengthen your culture of tithing, make sure you extend warm thanks to those who support your mission.
This is easy if you are using an online donation platform, which can send an automatic thanks message to your givers. However, it's nice to affirm donors in person as well.
There's no need to single anyone out (since that could make those who haven't donated feel self-conscious). During your weekly appeal, you can give a general thank-you to those who support the mission. You can even quote Paul, saying that the church's gifts are a "fragrant offering, acceptable to God" (Phil 4:18).
Some churches even offer thank you letters or messages to include in their emails. If you need inspiration for such methods, we have how tos and examples here and here.
Explain Biblical Tithing
For many churchgoers, there's an unspoken obstacle to giving: they don't know how much is appropriate to give. If they feel too awkward to ask, they might avoid tithing due to embarrassment.
But the Bible can help us here. The word "tithe" means "one-tenth." The tradition of giving ten percent of one's income toward God's work starts as early as Genesis. Abraham, Jacob and other faithful people honored God by giving him one-tenth of their wealth.
Later, the ten percent rule was written into Jewish laws of worship in Deuteronomy and Leviticus. The later Old Testament books keep referring to it as a practice that honors God.
Many Christians aren't sure if the ten percent norm still applies. After all, it isn't specifically mentioned in the biblical writings of the early Church. What is mentioned: the need to be generous — both in supporting pastors and in caring for the poor.
If your church isn't sure how much giving is appropriate, ten percent is a good biblical rule of thumb to start with.
Be Financially Transparent
Donors want to know that they can trust your church's financial decisions.
Some churches print their weekly income and expenses in a bulletin. With fewer churches getting together in person keeping this information online is an even better option. Just keep your non-computer-savvy church members in mind and make the information easy to find.
Many churchgoers are unaware of how costly it is to keep a church-going. Programs and ministries aside, keeping the lights on is expensive. Being financially transparent helps church members understand how vital their donations are.
Ask With Confidence
Let's just say it: asking for money sometimes feels awkward. Especially if you don't feel confident because you're worried about sounding inauthentic.
But the less confident you are, the less authentic you sound, and the more awkward you'll feel.
There's no better model for how to ask for contributions than the Apostle Paul. Through his letters in the Bible, we get to know him as a confident, transparent servant of Christ. When he asks for money or thanks donors for their contribution, there's not a whiff of self-consciousness about him — he humbly asks for support because he knows he's doing what God is asking him to do.
Church leaders today are still called to ask for donations with confidence. If you've done everything you can to lead by example and offer financial transparency, there's no need to feel awkward about asking.
A confident ask gets results. That's why it's key to increasing your tithing. When you invite donations in a spirit of honesty, people will respond, because they know they're contributing to a mission they believe in.
Make Giving Easy For Everyone
Some members of your church may like the familiar routine of putting their weekly contribution in the collection plate.
But statistics show that up to a quarter of Americans do not carry cash at all, choosing debit and credit cards instead. If your church can meet in person, you don't need to pass around the collection plate. Designate one of your team members the Tithe Taker for the day and plug a card reader into their smartphone. Churchgoers can swipe their cards to tithe, no contact required.
Find COVID-Safe Solutions
In this time of socially-distanced churchgoing, the collection plate isn't an option anymore. With 94% of bills carrying infectious diseases, the collection plate (and the cash that goes in it) aren't COVID-safe. The few churches that can still meet in person are pivoting away from cash-and-check giving to keep transmission to a minimum.
That means that even those who aren't as comfortable online will have to find a way to donate digitally. As a church, you should make this transition as easy as possible.
For less computer-savvy church members, make sure you have a user-friendly online giving platform. Find one that's easy to navigate, clear, and uncomplicated.
Get the Free eBook to Improve Church Stewardship
Keeping the lights on, the doors open and missions funded isn't what inspired most church leaders to pick their career, but it is key to the health of the church and the congregation. Discover how to become a master of church stewardship with our ultimate guide.