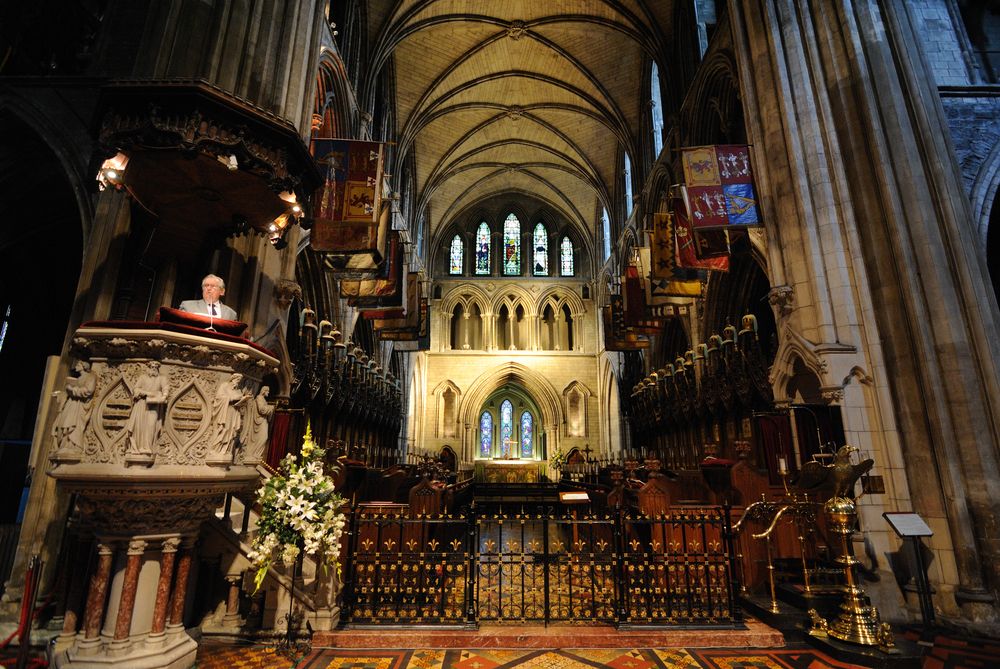 There was already a steady decline in church attendance spanning over the last two decades and the pandemic has really illustrated a need for change in the faith community.
As of 2019, half of Americans indicated that they were part of a church, which is down from 70% twenty years prior. Part of it is the decline in religion and those who are religious are less likely to belong to a church.
Discover how your church can defy these latest trends. In addition to more traditional methods like church invitation letters and church invitation text messages, these ideas can help grow your church's membership.
1. How To Grow Your Church Numerically? Brand It
Every great brand has its own distinctive look and feel and a church shouldn't be any different. You want people to feel something when they see your brand, so the first thing you should do is create a logo.
If you want your church to feel inclusive and inviting, a logo with outstretched arms would be a good place to start. Make sure that the name of your church is big and bold in the logo.
In 2020, there were about 380,000 churches in the United States. Like it or not, people have options. They'll shop around for what fits them and their spiritual needs, so make yours stand out from the crowd.
You don't have to be a graphic designer to come up with a big, bold, catchy logo. Websites like Canva give you the option of creating a logo from scratch or from a template, and you can access it from an app on your phone as well.
This is one of the most important first steps because you'll use this logo on your marketing, whether it's in print, online, TV, etc.

2. Market Your Church
Now that you have a logo, send it out into the world to work its magic! Luckily, we live in an era where church marketing doesn't have to cost an arm and a leg. Start from within your existing congregation and work your way out.
You're going to want your logo on everything. Offering envelopes, letterheads, etc. Put your logo on t-shirts and sweatshirts; your parishioners will proudly wear them in public and become roaming advertisements.
Make sure you have a readable sign with your logo on it outside the church; it's the first thing people will see when they pass by and first impressions are important.
With any kind of signage, including yard signs, don't feel the need to include the word "church" if you're pressed for room. If people are interested in what's on the sign, they'll look it up.

3. Increase Your Digital Presence
Now that we've talked about good ole' fashioned print advertising, we have to address the digital aspect.
A lot of pastors, priests and church staff are intimidated by the idea of digitally promoting their church, and rightfully so. In a world of TikTok challenges and hashtags, how on earth does a place of worship make its mark?
First of all, if you don't already have a website with a custom domain that is the name of your church, get one. GoDaddy has great, easy-to-use templates to build from if you're technologically challenged.
The most important part of your website is your domain or your web address. If your church is called Elmdale Methodist Church, you want to direct people to elmdalemethodist.com or elmdalemethodistchurch.com. Get your custom domain to make it easy for people to find your website.
Make sure your website is simple and user-friendly. You want to appeal to everybody, not just your current parishioners. Give a "who we are, what we do, where we are located" and include a "contact us" page. Make it easy for people to get in touch with you.
How to Set Up a Website Quick & Cheap
The days of needing to spend thousands or even hundreds on web design and development are long gone. In fact, many churches can get a professional website for the monthly price of their domain and hosting it on a server.
Both the server and the domain are additional items your website needs anyways. The server stores the website and the domain allows a pathway for people to find it.
Many churches will use Wix and Squarespace, two drag and drop website creators that allow anyone to build a professional website in the span of a few hours. These services don't charge a thing for building and maintaining the website. The only charge is a monthly fee for hosting and your domain, which runs under $30 per month in most cases.
If you are looking to build a website with either service, we suggest you visit...
4. Get Active On Social Media
Your digital presence should also include social media. There are 7.7 billion people in the world and more than half of them use social media. If you don't already have them, make Facebook, Instagram and Twitter accounts for your church. Create a YouTube channel where people can go to see Sunday services and special events.
Many families go to church online instead of in-person, and this trend will likely continue permanently.
And don't just use your social media platforms to broadcast Sunday service. Create engaging content current and potential parishioners will enjoy. Have a strategy for your social media posts - if you're trying to entice new people to come to your church, give them online content that they'll talk about to their friends and family.
This is another place where Canva can come into play - infographics. Not every day is a red-letter day. You may not have anything interesting to post on a random Thursday afternoon, so create an infographic and post it to your Facebook, Instagram and Twitter. Even a picture of the blue sky with some clouds and the times of your weekend services is enough to get the word out.
Finally, consider creating an app for your church. Vanco offers a mobile app that connects your congregation on a daily basis and not just on Sundays. The app facilitates virtual services, prayer groups, Bible study, connecting with clergy and donations. And the app is free!
The goal with apps and social media is to keep people engaged with their church at all times and not just on Sunday mornings.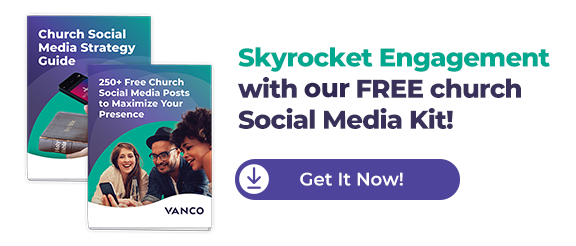 5. Make Your Holiday Services Special
There are a lot of "Chris-Easters" out there. If you're not familiar with the term, it means that a lot of folks only attend services on the main religious holidays like Christmas and Easter.
This is a prime opportunity for you to entice them to start coming more and to encourage them to be a regular part of your congregation.
Post on social media about holiday services in particular and highlight what's special about them. If the sanctuary is beautifully decorated, take a picture and post it. If you're having a live nativity scene or a passion play, tell people when and where and make it available for online streaming.
A lot of people choose the holidays to give back to their community. People want to volunteer but they don't know what's needed most or where to start, so give them an event to participate in. A food drive, a clothing collection or a family in need to adopt are all great places to start.
6. Welcome New Parishioners Every Week
Of the 10 new people who come through the doors of your church, it's estimated that only one of them will come back. So, acknowledge those who do, even if it's just one.
Whether you do it on social media or in your sermon, make it a point to welcome your new parishioners regularly. And of course, don't forget your regular congregates as well. Encourage your existing members to welcome the new members into your church with open arms and hearts.
This doesn't mean that you have to point them out at the beginning of Sunday service. A lot of people are pensive about joining a new church, so acknowledge them without making them feel uncomfortable.
This is also something you can do on social media with people who are comfortable sharing their experiences. Create short, 30 second videos with new members who want to participate.
"Hi, I'm Jane, and I'm new to Elmdale Methodist Church. I live in Elmdale with my husband and three kids, and we are so happy to make Elmdale Methodist our new place of worship."
Include your logo and website in a graphic at the end of the video and maybe even an email for people who want to share their story next.
7. Host An Event Outside Of Sundays
Sunday service can be a strange time for newbies to mingle, so you'll want to give your new congregants an opportunity outside of the church to get together and meet people.
Don't be afraid to host a Zoom or Google Meet first. A lot of people are intimidated by social events so an initial online meetup might make them more comfortable.
Host it by demographics - college students, single parents, a mom's group, etc. This is a great way to grow your church numerically in a world that has gone digital.
You can also offer a variety of online events like prayer groups and online Bible studies to help people get acquainted with each other while engaging members and new visitors. If you're looking for guides to set up these online groups quickly and easily, check out these resources...

8. Create An Email Blast
The first step here is to ask for your congregation's email addresses. This might feel daunting and even intrusive at first, so try not to get frustrated. Asking for email addresses is the only way to build your email list.
Post it as an option on your church's website: "Sign up for weekly updates and devotionals!"
You don't want to overload them with emails, so make it a weekly feature. Send out your blast on the same day and time each week.
9. Start A Newsletter
Send out your newsletter once a week in your email blast. Again, this needs to be consistent, so make sure it is assigned to somebody who can get it done promptly. Make sure it includes your logo at the top as well as your website.
If a weekly newsletter is too much of a lift for your staff and volunteers, try a doing it monthly. We created a resource that offers church newsletter ideas for each month and the holidays to give you a starting point for your own.
For each newsletter, include upcoming events, sermon times and let people know where they can stream the service online. Make this a regular feature on your newsletter, even if nothing changes from one week to another. You never want to assume that the person receiving the newsletter knows all of this information already. Treat every newsletter like it's the first one.
After you've given out the basic, weekly information, be sure to include pictures. Loads of text in an email can keep a person from reading, so include visuals, whether it's a picture of the weekly youth group meeting on Zoom or a food drive held in your parking lot.
And don't forget to make print-versions of your newsletter as well to hand out after Bible study or Sunday service. You don't want any of your members (or potential members) to feel alienated because they don't use email.
Encourage your current congregants to forward the newsletter to one friend every week. This will help to grow your church.
10. Create Inter-Church Activities
One of the best ways to entice new members to your church is to create activity-specific groups within.
Organize a choir. In fact, organize multiple choirs if you have the resources. A youth choir, a show choir and a senior choir are all great options. Believe it or not, there are people who shop for churches based on the group activities that they offer.
This is a very attainable goal, even if you have a small parish.
Advertise all of these activities on your website, email blasts, social media and in print. If somebody is interested in joining a church with a choir, it doesn't matter where they see the advertisement. Whether it's on Facebook or on a flyer pinned to a bulletin board at their local grocery store, they'll respond in kind.
Not only will this bring new members into your church on a Sunday; this will keep new members involved throughout the week as well.
Church growth doesn't happen overnight. You might advertise a teen Bible study and, while you had 20 people on your first night, you only have 10 the second night. Don't take this as defeat, but as a challenge. Find out what you need to do to get them to keep coming back.
Churches with the most parishioners usually have a wealth of inter-church groups, activities and events. You don't need a big budget to make these happen, either. Ask for volunteers from your regular congregants.
11. Get Involved In The Community
One of the best ways to grow your church membership is to be seen doing good in your surrounding community. No matter where you live, there's work to be done.
Get a small group together to volunteer at a local food bank. Take a couple of hours on a Saturday morning to clean up a local park. Host a car wash with all proceeds going to a local charity of your choice.
Branding also comes into play here as well - if your church group is volunteering at a soup kitchen, make sure they're wearing t-shirts or some sort of clothing item with your name and logo on it. You'll want people to remember who you are and where you're from.
12. Offer Digital Ways to Give Back
It's one of the most common problems in the digital age - people don't carry paper money with them anymore, and this problem is a big one for churches.
Make it easier for your congregants (and potential members) to donate by offering digital options.
Digital options include mobile app giving, text giving and online giving pages. Have a direct link to donate on your website.
Another great way to do this is to have a giving kiosk at the church, and we're not talking about the type of kiosk you see in the middle of the mall. The giving kiosks from Vanco comes with an iPad Air that already contains your church's branding, so all you have to do is connect to WiFi, and you're ready to start accepting donations.
If you have questions, don't be afraid to reach out and ask for a demo.
13. Sponsor Something Local
The main idea is to get your name out there, even when you can't be there yourself.
Consider sponsoring a local sports team or event. Your church name and logo will be included on their marketing materials and establish you as a "friend" of the community.
This doesn't have to be a huge financial investment, either - if your church doesn't have the funds to be a monetary sponsor, you can offer up services such as volunteers for games and events or even offer the use of your church and/or the surrounding land.
14. Improve Your Virtual Services
Due to the pandemic, many churches had to scramble to offer virtual church service. As virtual church offerings become the norm, churches will need to improve the quality of their online worship.
If you're looking for easy and affordable methods and tools, we've built a detailed guide that will help you improve your virtual services. And it's free! Click the guide below to download.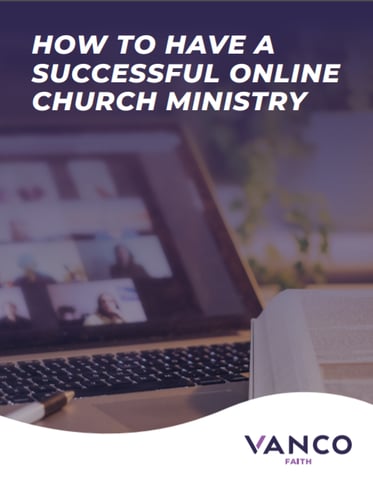 Everything You Need to Know About Church Growth
Download our free eBook to learn everything you need to know about church growth. By following the guidelines and tested strategies outlined in our eBook, you'll have the framework needed to give your church a necessary jolt.