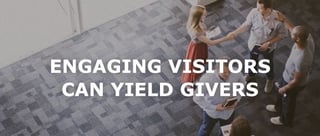 Asking for gifts isn't easy, especially when those givers aren't your usual members.
That's why we've built several church visitor letter examples for you to use.
Church Visitor Letter Examples
Thank you notes for church visitors are more than just polite. They are also a chance to turn visitors into regular members of your congregation.
Use these templates and hints to get started:
Church Visitor Follow-up Email Template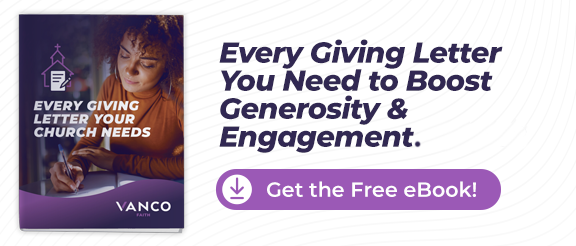 When a new member attends a service at your church, you should always collect their information so that you can send them a follow-up letter.
This follow-up serves a couple of purposes. First, it gives you a chance to thank them for attending. Secondly, it's an opportunity to reach out and welcome them to continue attending, and perhaps the become members.
A sincere, inviting note shows that your congregation cares about each and every individual, and sees them as a vital part of the church. While a letter is often seen as more personal, visitors may be more likely to leave behind their email address instead of a traditional home address.
If this is the case, a polished, friendly email is a great alternative.
For those thinking about making an email a part of their church visitor follow-up strategy, check out this template to help get you started:
Hello [name of visitor]!
We were so thrilled to have you join us at our service on Sunday! Life can get so busy sometimes. But making time for Christ, especially around the holiday season, is so important. We believe there is nothing quite so great as being a member of a supportive church congregation.
At [name of church], we strive to give back to our community and spread the word of Christ to our neighbors. [Include a note about any special charities or programs your church leads, like food pantries or holiday fundraisers].
You're invited to drop by our offices any time for a visit or to join us next Sunday for our weekly service. If there's anything we can do to be of service to you, don't hesitate to reach out.
Sincerely,
[Pastor's or clergy's name]
Don't forget to include a link to your church's website at the end of your email. Using an email address for the pastor rather than the church can also help make the email more personalized, like a direct invitation for the new visitor to continue attending services.
Church Visitor Follow-up Letter
If you prefer a more formal letter, you'll need to request an address from visitors when they attend a service. This may be a better option for congregations that attract older members who may not use email, or for visitors who are friends and family of current members.
When you want to send a more formal welcome letter, use this template to help you to get started:
[DATE]
[VISITOR'S NAME AND ADDRESS]
Dear [visitor's name],
Greetings! I am so glad that you chose to join us this past Sunday for our service. I believe that there has never been a better time to serve Jesus and receive the word of Christ. I hope that you found your time with us to be inspirational and meaningful, and perhaps even challenging. We certainly enjoyed having you join us.
The Bible tells us to "Make the most of every opportunity." While opportunities come and go quickly, it is so important to grab onto the ones that mean the most. Spending your Sundays in worship is an easy way to grasp an opportunity to welcome God into your life. We hope that you'll continue to join us as we welcome life's opportunities together.
Besides attending our weekly services, you are also welcome to stop by our offices any time for a visit and a chat. If there is anything we can do to be of service, please let us know. We hope to see you again soon!
Sincerely,
[Pastor's name, printed]
[Pastor's signature]
A formal letter like this one is best sent on church stationary or letterhead.
Casual Follow-up Visitor Letter Template
A formal follow-up visitor letter is a great choice for a church that hosts formal weekly services. However, many churches opt for a more casual approach.
If your church takes a laid-back approach to services, your follow-up letter should reflect that. It's likely that the casual vibe is one of the reasons that visitors chose to attend one of your services. A formal letter may give off the wrong vibe, and convince them not to attend again.
This template is a great starting point for a more casual follow-up letter to send to new visitors:
[DATE]
Hello [visitor name]!
I wanted to personally send you a note and say thank you for joining us this past Sunday! I hope you felt truly welcomed!
Visiting a new church for the first time can be awkward. But taking that leap is a wonderful chance to find a space where you feel cherished and supported. If you give us a chance, I know you'll discover how wonderful our congregation is.
Our staff is always here to help if you have questions or find yourself in need of prayers. For more information about our church, our services, or our staff, please visit our website at [website URL]. You can also call or text me personally with questions at [pastor's phone number]. I look forward to seeing you again soon!
Best,
[Pastor's name and contact information below]

Follow-Up to a Non-Traditional Service
When the coronavirus forced churches to close their doors, many chose to get creative in order to continue offering services to their congregations.
From drive-thru services to live streams, these not only helped members enjoy their regular weekly services but were also a great chance for new members to experience one.
Just because they weren't able to attend in person doesn't mean you shouldn't thank new visitors for taking the time to enjoy your non-traditional service. If you were able to gather their information, use this template to help you draft a letter or email thanking them for attending:
Hello!
We hope this note finds you and your family healthy! I wanted to personally take a moment to thank you for attending our [virtual service/drive thru service]. While we can certainly say we've never done this before, tough times have called for new innovations. Now, more than ever before, we know that families and individuals need Christ and the support of the church community.
We're so grateful that you chose to take the time to attend our service. We don't know how long it will be before we can welcome everyone back in person, but we hope that you'll visit us then. In the meantime, we'd love for you to continue to attend our [virtual services/drive-thru services].
Please visit our website to learn more about how we're reaching out during this time, and how you can stay connected.
Sincerely,
[Pastor's name]
With members and visitors no longer giving tithe in person due to COVID-19, directing people to your website is a great way to encourage giving virtually. If you don't already have online donations set up, now is the time to do so!
New Years Greetings and Invitation to New Members
Research shows that around half of all American adults make New Year's resolutions. But fewer than 10 percent of them keep up their resolutions for longer than a few months.
Making attending church a regular part of your routine is a great resolution to make. However, like working out or eating healthy, life often gets in the way and we give in to the temptation of taking the easy way out. After a long, busy week, it's often tempting to sleep in on Sunday morning rather than getting dressed for service.
Like getting healthy, setting aside time for God and worship can change your life for the better.
New Year's is a great time to reach out to new members and encourage them to make attending church one of their resolutions this year. Use this example to inspire you to write a message to new followers:
[DATE]
[NEW MEMBER OR VISITOR'S NAME AND ADDRESS]
Happy New Year!
The end of the year is a magical time! After weeks of celebrating the holidays with those we love the most, we end the season by welcoming in a brand new year. New Years' is an important time. It's a chance to set new goals for a new year, and perhaps to let go of past sins that you're ready to overcome.
If you're setting New Year's resolutions, why not include God? Exercising keeps your body healthy while getting organized or perhaps learning a new skill is great for the mind. But don't forget your spirit. Attending church is a chance to not only hear God's word, but also a chance to connect with like-minded individuals and build a support system you can rely on all year long.
We invite you to join [name of your church] in the new year. [Include information about upcoming services and invite new members to join you].
Happy New Year, and hope to see you soon!
Sincerely,
[Church's name or pastor's name]
Fundraising for a New Space
A growing congregation is an exciting thing. However, it presents a unique challenge that can be difficult to finance; making the move to a new space or adding on to your existing place of worship.
If your church has found itself in need of an expansion, you'll need to reach out to your members with a special request. This can get awkward. Many are likely already giving a weekly tithe, and asking for more can feel selfish.
However, if you want to keep growing and welcoming new members to hear the word of God, you need space to do so.
Use this sample to help you write your own letter requesting help reaching your big financial goal:
[DATE]
[MEMBER'S NAME AND ADDRESS]
Dear [member's name or names if addressing a household],
We hope this letter finds you and your family healthy and well! Because you are a valued member of our church family, we wanted to reach out to you about an exciting change that's coming to [name of church].
As you already know, our congregation is growing. And as our family has grown, we've outgrown our space to worship. To continue welcoming new members and spreading the word of God, we need a little more room.
[Explain what you are planning, such as moving to a new space or adding on to your existing one. You can choose to keep it brief, and mention that you'll be explaining more about your plans during your next service.]
In order to reach our goals, we need your help. We'll be hosting a number of events in the coming months to raise funds for [our move/our new addition]. We hope that you and your family will join us and invite friends to join in the fun as well.
If you have any questions about our future plans or fundraising efforts, please feel free to reach out to [include a contact person and their phone number or email address].
We hope to see you on Sunday!
Sincerely,
[Pastor or clergy's name]
This is another example of a letter that should be sent on church stationery or official letterhead.
Church Visitor Follow-Up Ideas
Crafting the perfect church visitor follow-up letter will not only help your church grow its base of donors, but grow membership. After all, where people commit their treasure, they often commit their heart.
But don't rely on letters or email messages alone. To succeed, you'll need an entire strategy to grow membership and givers. Here are just a few strategies you should consider.
1) Direct Follow Up
When it comes to new visitors, the best way to turn them into members that participate with their presence and resources each Sunday is to reach out. After a visitor attends, try to have somebody connect with them. This can be a pastor or clergy, a church leader or a designated welcome committee.

When following up, you'll want to consider a few guidelines.
Be Timely -Nearly 90% of church visitors will return if someone follows up with them that same day, and 60% will come back even if it takes a day or two longer, according to Tony Morgan, a church consultant who has made a career out of growing congregations.
Don't Ask for Gifts Right Away - Don't make your call or greeting about you or the church's needs. The visitor isn't fully invested in the church yet, and they may be considering other churches or spiritual communities in the area.
Focus on Their Spiritual Needs - Visitors go to your church for spiritual guidance, and your church has plenty to offer. Ask how your church can help them along their spiritual journey and identify any communities within your congregation that could assist them. By focusing on their needs, you'll demonstrate the compassion and support your church has to offer.
2) Showing an Attitude of Gratitude
If a visitor offers a gift or simply attends, show your gratitude and thank them. You should send them one of the church visitor letter examples we crafted and reach out directly.

3) Engaging with a Church App
Because your congregation only meets a handful of times each month, it's hard to assimilate prospective members into the church.
With a mobile giving app, you can help connect new visitors to your church through virtual groups or online chats with church leaders. You can also give them a way to connect with existing members through an online directory.
Church apps allow new visitors to connect with the church throughout the week and cement their connections during Sunday services.
If you're looking for such an app, or want to test one out, our mobile app is free to everyone.
Looking for Church Letter Templates to Fit Any Situation?
Without a framework, or an example, crafting an appeal or a thank-you message can be cumbersome. That's why we built a complete guide that not only offers 105 letter samples and templates for nearly any situation, but also offers specific guidelines to help.
Download the guide for free!