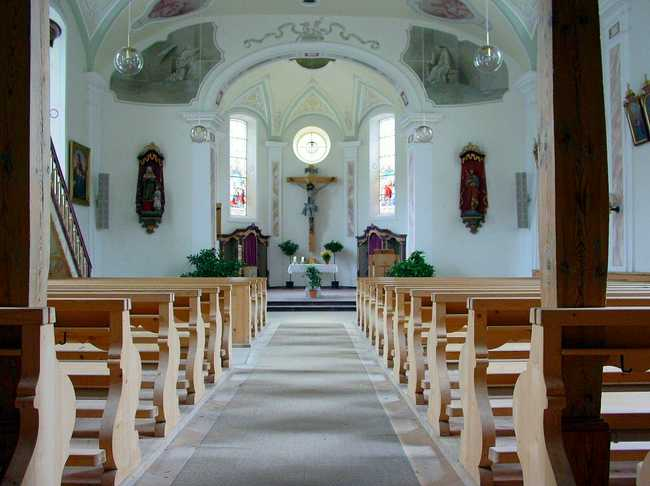 Every year, the United States reports about 2.7 million people missing from church congregations. That is a significant decrease in activity, hurting churches across the country.
Yet, most of those people did not leave only due to a loss of faith. There are several reasons why people leave their churches. All of which you can identify and fix with a few handy growth strategies.
So, what do you do when your church is not growing? This guide explains everything you need to know.
Ask the Question 'What Do You Do When Your Church Is Not Growing?' and Why
Before you can use church growth strategies, you must first identify the problem. Has your parish lost members?
Is your church not gaining any new followers? If you answered yes to these questions, you should backtrack to identify what could be wrong.
Here are some examples of what could backfire on church expansion:
No sense of purpose.
Limited prayer.
You have too many goals.
Too much bickering/fighting.
Too much judgment.
You're too focused on money.
You have no mission.
There is no sense of church community.
Note that this list is not comprehensive. You should look inward to gauge what could prevent people from joining your church.
Remember, these aren't fatal flaws. They are fixable with the right amount of diligence and strategic church planning.

Choose to Grow
After you look inward, you need to decide to help your church to grow. Making this decision will branch out into a variety of other steps you need to take.
The first thing you should do is call a meeting with your staff members. Tell them that you need to gain new members and create a better outreach program.
Then, go around in a circle and have everyone pitch in their ideas to accomplish better church growth and development. Getting everyone's opinions and viewpoints will create a well-rounded plan.
After you do that, it is time to create a visual plan. Get a whiteboard or corkboard and write down all of your ideas.
Come up with a step-by-step guide that everyone likes. Having everyone on board will ensure the process goes off without a hitch.
Give Sermons Meaning
People go to church and expect to learn something. They want to leave feeling as though they have a grasp of a higher power. Your people can get frustrated if your sermons have no theme behind them.
No one wants to search for a hidden meaning. The sermons should be clear and straightforward. That way, everyone can follow along and focus only on the message.
So, make sure you have a constant theme from beginning to end when you preach. When choosing Bible verses, you need to ensure they all coincide with one another.
They do not need to be from the same chapter or book. However, these verses should have a common element. That way, members can walk away with a new, refreshed feeling.

Create Invitations
You might want to start with designing some fliers or invitations to promote your church. This method works wonders for smaller congregations looking to expand.
Several websites allow you to play around with pamphlets. One free source that makes this process easier is Canva. By signing up for a free account, you can immediately pull from a variety of templates to quickly build a professional brochure without the expense.
Websites like Canva often have a wide variety of stickers and tools you can use to devise an original look. Make it fun but don't forget to add in pertinent criteria like:
The name of your church .
The address.
A phone number.
The pastor's name.
The church's hours.
Service times and dates.
Your mission.
A picture of the church.
Once you receive your invitations, it's time to get out there and hand them out! You can have church staff do this or recruit some volunteers. Go places where people like to gather.
Find some local festivals or monthly events to walk around and give out fliers. Remember, don't be too pushy. That will have the opposite effect.
Unfortunately, people have preconceived notions about religion. Be nice and as friendly as possible when discussing your church. If there is a welcoming presence of leadership, it will tempt people to attend church service.
Welcome First Timers
If you are at a service and notice new faces, you should go and greet them. New people do not feel comfortable in unfamiliar settings. Approach them with a smile and welcome them to the church.
It is a good idea to thank them for showing up. You might also want to keep a light conversation going.

Ask them about their life and what brought them to the church. The more comfortable they feel, the more likely they are to come back and tell their friends.
Make sure your church has a plan for reaching out to new members. You can establish a welcome committee to look for new faces and welcome them. You should also have a form new visitors can fill out that asks them how the church can help them in their spiritual journey. Last of all, reach out after church service using the information they left behind in the new visitor forms or pew cards. Your welcome committee or pastor can reach out directly, or you can send a letter out welcoming them, or both.
Shorten Sermons
Sometimes, sermons that are too long will cause people to look for churches elsewhere. Studies show that the average person's attention span lasts roughly 20 minutes.
Now, when it comes to church, people do expect a prolonged session. However, you are at risk of losing people if your sermon lasts for too long.
Focus More on Youth Groups
Getting youths and younger children involved in religion is a task. Many children say they don't like church because they feel forced to attend.
Children's attention spans are even shorter than that of an adult. You should assess your youth program's engagement.
Ask yourself: How exciting are the daily Bible lessons?
Small children enjoy visual stimulation. It keeps their interest and focuses their minds on the information you are teaching them.
Acceptable visual aids to include are:
Picture books
Puppets
YouTube videos
Movies/TV shows
Figurines
Providing Sunday school gets children involved in church at a young age. It also gives parents a space they trust to leave their children while they attend service. That is pivotal because sometimes parents skip church due to a lack of a babysitter.
Now, if you focus on appealing to older teens, visual aids won't be enough. Teens might be even harder to attract because they want to hang out with friends.
If you have the right amount of space, you might consider converting an area into a little hangout. You could put couches or chairs around and transform the room into a teen area.
Now the teens have a place to go that is away from the adults. They can mingle with each other and see that church is a fun place to attend.
On top of transforming your youth program, you should also dedicate some time to ministering to the children and teens. Church-going parents want their kids to learn something at Bible school.
So, showing the parents that you have a set teaching program will ease their nerves. It could also draw in parents who are considering church for themselves and their children.
Pay Attention to Your Demographic
Some churches choose to appeal to a specific demographic. They target younger people or who haven't been to church in a long while. Sit down and ask yourself what demographic best fits your goals and mission.
To figure out your preferred demographic, look into your community and identify who is in need of spiritual guidance.
Some examples to get you started are:
Urban youths.
People coming out of rehab.
Recovering alcoholics.
Single parents.
People getting divorced.
People who have experienced loss.
Once you nail that down, you can plan how to reach out to them. Sending invitations in the mail is an incredible way to spread the word. Another way is through volunteer work.
Make Involvement Easy
Many people want to do something more than attending Sunday service. Involvement helps church production and makes people feel like they are making a difference.
Give people a clear path to involvement. Don't muddle the details or leave anything out. After each sermon, you can take the time to explain to everyone exactly how they can help the church.
Include who they should talk to and where they can sign up. The issue with getting involved is that sometimes the information is lacking.
It is not enough for people to know they can help. They need to learn how they can become an active church member.
Host Coffee Nights
It's no secret that coffee is an excellent excuse to mingle and get together. So, why not use it as a way to bring people into your church? Dedicate a night of the week as a coffee house evening.
Whatever night you choose, the time should be before or after a sermon. It can even be on a night where you don't hold a service at all. You should set out snacks like croissants or doughnuts.
Of course, there should be coffee and some music. Make the atmosphere light, so people feel comfortable sitting around and talking.
To advertise coffee night, print up some flyers or take out an ad in the newspaper. People looking to join a church will see this and show up.
That is your time to tell them all about your mission and answer any of their questions. Once they see how down-to-earth and welcoming you are, they will decide to attend a service.
Host Virtual Sermons
About 24% of Americans say their faith has grown during COVID-19. One of the reasons is the demand for virtual sermons grew throughout 2020 and into 2021.
Many pastors took to preaching online, which went over very well. People did not have to quit attending church because they could do it safely from the comfort of their homes.
Although churches are now open for business, they should still offer the convenience of online worship. Offering virtual services will keep members engaged during the dreaded summer slump, where members leave on vacations and in-person attendance plummets. You can also keep in touch with any snowbirds in your congregation, and it can help you reach members who are ill.
If you have not set up virtual services or are simply looking to improve them, here's a guide to help. You can also get a list of dozens of must-have, inexpensive tools by clicking here.
Start a Social Media Account
Speaking of live streaming, you should think about starting a social media account for your church. Instagram boasts that nearly one billion people are active on their social media platform per month.
You could drive people to your church via your social media account(s). That way, people can keep up with church events and activities as you post them.
Once you have created an account, appoint someone to manage all social media. It should be that person's job to:
Implement hashtags.
Respond to comments.
Advertise church events.
Remember, you should post a few times a week. Don't let it slack because you will lose followers. You can also set your location to target people in your area and drive more traffic to your church.
Last of all, you should create a policy for how you want to handle your social media accounts. This will help you effectively engage the community and protect your church from unwanted incidents. If you need help creating a social media policy for your church, check out this free guide.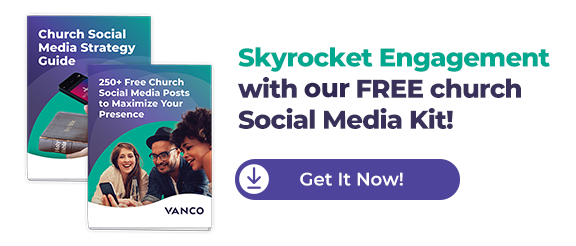 Church Marketing & Advertising
There's a lot of marketing tools churches should use to promote their ministries. These range from local online marketing to SEO and paid advertising. Many of the digital church marketing tools won't cost you a thing, and some paid advertising can be free as well.
Did you know your church can qualify for $10,000 per month of Google Ads? Google's ad grants program allows churches to access this money for free as long as they meet and maintain Google's requirements. If you're interested in this program, we built a Google Ad Grants for churches guide that walks you through the process and even shows you how you can begin managing your account.
Check it out if you want to access a huge advertising budget of $120,000 per year without spending a dime of your church's money.

Do Volunteer Work
Go beyond the online world with physical volunteer work. Speak to your local community and see what you can do to help out.
Many churches provide a hand in activities like:
Landscaping neighborhoods.
Painting neighborhood playgrounds.
Fixing up church buildings/playgrounds.
Helping at nursing homes.
Helping at a food bank.
These are just a few ideas for your church mission volunteer opportunities. You may also talk to neighboring private schools to see if they will let you speak with the children. These volunteer jobs are also a way to show the younger generations within your congregation the importance of helping others.
Host Holiday Festivals
Everyone loves to get outside and have some fun. Whenever a big holiday rolls around, plan a festival surrounding the theme. Even people who don't go to church will show up to partake in activities.
Some things to consider including in your festivals are:
Carnival-like games.
Bounce houses/slides.
Food trucks.
Market stalls from local businesses.
Garage sale.
Petting zoo.
Live music.
Open mic.
Prizes of all sorts.
While people are there, feel free to hand out pamphlets with information about your church.
Talk to People About Bad Experiences
Sometimes people want to go to church but are afraid due to a bad experience they had in the past. One lousy occurrence can ruin it for people altogether. A study by NSU Florida, highlights people's stories about how church's damaged their faith in God.
If someone encounters a negative situation at a church, it will turn them away from religion. That doesn't mean they don't want to go back to church, though. Some people still want to find a religious path, but they don't know where or how to begin again.
You should find that community and speak with them. Tell those people that you understand their position and feelings.
That will make them feel as though they are not alone. Those people will also see you for the kind person you are and feel less afraid to attend your sermons.
Set Goals
Having a clear set of goals to work toward will help you stay on track with your mission. You can start with the topic 'How to manage church growth' but shouldn't stop with that.
Instead, make a list of topics that branch out from that like:
Get more members.
Provide more community outreach.
Promote the church in public spaces.
Provide sermons to the homeless.
Whatever you can come up with, write it down on a piece of paper or whiteboard. Managing church growth and development is no easy task.
It will get crazy from time to time. Whenever the stress starts to hit you, be sure to refer back to your list of goals. That way, you don't lose sight of what you want to achieve.
Make Donations Easier
If your congregation loves your church, they will want to donate. Handling physical money comes with a lot of room for error.
You can misplace it or miscalculate it without realizing it. To avoid any mistakes, look into websites such as Vanco's online donation service. We offer affordable services that allow your congregation to donate in the blink of an eye.
These include:
Setting up each of these options is easy. Vanco designed them that way. We even put together a page of launch services to help ease your path.
Make Navigation Easy
No one wants to get lost when they go places. Parking is already a stressful situation and not knowing where to go makes it even worse.
On days where you have your largest crowds, you need to have church staff members in the parking lot directing people on where to go. On top of that, display the appropriate signage that directs church visitors to the auditorium.
Manage Church Growth
You need a system that helps measure growth at your church. After all, how will you know if you're growing if you don't have a way to track it.
One of the most helpful ways you could do this is with the Vanco church app. These applications for your mobile devices make it easy to keep track of crucial information.
You can create a free account with a few simple steps. From there, you personalize the app to fit your church's credentials and needs.
The church app also lets you manage seating capacity and provide easier communication with your members. The latter is critical for maintaining the growth of your congregation.
Your membership could expand almost overnight. The bigger it gets, the harder it is to make things personal. With an app, building a growing church community is easier.
Everything You Need to Know About Church Growth
Download our free eBook to learn everything you need to know about church growth. By following the guidelines and tested strategies outlined in our eBook, you'll have the framework needed to give your church a necessary jolt.