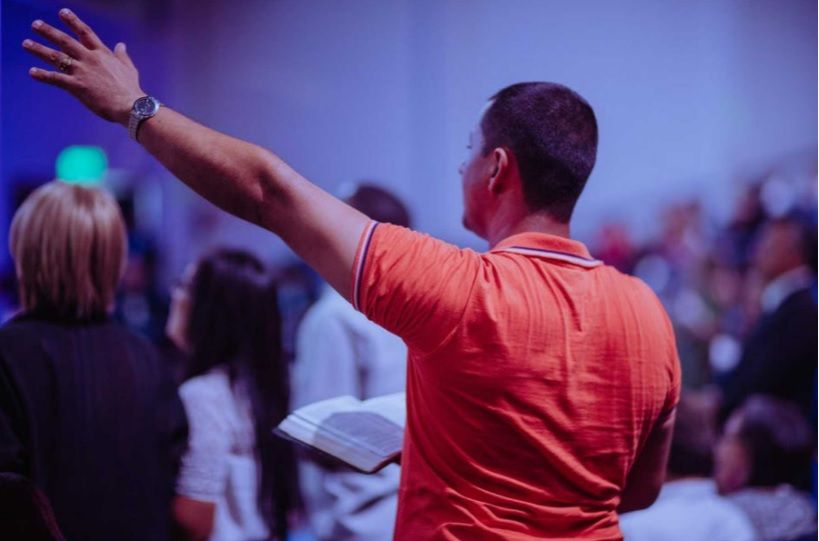 Why does you church need church connection cards? Well, church membership in the United States currently sits at 47% of the population. That's well down from historical records, where 3/4s of the population were church members. Because of the declining numbers in churchgoers, ministries need to do much more than in the past to nurture new visitors into new members.
It's not always easy to catch the new visitors when they arrive at the sanctuary. Your staff might not notice them in the crowd or several of your congregation members may be unwilling to reach out.. That's why church visitor cards help you connect with them and integrate them into the existing church community.
Because church welcome cards are so important for visitors, we created a guide to help ministries like yours. This guide explains the basics of the connect cards and shows churches how to use them. We also offer some free church connect card templates you can print. These church visitor card templates incorporate an optimized design to help catch the eye of newcomers, allowing you to increase the number of form completions.
Table of Contents
Download Eight Church Connect Card Templates & More!

Download our free church welcome kit to get... 
8 church connection card templates. 

Church verse & quote cards for your welcome packets. 

40 amazing welcome quotes to use in your printed material. 

Free welcome message templates for visitors.

7 free letter templates to welcome new members. 
Don't miss out on getting all the church visitor cards and other materials you need to welcome new members to your church!
What Are Church Connection Cards?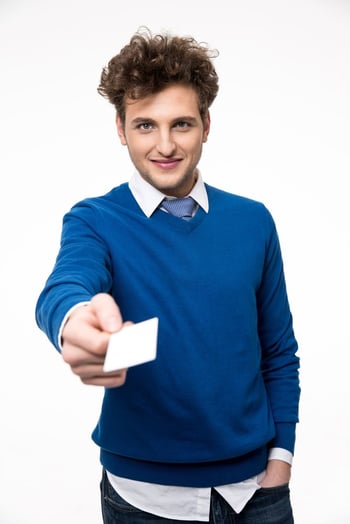 Before we jump into using first time visitor cards, we need to talk about them. Church welcome cards are physical cards your ministry hands out to encourage members and visitors to communicate with the parish.
Since these serve as first-time church visitor cards, they need to gather contact details. However, they can also be great for collecting prayer requests and other information from current members.
Even though church connection cards are physical cards, many churches also use a church visitor registration form to collect information. That way, they can digitally store info in their records.
Connection cards are an essential part of your hospitality ministry because they offer a way for ministries to assimilate new visitors into the church. Church welcome cards also help people feel appreciated and connected to the church.
How Do Connection Cards Work?
Now that you have a solid understanding of church connection cards, let's talk about how they work. By understanding how churches use these cards, you can develop more innovative ideas to use them and improve their effectiveness.
Connection cards serve three goals for growing church membership. And while you may not achieve all three goals with one card, you have a good chance of achieving at least one of those goals that lead to a growing church.
1. Collect Information
For the most part, church connection cards collect contact information. That way, church leaders can connect with newcomers, welcoming visitors to the church and supporting them through prayer.
2. Share Information
First time visitor cards also serve to share specific information about the church. They can list special services, evening prayer times, and church events to help encourage people to get involved.
3. Generate Interest
The third purpose of these cards is to generate interest in the church. They're a way for visitors to get excited about what the church is doing and who they are.
Free Church Connect Card Templates
Having a church visitor card template to print as is or adjust to your liking makes the process of improving or introducing welcome cards to your church much easier. In the examples below, we offer eight samples you can print and use as is or edit to fit your needs.

1. General Church Welcome Template
Church welcome cards are important, because you've already done the hard work of getting a new family through your doors. It's imperative you capture their information in the church connection cards so they don't simply walk out after service, never to be heard from again.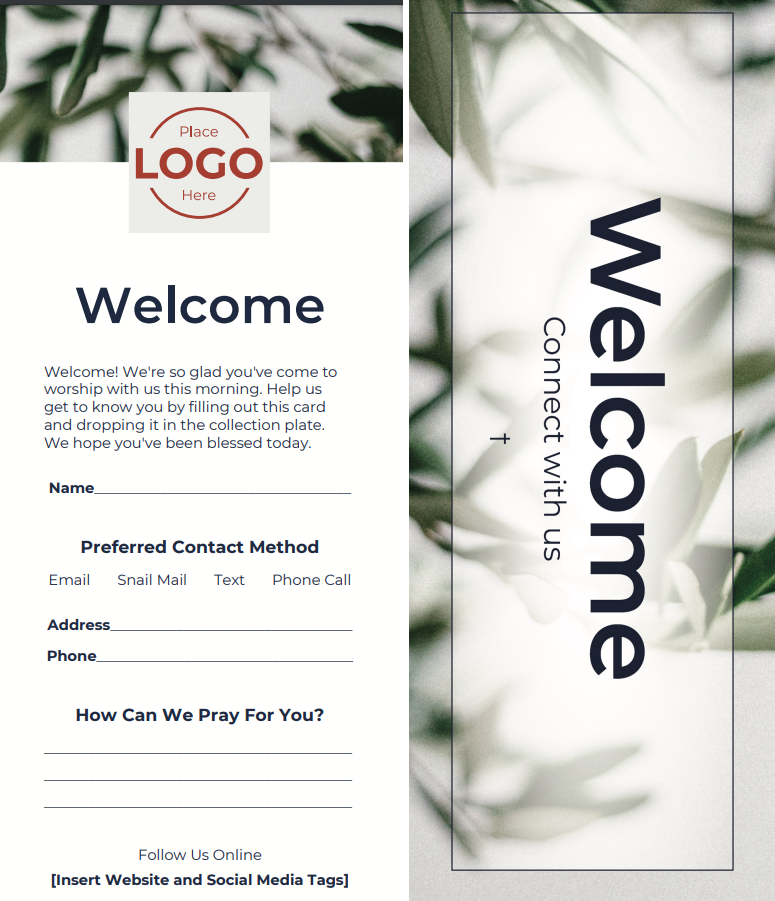 2. Formal Church Welcome Card idea
If your church is a bit more conservative, it's a good idea to carry that over to your church connection cards. Your visitors should get a cohesive sense of what the church represents before deciding if the congregation is a good fit for them. A good way to do this is to add a more professional tone to your church welcome cards. Once you receive new church visitor cards, you're able to reach out to get feedback.
Card A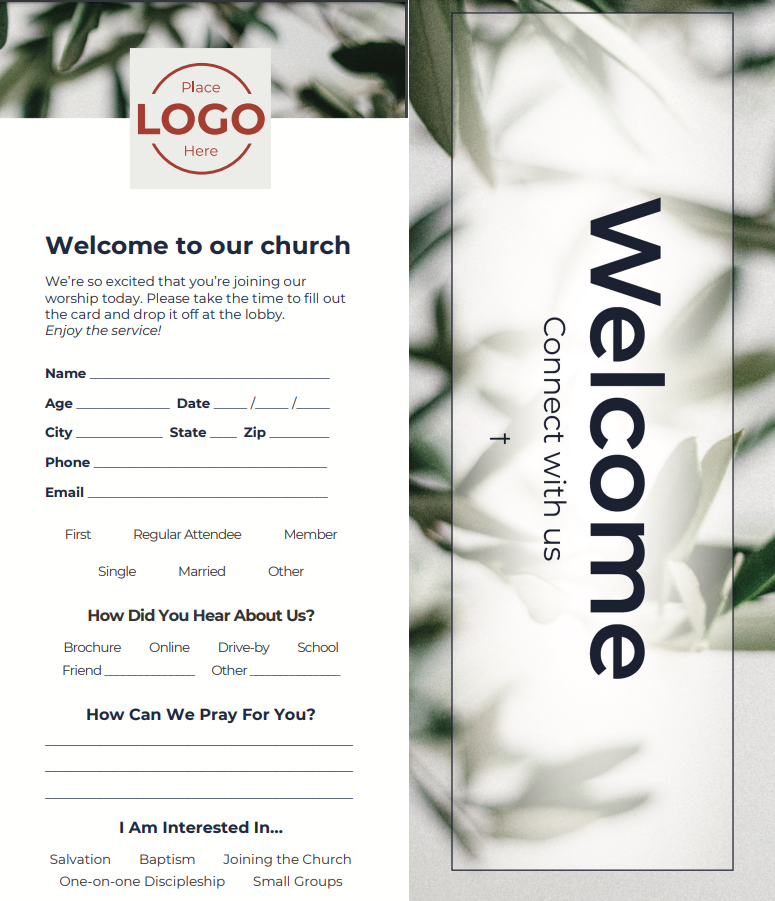 Card B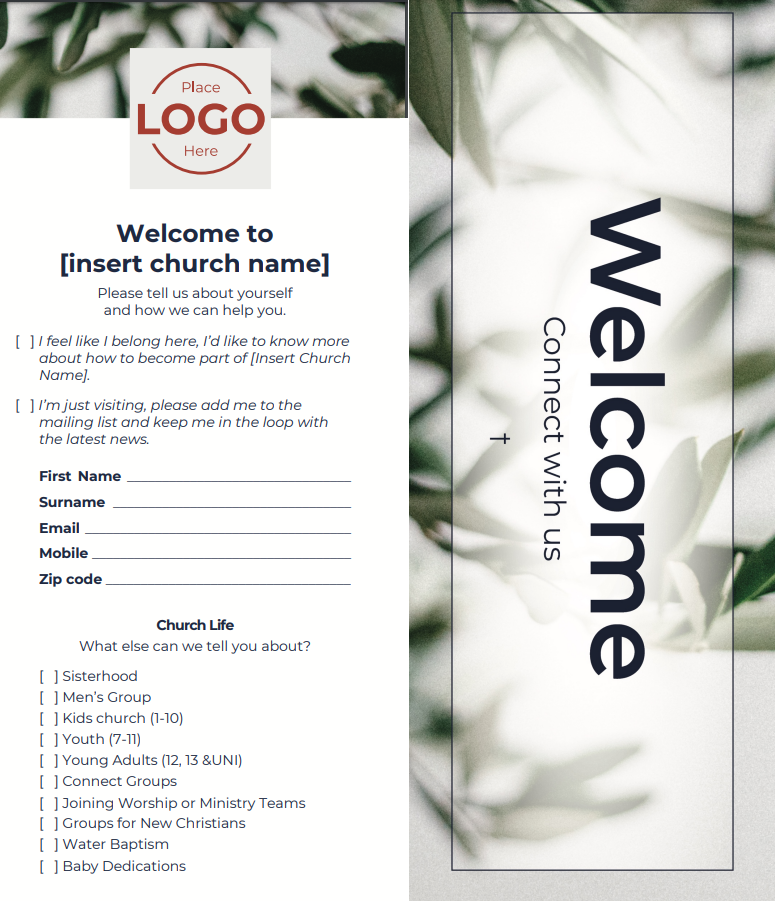 3. Welcome Card with a Personal Touch
Another great strategy to make your visitors feel more welcome is adding a personal touch to your church connection cards by simply showing gratitude or offering a free gift. The gift could be a coffee mug or a gift card. A simple gift will go a long way and show how much you value guests and members.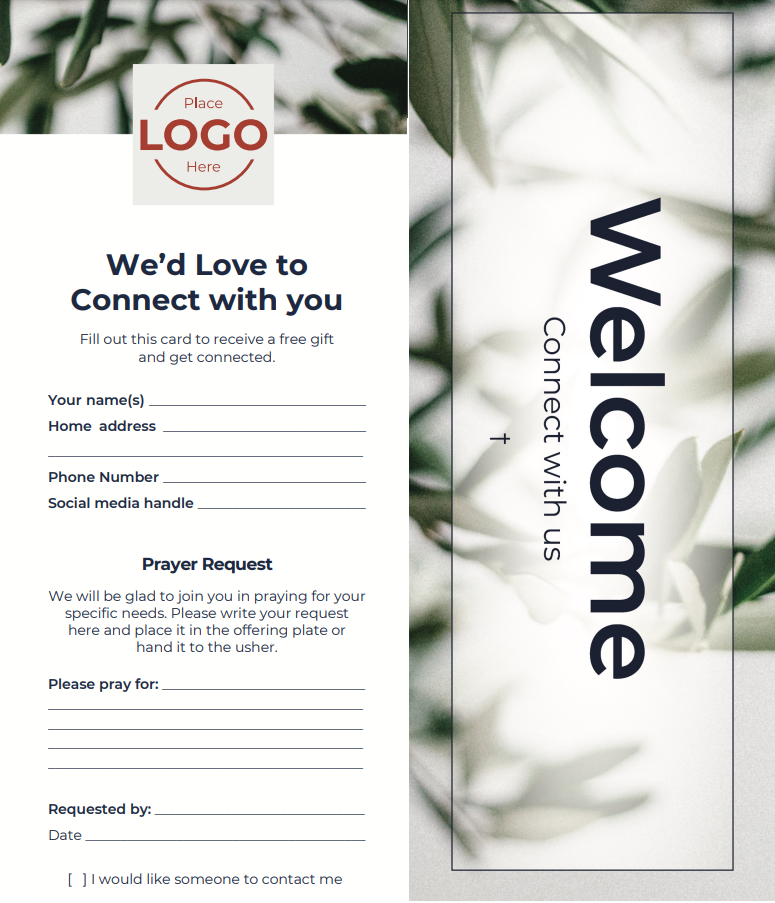 4. Volunteer Request Ideas for Church Connection Cards
If your church has a particular role you need to fill, try creating church connection cards for that specific mission. You can place these cards in your church pews alongside your welcome cards for visitors. This will allow your church to greet visitors and recruit members in finding missions to join.
Card A

If you don't have a specific mission that needs to be filled, it's a good idea to create generic volunteer church connection cards to see how your members want to take part in your church. You can even include this in, or alongside, your church welcome cards for visitors.
Card B

5. Feedback Church Connection Card Templates
Getting feedback from new visitors on the church visitor cards will give you a good idea of how to improve service to gain and retain members. Visitors are outsiders looking in and sometimes make the best critiques. Keep in mind that you will still need to hold onto the church's values before implementing changes. This will ensure you aren't upsetting current members.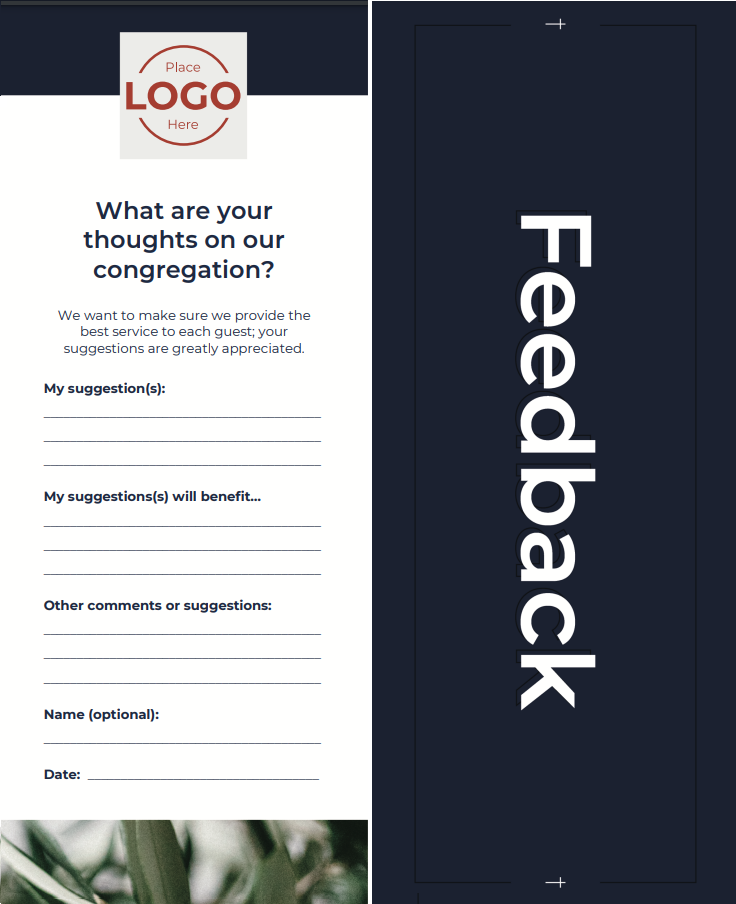 Although collecting feedback from first time visitors is important, you should also keep your members in mind when creating feedback-focused church connection cards. Make your members always feel at home. Continuously ask for ways to better their service by using a church connection card template like the one below.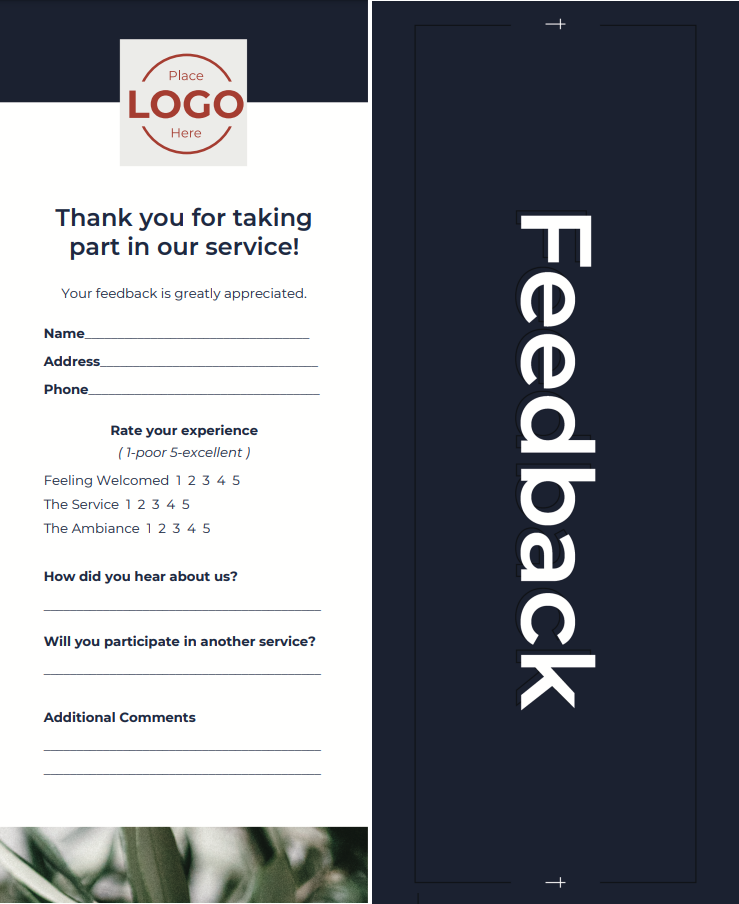 Tips for How to Use Church Connection Cards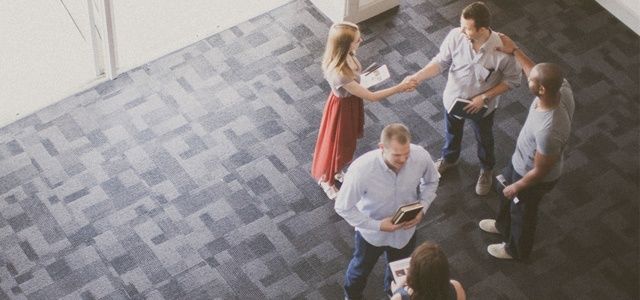 Now that you know how first time visitor cards work, let's talk about how you can use them in your ministry. There are several different ways to enhance your church connection cards to make it easier to connect with parishioners.
To help you out, we've put together a list of quick tips. Following these tips will make it easy for your church to succeed using these cards.
Simplify Your Connection Cards
When creating church connection & church visitor cards, it's tempting to include tons of different questions on the card. You want to get to know new members and learn about them!
However, the more fields you have on the church welcome cards, the more difficult it is to fill out. That makes it more of a turn-off to fill out and can cause people to ignore the cards altogether.
When creating church connection cards, think about the essential pieces of information. Then, only place the details you need on the connection card.
Remember, even if you don't gather all the information you need on the connection card, you can always do so later. Once you've established a relationship with someone, you can follow up on those extra details.

Use Easy to Understand Language
Your church connection cards need to be straightforward and easy to understand. You should avoid using slang specific to your church, as this can seem confusing or unwelcoming.
Instead, keep the language on your connection cards simple. Make the text appeal to your audience's curiosity and entice them to fill out the form.
Consider Going Digital
It's not uncommon to receive a church connection card that's all filled out and completely illegible. Perhaps there's a coffee spill on the card, or maybe the handwriting is simply illegible!
Either way, this can render your church connection cards useless. That can lead you to throw them away and miss out on the opportunity to connect with visitors.
One way to get around this issue is to create digital church visitor cards. With digital connection cards, you can capture the information you need and ensure it's easy to read and follow up.
Use Different Cards for Different Purposes
If you think you can only have one type of connection card, think again! You can have as many kinds of connection cards as you like, which can be great for highlighting specific aspects of your church.
When visitors arrive at your church, you can offer them a range of different church visitor cards to fill out based on their interests. A few suggestions for church connection cards include:
Volunteer cards

Church welcome cards

Bible study cards

Small groups
First-time church visitor cards

Membership classes
Using various cards makes it easier to connect visitors and members with the groups in your church that pique their interest.
Make Use of Color
Color psychology is an integral part of your church marketing strategy and is a great way to better connect with members and visitors. Making intelligent choices about using color on your church connection cards can help make it easier for visitors to communicate with you.
Try creating essential pieces of information in bright colors that pop off the page. Likewise, use other splashes of color to introduce further key details onto the card and capture visitors' attention.

Use Photos
Like how color is an essential part of church connection cards, photos can be as well. Photos can showcase what you're talking about on each of your cards and make it easier for you to get ideas across to new members.
On top of that, images grab the eye. They help catch visitors' attention to your church and make them more likely to fill out the church visitor cards and learn more about your parish.
Finally, using images on your cards makes it easier for your visitors to get to know you, which is a great way to build the foundations of a relationship.
Choose a Fun and Lively Vibe
One aspect of creating church connection cards that you don't want to forget about is creating a fun vibe. You want the tone of your connection cards to be friendly and welcoming.
A few ways to add life to your connection cards include using a unique, modern design or playing on words. These turn a boring old connection card into a fun and engaging way to connect with visitors.
Provide Options Instead of Write-Ins
Remember how we said that having tons of blanks to fill out can be a turn-off? Well, the same is valid for having tons of write-in spaces on your church connection cards. These types of write-in spaces mean more work for the visitor and a lower chance that they'll get filled in.
You can create options such as checkboxes and bullet points to work around this. These make it much more likely that someone will fill out the card.
If the purpose of your church welcome cards, for example, is to get people involved in your various ministries, you can list out all the options you have. That gives visitors and members ideas about how they can help, increasing the likelihood they'll sign up.
Follow Up
The last tip for using church connection cards is to follow up with your visitors and parishioners on time. The truth is, no matter how beautifully designed your connection cards are, they're no good if you don't follow up. Create a process for your church welcome committee to reach out to the new visitors.
It's best to follow up on the church welcome cards the same day you receive them, or at the very latest, a few days later.
The sooner you follow up with the connection card, the fresher your church will be in the visitor's mind.
Connect With Your Congregation and Visitors
With this guide to church connection cards, you're ready to start using this method to connect with first-time visitors and members alike. You can also try our guides on church welcome centers and church visitor gifts to better nurture newcomers into members.
If you want to continue growing your congregation through innovative tools, we can help you. Get in touch with Vanco Faith today to learn more about how we can help you grow your parish.
Get All the Materials You Need to Welcome Church Visitors

We've built a complete kit of templates to help you get started on building a comprehensive welcome packet for newcomers. Download our free church welcome kit to get...
8 church connection card templates. 

Church verse & quote cards for your welcome packets. 

40 amazing welcome quotes to use in your printed material. 

Free welcome message templates for visitors and new members.