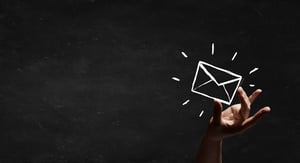 Did you know that 25% of money donated to charities is given in the month of December?
Between Christmas giving and tax time, the year end is a great time for churches and other charities to raise extra support. However, many churches won't get donations this time of year - mostly because they don't ask.
While pastors tend to avoid money issues at church, a great end-of-year giving appeal can be the difference between successful fundraising year and a slump.
Intimidated by the idea of launching a year-end giving campaign? You're not alone. This guide will help you write a winning year-end appeal letter to kick off your campaign.
Plus, choose from three year end giving letter templates for churches.
Online or Snail Mail?
This is the big question when it comes to a giving campaign.
The answer is, both.
It's true that church offerings have migrated online as churches go virtual - just one side effect of the COVID-19 pandemic. That's why an engaging, user-friendly online giving platform is more vital now than it has ever been.
At the same time, many church communities have members who aren't comfortable online. After all, Baby Boomers are the demographic most likely to donate to places of worship.
Don't leave out potential donors just because they prefer to open a paper letter. Bridge the gap by sending virtual giving appeals to most of your church community, while sending a few paper letters to those church members who you know would prefer a traditional method of donations.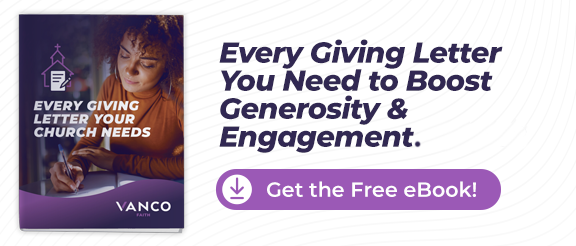 How Do I Write an End-Of-Year Giving Appeal?
Even with a great giving platform to support you, only you can write a year end giving letter that's truly unique to your church. Grab our top tips on writing an authentic appeal, plus an end of year appeal sample that's easy to adapt to fit your unique church.
Cut to the Chase
We've all opened appeal letters and emails, even from churches that do great work, only to have our eyes glaze over after the first sentence.
Here's how not to start your year end giving letter:
"As we all know, this has been a challenging year for many churches. In these unprecedented times, we've faced many challenges ..."
A big block of text full of generic information? Whoops, you already lost your reader.
That's fluff. Readers don't read it, and donors don't donate to it.
Most pastors and ministers struggle to cut to the chase when it comes to donations – they don't want to sound salesy or forced. But this kind of padding actually prevents your year end giving letter from sounding human and authentic.
Here's what to do instead:
Make an Emotional Connection
"Jessica's life was tough enough before the pandemic hit - as a single mom with an active toddler, she struggled to make ends meet. Worst of all, she felt far from God and didn't know how to turn back to Him. Finally, she searched online for church services in our city, and she found our church."
Woah, what happened there? All of a sudden, the reader's interested - interested in Jessica and in how your church helped her.
Telling a personal story gives your church's work a name and a face. It resonates emotionally with the reader and grabs their attention from the get-go. Starting your year-end appeal with a real story from your ministry is a sure way to get the reader invested in your work.
It's ok if you can't think right away of a story that you want to share. Try taking some time to pray with the following questions:
What has God been doing in our church this year?
What progress am I most grateful for over the past year?
What "wins" am I most excited to share with my fellow ministry workers?
Brainstorming these questions will get you excited to share what God has been doing in your church. One story is plenty to make an impact and keep the reader engaged.
(Just don't forget to ask permission from anyone whose story you might want to share.)
Use Stats to Show the Big Picture
Now that you've shared a glimpse of your mission that makes the reader want to learn more, describe the broader picture of your church's year. Statistics are a great tool to tell your story. Here's an example of how to transition from a personal story to your snapshot in statistics:
"Jessica is just one of the newcomers who has found a home at [Your Church's Name] in the past year. Despite going completely online due to the COVID-19 pandemic, we've seen a 15% increase in attendance. That means that over 20 new individuals and families have joined us regularly to worship God and connect with our community."
What other exciting numbers do you have to share? Have you seen growth in your food bank numbers, virtual small groups, teen programs or any other ministries? Add them to your letter - it all contributes to the big picture you want to show your reader.
If you don't have access to any numbers, simply summarize your church's year in your own words:
"This year, we've been blessed to serve more clients through our food bank than ever before."
"Our outreach team has been successful in sharing the Gospel with many teens on our streets."
These statements grow your reader's understanding of your church's ministries and build their excitement to donate.

Create a Call to Action for Your End of Year Giving Appeal
Now that you've drawn the reader in with a personal example of your church's mission and shown the big picture through statistics, it's time to make your ask.
The key to keeping the ask authentic and unforced? Remember that you're offering the reader a chance to share in your mission. The focus is on the work, not on you.
Be clear about what you're asking. Instead of a general appeal like, "we invite you to prayerfully consider supporting our work," be specific.
Have you set up a new giving platform that you want donors to use? Are you inviting them to make a year-end holiday gift? Would you like them to sign up for monthly giving? Let them know.
Make it easy for them to respond. Don't make your readers hunt for how to donate - they will lose interest before they've followed through. For your email year-end appeal, include hyperlinks straight to your giving page and your church app in the app store.
In a paper letter, include any monthly giving forms so that readers can fill them out right away. If possible, include a prepaid envelope too - it's a thoughtful touch and one fewer step for your donor to complete.
Here's how a great call to action sounds:
"Our ministry here at [Your Church's Name] is possible because of the faithful support of donors like you. This year, we invite you to support our mission to share the gospel in our city. Please prayerfully consider making your holiday gift to [Your Church's Name] through our secure online giving platform."
Simple, clear and click-able.
Keep it Personal
Despite online communication's advantages, the year-end giving email has one disadvantage when it comes to donating:
It's impersonal.
Donors can't scan an email and see a "blue ink" signature that tells them that a real person signed their letter. And who wants to feel like a machine is asking them for money?
A few tips to make sure you keep a personal connection with your reader:
Use a conversational tone. Online communication can be a little less formal than a paper year end giving letter because you want to hear the person behind the screen.
Give a heartfelt thank you. Your donor letter should always end with a thanks - when donors know that their support is appreciated, they are more likely to donate again.
But a thank you statement that sounds generic, robotic, or mass-market-ey can actually push your reader away.
Instead of a boring "Thank you for your support," find warm, human words to share your gratitude. A simple "We couldn't do this without you" will bring a smile to their face and ensure they remember you.

Year End Giving Letter Templates for Churches
Choose between our three polished letter templates for your giving campaign. Each are easily adaptable to your church's unique personality.
1. Community-Oriented Church Appeal Sample Letter
This year end giving letter template is a great choice for churches with a relaxed, approachable vibe.
Dear [Name],
We're so grateful for your faithful support of [Your Church Name.] Just last [week, month, etc], we heard from Sarah, a new church member. Sarah shared with us that [describe her situation and how the church helped].
And Sarah isn't alone. This past year at [Church Name] has been busier than ever as we've been blessed with tremendous church growth. Our online worship services have been incredibly successful, attracting even more attendees than our in-person services last year! As well, more than 10 new virtual small groups have formed, where seekers have found faith-based friendships at a time when they need it the most.
Amazing developments like this wouldn't be possible without supporters like you. This holiday, we invite you to continue partnering with us as we reach out to our city with God's love. Please pray about making a year-end gift to our work - it's as easy as sending a text or downloading our app!
Your support means so much to us. Thank you.
Blessings,
[Your Name and Title]
2. Mission-Oriented Church Appeal Sample Letter
This year end giving template takes a more formal tone, with a focus on outreach and mission.
Dear [Name],
When Josh came to us at the beginning of this year, he felt like he was out of options. [Describe Josh's story and how the church's ministries impacted his life.]
Josh is just one of the many people whose lives have been impacted by [Your Church's ministry] this year. Despite the challenges of the COVID-19 pandemic, we've seen a 15% increase in [ministry type] participants, plus more engagement in [ministry area] than ever before. Clearly, there are wonderful opportunities to share God's love hidden within this difficult time, and [Church's Name] seeks to meet them.
As this year comes to a close, we're asking for your continued support as we care for the vulnerable in our city both spiritually and practically. Please consider making your year-end gift to [Church's Name] through our online giving page or through our free, secure church app.
With prayers of gratitude,
[Your Name and Title]
3. COVID-19 Year Church Appeal Sample Letter
This was a year like no other, and your fundraising letter can be honest about that. This template can be easily modified to reflect your church's COVID-19 response.
"Dear [Name],
This year, we all learned that we can't do faith alone. When Molly's university closed its doors in the face of the COVID-19 pandemic, she felt lost and isolated. For the first time, she began to think about faith, and discovered [Church Name] through our online ministry. Now, Molly is growing deeper in her relationship with God through our faith community.
Leading others to the Lord is the core of our mission at [Church's Name]. As the pandemic unfolded, leading to skyrocketing rates of mental health issues, we knew we were called to step in to offer hope and comfort. That's why we launched [COVID-related ministry], which has reached out to dozens of young people like Molly.
These exciting new ministries are costly, especially at a time when church giving is low. Would you prayerfully consider [Church Name] as your year-end gift recipient this year? Our secure online and mobile platforms make it easy to give.
Blessings as we move forward into the new year together,
[Your Name, Title]
Be Confident in Your Year-End Appeal
Writing a fundraising letter can be more intimidating than preaching on Sunday morning.
With these tips and templates, you can create a tailored fundraising letter to launch your church's end-of-year giving appeal confidently.
Looking for Church Letter Templates to Fit Any Situation?
Without a framework, or an example, crafting an appeal or a thank-you message can be cumbersome. That's why we built a complete guide that not only offers 105 letter samples and templates for nearly any situation, but also offers specific guidelines to help.
Download the guide for free!