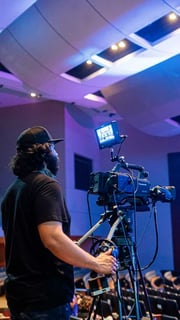 If there's a demand for recording your church's services, you've been blessed already! Now it's up to you to find the best video camera to record church services.
You need the right tools and the right people to operate them. Whether your congregation needs the basics on a budget or a deluxe professional setup, you can find one!
Let's explore a few best cameras options available for recording church services.
What Does It Mean?
Unless you're well versed in technological jargon, camera specs and details are overwhelming. Here's a quick guide to basic camera tech terms. After all, how can you find the right camera for recording church services if you don't understand what they do?
EQ (equalization) provides a way to balance sound.
Zoom Lenses allow viewers to see images up close (zoom in) or further away (zoom out). 20x zoom, for example, refers to how many times the picture is magnified.
Pixels are small dots that, when combined, create a digital image or picture.
Resolution is how pixel units are measured. The higher the resolution, the clearer and crisper the image. For example, 1080HD is not as high at 4K (or UHD).
Image stabilization (IS) or optical image stabilization (OIS), refers to a feature that corrects small, unwanted movements.

What's Included?
Did you know that not every camera comes with a lens? It's important to be informed about what you're buying. Some cameras do not come with microphones or sound options.
Explore all included features and look out for additional purchases you may need to make.
Operator Skills
Who will be operating your camera? If the director of your digital kingdom is highly tech-savvy, more complicated equipment won't be an issue.
If you have more than a few well-trained volunteers running video, you may want to keep things simple. It's also much easier to find volunteers if the equipment doesn't require an IT degree to operate.
Security and Storage
Technology is a congregational investment and needs to be protected. How will you store this fancy new camera gear?
Who will have access to the equipment and when? Consider placing a sign-in and sign-out sheet in the storage area. That way, you'll always know who last used it if questions or problems arise.
Don't Bust Your Budget
Yes, purchasing a camera to record church services will cost money. Think of this as an investment. The video camera to record your church service will be an evangelism tool. A good camera will also allow parishioners access to your message at home amidst COVID-19 restrictions.
Where's The Stream Flowing?
Will you be recording church services to stream online? If you're planning to project your services as well as record them, resolution matters. If the video and sound are out of sync, it could be distracting to worshippers.
Walk-In The Light
We all know it's the best way to have fellowship with one another! Light is a big consideration when selecting a camera for recording sermons and other events. Remotely worshipping members could get frustrated with a low-quality viewing experience.
If you can't provide adequate lighting in your space, select a higher quality prosumer video camera.
For The Tech Basic Crew
Maybe your camera crew doesn't want to make things complicated. That's ok! Your church's eager volunteers should feel comfortable recording those church services. Let's explore basic but good cameras for recording church services.
Canon VIXIA HF R800 Portable Video Camera Camcorder
This is a great basic option if you're looking for simple, affordable quality. Canon VIXIA HF R800 has built-in Wi-fi, full HD, and a 3" touch panel. Camera operators can zoom easily with this option.
While a 1080 HD resolution will be more than adequate, consider a 4k if possible. More and more technology is going 4k and away from 1080 HD. Purchasing 4k increases the likelihood your camera will work with future technology purchases.
Because it's a camcorder, the VIXIA HF R800 has optical image stabilization. If you have recorders who like to move around, it's a great feature to have.
This is definitely a budget option. Most VIXIA HF R800s will set you back around $250.
Panasonic HC-V180k Full HD-Camcorder
This is another basic option for your tech-averse volunteers. Panasonic HC-V180k features a 28mm wide-angle. With HYBRID O.I.S. and level shot function, you don't have to worry about making your online viewers seasick with unwanted motion.
The BSI sensor can correct the sanctuary's less than ideal lighting issues. Online parishioners can enjoy great picture quality at Easter sunrise service and Christmas Eve's candlelight vigil.
Maybe you've planned something extra fun for this week for recording church services. You'll have a great time utilizing special effects like 8mm movie, silent movie, miniature effect, and time-lapse! No need for expertise, you can make all the fun edits on Panasonic's HC-V180K's touchscreen.
Using Zoom? This camera has a two-channel Zoom microphone for high-quality sound from near or far.
With 1080p resolution and fun basic features, this camera is a good budget buy for under $250.
Livestream Mevo Plus
This little camera has a unique, cylindrical look to it. It's so small, you might even forget it's there!
Mevo Plus is meant to be mounted and controlled from a smartphone or tablet. There's no viewing screen included in the Mevo plus.
With its movement tracking feature, online worshippers won't be left out of any action. Mevo plus also detects people!
With 4k resolution, the picture quality is top-notch zoomed in or out. At just under $400 and a one-year warranty, it's not a bad little buy!
Panasonic 4K Ultra HD Video Camera Camcorder HC-VX981K
Panasonic is offering a basic and high-quality option. This model is a step up from the Canon without overcomplicating things.
Users can enjoy 4k resolution.
In-camera editing provides the opportunity to edit without having to download and upload to an external device. Your tech team can crop, pan, zoom, and use subject tracking within the camera. There's no need for extra software or devices to get your edits done!
With a lens offering a 20x zoom option, you can magnify those in attendance while they're magnifying The Lord! This camcorder also comes with Optical Zoom Stabilization.
If your sanctuary has less than ideal lighting, the HDR (high dynamic range) feature will help correct it.
By using a smartphone app, users can connect to this camera to provide picture-in-picture style video. This is a great feature for those who want to watch the preacher and the slides/outline.
Devices can connect to the Panasonic HC-VX981K via wifi or USB.
You don't have to worry about busting the budget with this option. Most are available for under $1,000.
PTZOptics-20x-SDI GEN-2 IP Streaming Camera with Simultaneous HDMI and 3G-SDI Outputs
Don't have a good spot for a tripod with an operator? Nobody will need to babysit this camera as it records your church service. You can mount the PTZOptics-20X where the angle is best and control using an app on your ios or Android device.
If you still want to mount this device, it has a place to connect to a tripod. The option to mount and control remotely is a great feature!
This is a great video camera for recording your church service. Parishioners viewing online will appreciate the 2D and 3D noise reduction option. Online viewers won't miss a thing when toddlers boisterously display their opinions during the sermon.
The PTZOptics-20X-SDI Gen-2 has a full 1920x1080 video resolution. It offers low light correction with 0.5 lux and noise cancellation. With a 60.7 degree wide-angle lens, your online viewers will feel like they're sitting in the pews.
You'll pay a bit more for this video camera to record your church service. The ballpark price of PTZOptics-20x-SDI Gen-2 is around $1,700.
Turn Up The Tech
If your church is blessed with professional tech people, praise The Lord! Take advantage of your videographers' gifts by getting tech they can have fun using. It may be a good idea to ask for input from those who will use the equipment.
Canon XF405 Professional Camcorder
This gadget provides your pro videographer with options they will appreciate. Don't be annoyed by the autozoom feature, Canon XF405 pulls it off!
Users enjoy the full 4k HD experience for recordings and live-streams, a feature usually reserved for professional quality recording devices.
Another great advantage to the Canon XF405 is the audio choices. Tech-savvy users can select from an internal stereo mic terminal, internal stereo mic, or two XLR terminals. Control over audio options makes customizing an online worship experience that much better.
Canon XF405 operators can enjoy features such as 15x zoom and slow or fast recording. This handy camcorder can plug in or connect to wifi. This camcorder comes with auto image stabilization operators with less than stable grips.
Services running a little long? Perhaps you're recording multiple weeks' services at once. With two SD card slots, you won't have to worry about running out of recording space.
Your budget committee can expect to drop just over $3,000 for a Cannon XF405 Professional camcorder. If you have people skilled enough to utilize all the features, it's a great investment.
Blackmagic Pocket Cinema Camera 4k
Don't be put off by the name, there's no dark magic happening here. The Blackmagic is an excellent professional-grade camera for recording church services!
Blackmagic's versatility sets it apart from other pro cameras. You can use the Blackmagic Pocket Cinema for large scale productions and personal testimonials. Camera operators and viewers will enjoy the same quality for large scale and smaller interview-style settings.
Blackmagic Pocket Cinema will provide your remote worshipers with an excellent picture. In addition to 4K resolution, the picture quality is enhanced by a micro four-thirds sensor. This feature allows focus on the subject and not the background.
This camera has a larger low-light sensor to detect less than ideal lighting situations. The option to color grade in real-time is a great feature as well. This means your super skilled videographers can use their gifts for visual creativity while recording!
Switch It Up
Many high tech setups have switchers to accompany recording equipment. Using a Blackmagic switch without a Blackmagic camera limits available features.
A Blackmagic switcher and a Blackmagic Pocket Cinema Camera go together like Law & Gospel. Camera operators can customize recordings using any of these features remotely:
white balance
exposure
focus
shutter speed
color grade
compression
With all these features, you may be picturing a giant, obstructive fixture on a tripod. The Blackmagic Pocket Cinema is surprisingly compact. This makes it a great camera for recording church services.
Recognize Your Volunteers
Behind the camera volunteers often go unnoticed. Make sure your members know who is putting in the hard work of recording, editing and posting services. Acknowledging volunteers' efforts along with providing a good camera for recording church services will go a long way.
After all, focusing on gratitude is always a good idea!
Get Expert Guidance for Free
Vanco has created a detailed resource that covers every aspect of setting up a virtual ministry. Click on the resource below to get your own copy!