Pushpay Versus Vanco? The Best Choice for Your Church
For many churches that are buying online giving platforms, the process often involves considering Pushpay versus other providers. Pushpay is a popular system with many common online giving features. But this kind of purchase is a commitment on many levels, and it makes sense to consider all available options carefully.
When churches look at Pushpay — and Pushpay alternatives — it's important to consider a variety of factors. Will church members find the system inspiring and encourage them to give? Does the provider understand the needs of a church your size? Will you get good value for the money you invest in the system? Can you get help installing the system up-front and later if you run into issues? These are just a few of the questions to ask when comparing Pushpay to alternatives.
Keep reading for details on Pushpay and another option you might consider — Vanco.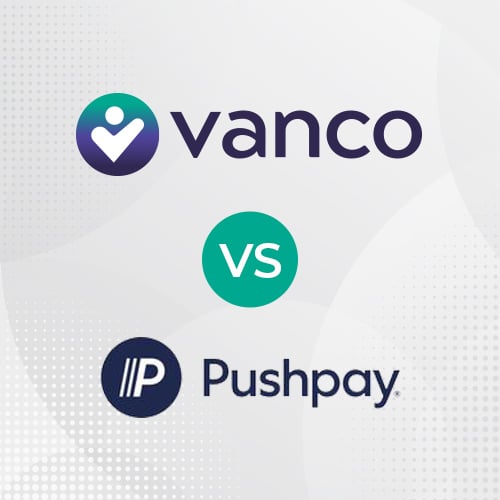 Get a Free, In-Depth Comparison Between Vanco, Pushpay and Top Providers
As a church looking for an online giving platform, you should understand both the services and the value you'll get when you select a provider. Be sure the system you invest in is the right fit for your church's needs. Get help navigating the complexities of plans from some of the largest eGiving providers.
Get Your Free Comparison

Pushpay for Churches
What Is Pushpay?
Pushpay is an online giving platform that nonprofit organizations use to facilitate donations and engagement with their communities. Pushpay provides online giving pages, apps, text functions and kiosks that enable community members to make donations through a secure, streamlined interface and connect with the organizations and each other. The software enables staff to generate analytics and reporting to track progress and development opportunities and share data with their existing management software programs.
Who Uses Pushpay?
Churches and other nonprofit organizations use Pushpay to process donations and communicate with their members and other donors. These organizations' leaders and administrative staff use Pushpay to process all kinds of transactions and communications.
How Does Pushpay Work?
Pushpay enables users to build and maintain databases of donors and their gifts, including contact information, donation amounts plus payment methods, details and dates. Users access web, kiosk, text and app interfaces to sign up and make one-time or recurring donations remotely. They can give using credit cards, debit cards or ACH transfers from banks.
Why Do Churches Use Pushpay?
Churches use Pushpay because the platform allows church members and others to give electronically. In addition to accepting online donations, Pushpay also offers products and features that help churches manage their essential church functions and provide an online worship experience. Some of Pushpay's products and services include:
Giving: Churches can develop donors, provide giving statements and analyze giving data.
Church management system: Church staff can search for and reach out to members, schedule events, track attendance and report on activity.
Apps: Enable mobile ministry, help church members donate, and provide information, communication, and connections through media feeds.
Leader apps: Church leaders can create worship plans and schedules and manage volunteers.
Pushpay serves many of the largest churches in the United States. Their products are generally considered easy to use for members and staff. But what happens when you compare Pushpay versus other options?

Why Do Churches Look for a Pushpay Alternative?
With all these products, services and features, Pushpay initially looks like a logical solution for churches that want to streamline and improve their online giving tools and processes. But there are also potential pitfalls.
Here are ten reasons that churches shopping for online giving platforms — or already using Pushpay — might look beyond Pushpay for solutions.
1. Cause-based Visual Storytelling
Churchgoers want to give to causes they can visualize, and they want to understand the impact of their donations. Without this detail, they might lack the inspiration to give. This is supported by the data in Vanco's 2023 Churchgoer Giving Study and Giving USA's data showing that religious organizations are receiving lower percentages of total donations year over year.
Pushpay's limited drop-down menus provide only brief, vague names for various church causes, providing little encouragement and motivation for potential donors to give to specific causes they care about.
2. Cost Concerns
Pushpay can be expensive. It's one of the most common complaints churches have when they consider Pushpay versus other providers.
3. Pricing Transparency
Pushpay doesn't publish pricing on their website. Instead, they show packages that are difficult to compare. The only way to get more information is to request a demo and spend a good deal of time going through their sales process. Additionally, churches often don't know what they're paying for, including hidden fees and features they don't use.
4. Customer Service
Churches using Pushpay can have trouble getting help when they need it. Rather than simply picking up the phone, sending an email or using other channels to contact a real person quickly, Pushpay customers complain about waiting more than 5 days to get help when they have problems.
5. Value for the Money
Churches making investments in new technology want to know where their money is going. According to their own 2022 Annual Report, nearly a third of Pushpay's annual revenue comes from the high subscription fees they charge customers. Churches pay this fee regardless of whether they bring in a single online donation. Also, it doesn't matter how long it takes a church to get Pushpay up and running and rolled out to members, expenses begin accruing the moment they sign their contracts.
6. Contracts
Church customers must closely track when their contracts expire. If they don't let Pushpay know of their intent to cancel within 90 days, their contracts are renewed automatically.
7. Large Church Emphasis
Pushpay puts most of their effort into serving large churches (1,100 average weekly attendees or more), rather than enabling churches of all sizes to meet their goals. While Pushpay reports to investors that it plans to expand and serve churches that are smaller than their core customer base, our research shows that they're still experimenting with pricing structures to successfully expand into that segment. This suggests that it will take time before their solution is developed enough to serve smaller churches.
8. Implementation Support
Pushpay's hands-on implementation support is reserved for large churches. Many online reviews for smaller churches state that they had no implementation support and had to use an "online university" to get up and running. This is supported by online searches for "Pushpay implementation specialist," which yield results with job openings for Implementation Specialists for Enterprise (large) churches.
9. Integrations
Pushpay has a limited number of integrations with management systems preferred by many churches. When you look at Pushpay versus competitors, explore whether it is integrated with your church management system.
10. The Fine Print
Pushpay guarantees 5% growth in giving during the first year, or they will return the first year's annual fee. An offer like this is attractive to any church. However, according to many online reviews, it's extremely difficult to get Pushpay to honor the guarantee because churches missed a step in the fine print, but Pushpay offered no coaching along the way to ensure customers would meet all the requirements.

Why 25,000+ Churches Chose This Pushpay Alternative
For many reasons, finding the right online giving platform for your church can be a challenge. When you consider Pushpay versus the many alternatives, it's easy to get bogged down in details. But many churches have already done this work and have found solutions that work well for them. In fact, more than 25,000 churches have found a Pushpay alternative that meets their needs — Vanco.
Here are ten reasons why Vanco is a great alternative for churches looking to enhance donations and nurture closer connections with their church communities.
1. Inspiring Details
With Vanco, churches can use engaging visuals and descriptive storytelling that inspire members to give and show them how their dollars will make a difference. This kind of detail increases donors' generosity.
2. Competitive Cost
Vanco has competitive fees and low monthly rates ranging from $0 to $49 with no setup fees. This is true no matter how many Vanco solutions your church uses.
3. Clear and Simple Pricing
Vanco provides straightforward pricing, and the details are available to the public. No hidden fees, no guessing and no confusion over plans. Just simple comparisons. Also, you won't be forced to invest a lot of time and energy in the sales process to learn the overall costs.
4. Robust Support
Vanco is known for quick, responsive support. You can talk to a live person when you need help, and connect with us your way, by calling, emailing or using the chatbot.
5. Good Value for the Money
Vanco's monthly plans are straightforward and much more affordable because our business model doesn't rely on charging high subscription fees.
6. No Contracts
Vanco wants to earn your business every day. For that reason, we don't lock you into contracts — you can cancel at any time.
7. Service for Churches of Any Size
While Vanco serves large churches, we also focus on enabling churches of all sizes to meet their goals.
8. High-Touch Implementation Support
Vanco provides hands-on implementation support for every customer, with a focus on speed to value. This means you're not stuck for months trying to find answers online about setting up your solution and worse yet, being charged for those months. Instead, an implementation specialist will give you hands-on guidance and support, along with plenty of marketing materials to help your members embrace Vanco.
9. Extensive Integrations
We integrate with over 60 church management systems. Churches can easily route each donation to its intended cause and bookkeepers will find reporting takes a fraction of the time.
10. Meaningful Guarantees
Vanco is a flexible and supportive partner, and we're completely invested in you. If we offer a guarantee of any sort, you can expect us to do all we can to be sure you hit every milestone and achieve the growth goal you were promised, instead of catching you up in fine print.
Why 25,000+ Churches Chose This Pushpay Alternative
By now, you have a better idea of the many factors you should consider when you invest in an online giving platform. More than 25,000 churches have already made this kind of investment, and they chose Vanco. But before you make a decision on Pushpay versus other options, find out what other churches think of Vanco and listen to their reviews and experiences. Find out why a comprehensive system built for churches of all types and sizes is the best solution for your church.
Vanco Gains Praise from Pastors, Church Staff and Others
Pastor Peter
Why Pastor Peter and tens of thousands of other pastors choose Vanco!
Treasurer Dave
Church finance staff and volunteers love Vanco. Watch now to see why!
Recorder Colin
An increase in dues of 75%! Watch the video to get the full story.

Unlock the Truth Behind eGiving Solutions — Vanco vs. Pushpay
In the bustling landscape of eGiving, two names often rise to the top — Vanco and Pushpay. But how do you know which one to entrust with your church's mission?
Deciding on an eGiving provider isn't just a choice, it's an investment in your church's future. That's why we're offering this in-depth comparison, to empower you with the knowledge you need to make the best decision.
Get your FREE, comprehensive comparison today. Because your church deserves the very best.