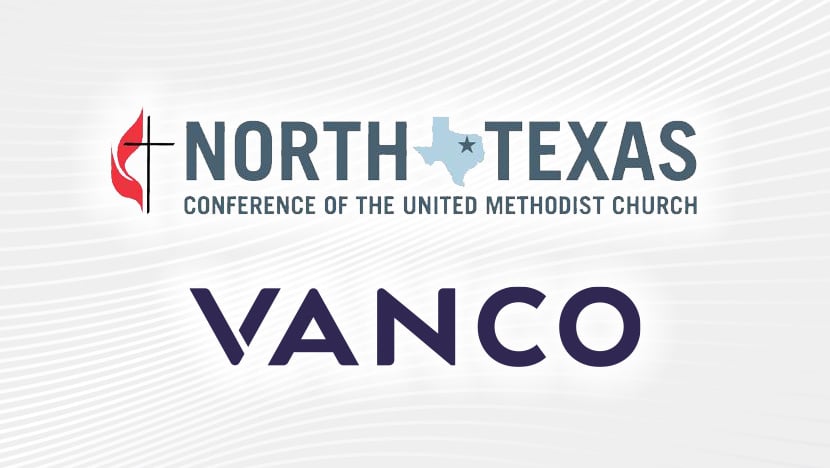 SUBJECT: Preferred partnership deal empowers churches to offer improved giving experience
DATE: April 20, 2022 
 
MINNEAPOLIS, MINN.  Vanco has been selected as a preferred partner for online giving and donation processing for the 226 member churches of the North Texas Conference of the United Methodist Church (NTC). 
Click here to view a one-minute introductory video on Vanco's online giving experience or visit https://www.vancopayments.com/egiving/methodist for additional information.
Vanco empowers churches to fulfill their missions by simplifying the giving process through
secure, easy-to-use giving tools that include online donations, text-to-give and mobile giving. This process helps drive generosity and boost engagement by allowing members to see the impact their gift will have on the ministry of their choice. 
"It's a great opportunity for us to partner with the North Texas Conference of the United Methodist Church and provide church members with a simple, secure and impactful online giving experience," Vanco Vice President of Strategic Partnerships Dan Gretz said. "Online giving is an increasingly important avenue for raising support for churches and this partnership will help churches offer a giving process that connects members to their mission in a meaningful way."
Vanco's partnership with the NTC includes affordable rates and knowledgeable, 24/7 live customer support to ensure a successful giving experience for both churches and members. 
NTC member churches who partner with Vanco receive access to helpful marketing support, including webinars and content for emails, newsletters and social posts. These valuable tools facilitate effective communication for churches, keeping their members connected to the mission. 
"Online giving is becoming an increasingly important way for our churches to generate support for their ministries and programs," NTC Treasurer Christy Drenner said. "Working with a trusted partner like Vanco will help our churches tap into a wealth of expertise and maximize the online giving experience. I know our churches are going to see real benefits from Vanco's knowledge and support as we partner together."  
If you have any questions about Vanco's products or services, email sales@vancopayments.com. 

  ###