For any school planning a graduation ceremony, there are a lot of moving parts — a graduation ceremony planning checklist can help. We created a checklist to guide you through the graduation planning process, including determining your budget, planning for the size and location of your ceremony, promoting and communicating all the details to graduates and their families, and managing speakers, music, caps and gowns, and all the other important symbols of the day.

So, make planning a graduation ceremony checklist the first step in planning your graduation ceremony, so the day runs smoothly for all the attendees — and for your school. Keep reading to get advice and guidance on the best ways to manage this important milestone for students and their families.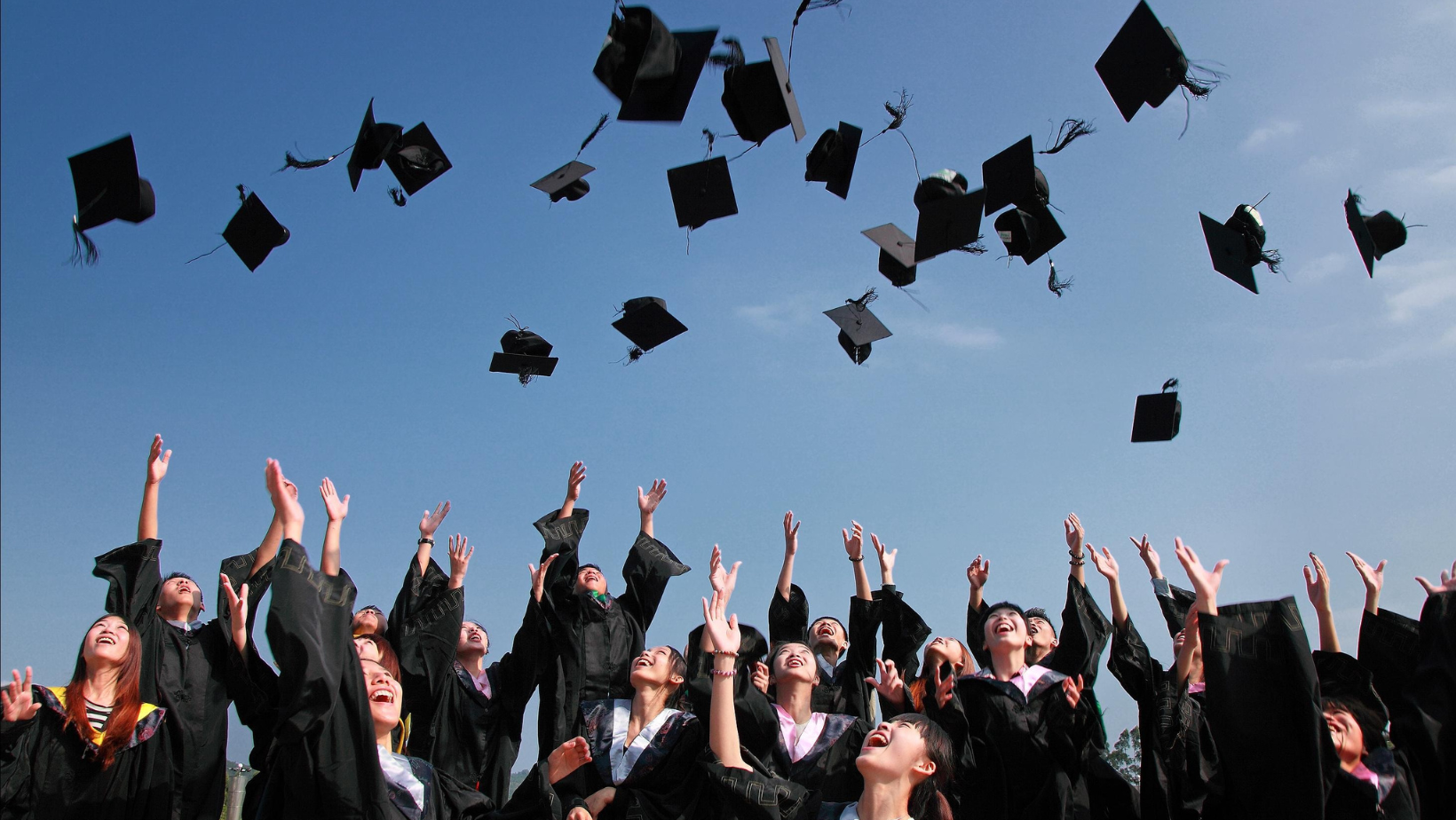 Table of Contents:

1. Determine Your Budget
First, you must determine your budget, which we all know is often tight for educational programs. However, graduation is not a typical day in school. It's a day that students and their families will remember for the rest of their lives.

Therefore, schools should aim to raise enough money for an appropriate graduation ceremony for the size of their program. This is especially true for substantial graduations, such as high school or college, as opposed to middle or elementary school.

To raise money for graduation, some schools choose to put aside funds from their budgets each year, some may host fundraisers and some may apply for grants. Read our comprehensive school financing guide to learn more.

Regardless of how you choose to raise the money, you need to consider several factors in your budget to avoid blowing it. As soon as you can, consider the cost of:
Hosting venue (and hidden fees), if needed
Logistics (valet services, shuttles, etc.)
Guest speakers or live talent
Services (catering, ushering, photography, etc.)
Special accommodations
Of course, there are also plenty of costs specific to your graduation ceremony. Make sure you plan ahead for these, as it's easy to exceed a budget because of lack of planning. Planning a graduation ceremony checklist can help.

If your funds are limited, there are plenty of school fundraising ideas you can use to raise money to improve your graduation ceremony. You can ask families for donations, sell tickets or host a fundraising event.

2. Choose a Date
We aren't exaggerating when we say that you should pick the date at least a year in advance, especially if you need an outside venue. Graduation season is the busiest season for most venues by far, with over 3.6 million high school graduates each year.

On top of that, May and June fall during wedding season, prom season, many sports seasons and the busiest arts season — all at once.

So, put selecting your date at the top of your graduation ceremony planning checklist — well before the school year begins. You don't have to make the announcement to students and families that early, but you should have an answer for them by the beginning of the school year. That's especially true for seniors, as opposed to middle or elementary school graduates.
3. Plan for Size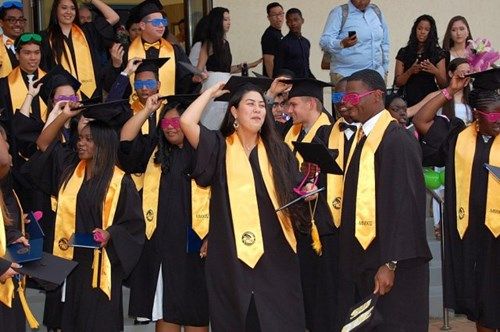 Determining the number of guests is critical for choosing your venue, accommodations, parking and more. Yes, a large venue will have parking available, but many venues in crowded cities will need to outsource parking if they fill up their seats. This is something you will need to discuss with students and families ahead of time.

Here are a few aspects to consider when planning for the size of the ceremony.
Plan For Enough Seating
First, determine the exact number of seats for graduates, which should be relatively easy. Ensure that the number is accurate and that you have the right seating options for your needs.

From there, you'll need to determine guest seating. If you host the graduation ceremony at your school or at a venue without permanent seating, this responsibility falls on you.

Seating can be expensive if you haven't already made the investment. This is especially true if most of your school's chairs are designed for young students and you're trying to seat hundreds of adults.

If you know you'll host more graduations, it makes financial sense to purchase seats. Once you have them, you can reuse them every year (for different events). Folding chairs make the most sense, as they're easy to store and last the longest.

Otherwise, ensure that the venue can accommodate all your guests. Remember to take seating, occupancy limits and faculty into account.

Access to Parking
When you host this special ceremony at a venue, make sure you plan for overflow parking and tell families ahead of time. Logistics are the hardest aspect of most large events, especially in areas with limited public transportation. Be sure your graduation ceremony planning checklist includes logistics issues based on your venue.

If there is available public transportation, encourage students, faculty and families to use it when possible. If possible, try to reserve parking spots that are close to the venue for those who need them most.

The same goes for graduation ceremonies you host at your school. Most school parking lots are designed for faculty, licensed juniors and seniors and the occasional parent-teacher conference. However, when you invite seniors and their families, along with faculty and special guests, parking spots can vanish quickly.
Consider Transportation Options
If you need a shuttle or other transportation system, it must accommodate everybody attending. Shuttles may need to take large families at once, so depending on the distance between your venue and your off-site parking, make sure you plan for a large enough shuttle system.
4. Consider Limiting the Size
If you have limited room, there are ways to limit your guest list. You can create event tickets for your graduation ceremony or impose a limit on the number of guests that can come with each student.

Of course, if you need to raise funds, you could sell these tickets. Alternatively, you can have families reserve tickets or give out a certain number for free and require purchases for additional tickets for larger families. There are several different strategies and they're entirely up to you!

However, if you choose to impose a limit without ticketing, ask families to RSVP in advance so you know how many relatives plan to join. This will give you a better sense of how many people will come.

Ticketing is the better option, as you can directly control the number of tickets sold, how many seats each family can take and the deadline to purchase or reserve them.
5. Promote the Ceremony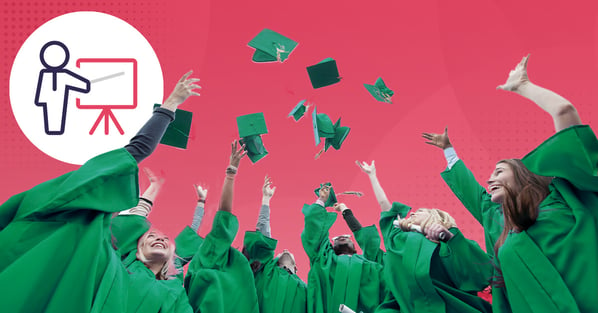 Another important item on the graduation ceremony planning checklist is promotion. Ideally, you should start promoting the graduation ceremony by the end of the first semester. Don't overwhelm parents' inboxes with these emails or other modes of outreach, but give them reminders, especially as deadlines approach (ordering caps and gowns, reserving seats, etc.).

As school administrators, you likely already have the email addresses of all of your graduating students' parents. You can use these to promote the ceremony, note any changes and answer pressing questions. You can use free email templates online to help get you started.

Also, if you have a school social media page, use it to your advantage. Social media is perfect for responding to parents' questions publicly, as opposed to replying to individual emails.

Your most effective form of marketing is your students. Make sure your graduates-to-be tell their parents what they need to know. You can always have them bring home flyers or brochures with need-to-know information!
6. Plan For Logistics
If you need overflow parking and you have it in your budget, you could help a lot of graduates and families by offering shuttle services. Keep in mind, a graduating class of 150 could easily have over 1,000 total attendees.

With this in mind, the responsibility for planning falls on your school to some extent. It could require minimal involvement, such as sending out a mass email to encourage families to carpool and plan ahead. It could also include offering shuttle services, overflow parking, valet parking or whatever you can fit into your budget.

Regardless, use your graduation ceremony planning checklist to help you plan and communicate with all students and families on logistics plans as far in advance as possible. Otherwise, you can expect a lot of phone calls when the time comes!
7. Order Graduation Caps and Gowns in Advance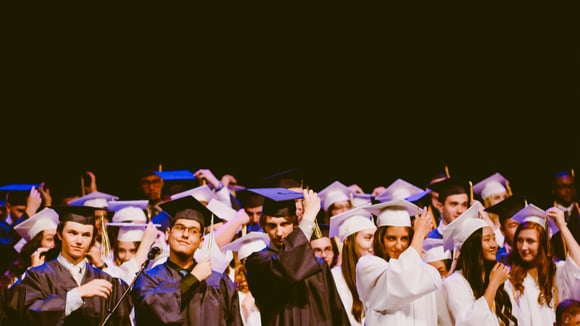 In most cases, it's okay to have students and families pay for their caps and gowns. However, if you have a lot of low-income students, it may be worthwhile to find the money in the school budget or create a different solution.

Either way, you will still need to order caps and gowns far in advance. Ordering caps and gowns close to graduation season is akin to ordering all of your Christmas presents on December 23rd. You could face a backlog and your students will pay the price as a result.

The same goes for diplomas. Unlike caps and gowns, diplomas need custom printing. Make sure you order these as far in advance as you can and have multiple staff review them for spelling errors.
8. Plan For Amenities in Advance
Will your school offer catering? Live music? Professional guest speakers?

If so, make sure you plan for this in your budget and book as far in advance as you can. Specialty services are inherently difficult to book on short notice and graduation season is typically the busiest time for them.

Much like venues, other graduation services can book up quickly. Make sure you hire the right people and have a backup plan in case something happens. For example, choosing a photography company instead of a freelancer will help ensure you have a backup.

Catering services also book up fast during this time of year. Not all graduation ceremonies offer catering services, but if you plan to provide food, book several months ahead of time. Some venues offer food services as well, so ask yours before shopping for services!

Are there any other amenities you want to include, like party favors, class rings or decorations? If so, stick to the graduation ceremony planning checklist and prepare for these ahead of time.
9. Talk to Students in Need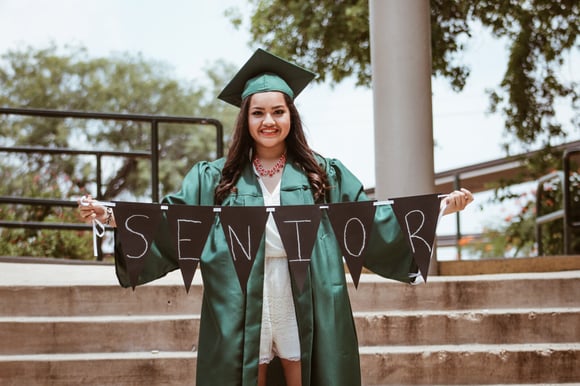 It's important to communicate with students who may need individual assistance before graduation. This may include ordering caps and gowns, asking family members to reserve seats or being eligible to graduate.

Talk to teachers and guidance staff to see which students are at risk of not graduating on time and work with them individually to make accommodations.

For example, if students are struggling to reach the number of credits they need or pass required courses, talk to them before the ceremony and ask about their needs. Believe it or not, 25% of students don't graduate high school on time. While you may want to limit guests at your graduation, you want every student to graduate!
10. Set Up the Ceremony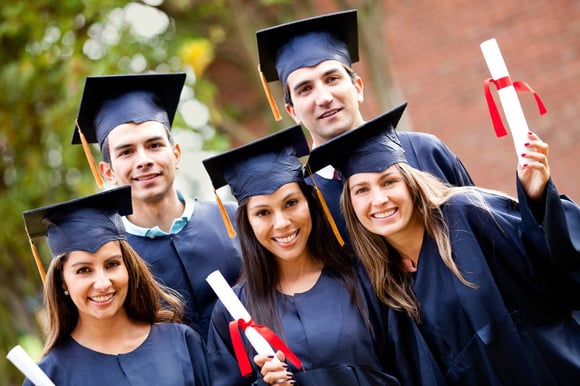 Another key task on the graduation ceremony planning checklist is planning for the setup of the ceremony ahead of time. You can talk to a professional event planner, your art education staff or simply develop the vision yourself.

When the day finally arrives, it's time to execute your plan. Head to the venue hours early to ensure that decorations are in order and that everything else is on time. The setup is entirely up to you and the event planners, but you should work to modernize your ceremony ahead of time.

Most event businesses will send you confirmation emails 24 hours prior to your event. If you're missing any confirmation, begin contacting your caterers, musicians and other services and ensure there are no issues.

This way, if you run into issues, you'll have a few hours to figure out an alternative. Don't wait until the last minute.

From there, review your graduation speech and rehearse it a few times before you have to stand on stage. Once everything is ready and the time has come, initiate the ceremony!
Use This Graduation Ceremony Planning Checklist Wisely
We've gone over a helpful graduation ceremony planning checklist, so use it to your advantage while planning your upcoming ceremony. This is an exciting time of the year for students and families, but it can be stressful for planners. However, if you understand what you need to do and plan as far in advance as possible, planning a graduation ceremony checklist will help to lower the stress level and make the day run smoothly.
Say Goodbye to Event Planning Stress with Vanco Events
Struggling to manage seating, ticketing and parking for your upcoming graduation ceremony? If so, you need Vanco Events — the easy-to-use event ticketing software that takes care of everything for you. With Vanco Events, you can effortlessly assign seats, sell tickets online and streamline parking logistics, all from one intuitive platform.

Don't waste any more time juggling spreadsheets and complicated ticketing systems. Vanco Events simplifies the entire process, making it easier for you to focus on what really matters — creating a memorable graduation experience for your students.

So why wait? Click here to see how Vanco Events can make your life easier. Trust us, you won't regret it.
Prepare for School Events with Free Checklists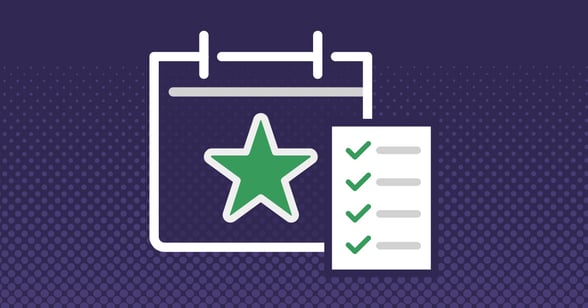 There's a lot to keep track of with any school event. That's why we built three checklists, which will work for most school events, to simplify event management. The checklists and guides include the following…
Prom event planning checklist.

Homecoming event planning checklist and guide.

A general school event planning checklist.