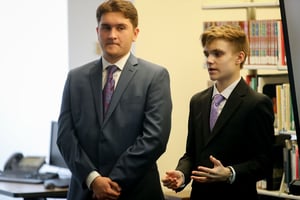 Three students at Noblesville High School in Indiana have received patents for work they did in class. Students at Hamilton Southeastern High School in Fishers, Ind., spend school time trying to save aging shelter dogs from euthanasia.
These two schools are among those offering Innovations Class, one of the many new and innovative programs being offered at K-12 schools these days that go beyond the basic curriculum and allow students to explore different areas of interest.
"So often in school we squelch curiosity," Hamilton Southeastern assistant principal Doug Harter told the Indianapolis Star in an article about the two schools' programs. "We want to, in a sense, invigorate that again."
At both schools, students take either basic courses or entrepreneurial and "design-thinking" classes. Then, in the second semester, they are free to work on and execute their planned individual or small-group projects. Hamilton Southeast calls them "Passion Projects."
Almost any student is allowed to take the class, as long as they have a viable project, though there is an application process to limit participation. "Risk-takers and students who like to push boundaries typically excel easily," Noblesville High innovation class teacher Don Wettrick told the Star. "Students who prefer structure and focus heavily on their grades sometimes struggle initially."
Other new ideas beyond the norm include:
Under the program, a student who completes the six-year program would earn a high school diploma and an associate's degree in a high-tech field at no cost. That would satisfy one of the program's objectives, which is to fight rising student-loan debt. Initial majors are computer science, computer information and cybersecutrity. More will be added in 2019.
Graduates would be first in line for jobs with the industry partners.
The program will take place at two locations: Watervliet Junior-Senior High School and Mohonasen High School.
"Shark Tank" came to Wheaton, Ill., recently, as students from innovative Business Incubator classes at Wheaton North and Wheaton Warrenville South high schools pitched their businesses to a panel of experts to culminate their classes.
The courses give students the chance to create and develop a product or service under the tutelage of business people who serve as coaches and mentors. The students, who are divided into teams, come up with the idea for their business, do the necessary market research and develop a business plan. So, they learn about marketing, accounting, human resources and the legalities of the business world.
It all leads up to Pitch Week, during which the teams stand before actual investors. The top teams gather during a special "Shark Tank"-like event – and some of the ideas may even get funded to be implemented during the summer and the following school year.
While not a for-credit class, 165 students at San Jose Independence High School in California got a leg up on their future by participating in a yearlong interview program that concluded with a Mock Interview Extravaganza.
The students spent the school year developing resumes, writing cover letters, compiling portfolios and working on interview skills. Then, on the day of the Extravaganza, they put themselves in front of professionals from myriad industries, including tech, engineering, medicine, law enforcement, medicine and others.
"They're reaching out into the wild," said Will Stegeman, an English teacher who oversaw the program, in a San Jose Mercury News article. "The goal is to get someone in front of a professional and an adult, demystify the process and alleviate the fear of the interview."
Innovations continue to come to the classroom, as education, especially at higher levels, becomes more tailored to student interests and real-world situations.