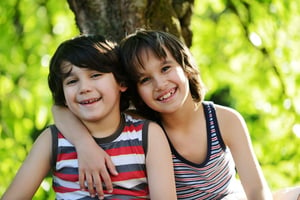 The Joe
Biden child care plan hasn't been passed yet, but it could mean big changes for child care and after school programs if it is.
During the presidential election, the Biden campaign included on its website several proposals for childcare. The Biden campaign's proposal builds on the proposed Child Care for Working Families Act sponsored by Senator Murray and Congressman Scott.
We're experts at building software, not politics. So, we can't prognosticate about the likelihood that any of these changes is enacted or whether they should be. But, if changes in government programs could happen, we thought it was worthwhile to understand what those changes could look like. Here's our analysis:
Universal Pre-Kindergarten
Both proposals include provisions to provide federal funding and state requirements to offer pre-kindergarten for all 3- and 4-years old children. Importantly, Joe Biden's proposal includes a provision that would allow existing preschool providers to participate in this program, meaning a private or non-profit provider could qualify for funding just like a school district. What we think this means is that current providers of preschool and childcare for 3- and 4-year-old children will need to ensure that they're compliant with the program – namely with respect to tracking and reporting attendance, incidents and learning assessments – and will need the ability to invoice government agencies for reimbursement. It likely also means that many parents who pay for care for children in those age ranges would switch from personally funding their child's care to receiving government funding, or some combination of the two (It's likely the government funding will only cover a portion of the day).
Refundable Tax Credit
Both proposals include a provision that would provide a refundable tax credit to families in an amount equal to what the family paid for childcare in excess of 7% of the family's income. This would increase the need for childcare providers to give parents accurate and timely tax statements. Perhaps more interestingly though, it also makes childcare more affordable for families without reducing tuition. This suggest some families who do not have children in childcare today may be able to afford it and/or families may be able to expand the use of childcare with an existing provider. This trend should be a big positive for the industry because it would increase utilization without reducing tuition.
Bonus Payments
Both proposals include provisions for bonus payments to childcare providers in certain circumstances. The bonus payments would be in addition to subsidy payments or parent payments. The circumstances envisioned include care during nontraditional working hours and care for children with special needs. We think these bonus payments would make programs more financially viable. For example, bonus payments for care during nontraditional working hours would allow a school to pay teachers more during those hours, attracting staff while maintaining profitability.
Extend CCDBG Funding to Afterschool
Both proposals include a provision that would allow Child Care Development Block Grant funding to be used for afterschool care for children up to the age of 13, rather than just for preschool age children. This would likely allow for expanding enrollment in afterschool programs. It would require those programs to track attendance and have the ability to invoice state agencies that distribute CCDBG funding, which are likely capabilities most afterschool programs do not have today.
As we said at the beginning of this article, we're not political experts. We don't know what, if any of these changes, will be enacted. We hope our afterschool program summary of the most likely changes and the implications those changes would have for your child care center or afterschool program is helpful.
Discover the Secrets for Simpler Afterschool Program Management!
Download our free eBook with expert tips that will not only help you improve your afterschool program, but show you how to simplify its management, so you and your team can enjoy a much needed breather.