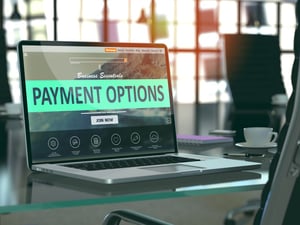 Your district has decided to move student fees online – and that's great! But it can be overwhelming trying to find the right school payment software.
We've been working with K-12 districts for more than 20 years now, so we understand. That's why we've put together these 17 tips (plus a bonus recommendation!) to help you find the perfect school payment software. As you read through these tips, identify your district's goals and figure out what you'll need to gather before starting your search.
1. Consider Your District's Payment Goals First
Before you start shopping around for a school payment software, identify your district's goals. Do you want to move all student payments online as soon as possible? Or would you prefer to roll out just a few required fees before adding more in the future?
Knowing this will help you create a list of questions to ask payment services you consider. Make sure you have a clear goal in mind when searching for your district's perfect payment partner.
2. Balance the Cost with Your Budget and Goals
This one might seem obvious, but cost is one of the biggest factors in finding the right school payment software for your district. Your district will need to compare your budget with the cost of your ideal system to make this decision.
And it's not just ongoing costs you need to consider. Keep in mind factors such as start-up costs or add-on fees. Use your payment goals to help find a solution that meets your needs and your budget.
3. Make a List of Every Fee You Want to Process Online
Think about the many types of fees your district collects over the school year beyond required registration or classroom payments. Once you get going, you might be surprised at how many there are, such as...

Field Trips

Event Tickets

Athletic Fees

AP Exam Fees

Food Service Fees
Unless your district only plans to move required fees online, you'll need a service that can handle all these fees and more. Make a list of every fee you collect, then make sure your school payment software can handle them all.
4. Plan to Centralize Online Payments
Don't leave the school payment software decision to individual schools in your district. You'll end up with a chaotic blend of different systems. That means reconciling funds at a district-level will be a nightmare.
Instead, pick one solution for the entire district. This will ensure funds collected by your schools are coming through the same place and end up where they need to be. Plus, parents won't need to use multiple systems for classroom payments, food balances and extracurricular fees. And staff members won't need to learn a variety of different ways to collect, track and reconcile payments.
5. Create a Launch Timeline and Check in with the Provider
The prospect of ditching cash and checks for good is exciting! Your staff likely can't wait to get started. But no matter how ready everybody is to rally behind a new school payment software, you need to have a realistic launch timeline to ensure its success.
First, establish how soon you want to implement the system. If you're right in the middle of a busy season – such as fall registration – you might not be able to realistically roll it out until that's calmed down.
Next, find out how long it will take to set up the new system. If the provider offers setup support, a quick launch might be possible. If not – and your district doesn't have a dedicated software expert on board – the roll out might be quite so smooth.
6. Opt for a School Payment Software with Multiple Payment Options
The goal of moving student payments online is to reduce cash, checks and paperwork – and the manual work it takes to process them. In other words, you don't want to create more work for staff or parents.
To do this successfully, you need to make it as convenient as possible for parents to use your school payment software. That means allowing them to pay how they want. Make sure your online payment system accepts multiple payment types, including major credit cards and eChecks.
7. Find a Solution That Integrates with Your Other Software
Your district already has school software in place – your student information system, cafeteria management software or even enrollment software. Rather than adding a whole new system to the mix, choose a school payment software that seamlessly works together with your existing software.
Search for the school payment software that integrates with your SIS. And, check to see if the provider offers any cafeteria management options. Pairing student payment processing with these management tools makes it easy to collect and reconcile payments in one place.
8. Make Security a Top Priority
As your district begins accepting online payments for more – if not all – student fees, you need to make sure security is a top priority. After all, you'll be handling sensitive card and bank account information, and your school payment software will be responsible for keeping that data safe.
Fortunately, Payment Card Industry has established standards that processors must meet to maintain a secure environment for cardholders. When searching for an online payment processor, we recommend looking for one with the highest level of Payment Card Industry Data Security Standard (PCI DSS). You can read more about Level 1 PCI processing standards here.
9. Consider Your Staff Training Needs Across the District
Successfully rolling out a new school payment software requires staff to be on board. And one of the quickest ways to get staff to support the new process is by educating them about it. To do this, your payment processor will need to offer training.
The next question is, of course, whether that training is provided for free or at an additional cost. If there's a cost to train staff, you'll have to weigh whether it's worth the extra price.

10. Pay Attention to User Permission Options
Ideally, nearly everyone in your district will use your new school payment software. But, in order to have that many users, you need to have different user levels. Check to see whether schools in your district can control user permissions in your payment software, or if they need to be set at the district level.
And, make sure you can set the right controls to meet your needs. If there are only two types of user permissions – edit and view – that could be an issue for teachers interacting with the same areas as finance staff.
11. Think About Parents
If you're serious about reducing cash and checks (And we think you are!), you must offer parents a fast, straight-forward online payment process. We all know that if it takes more than two minutes for parents to figure out how to make a single payment, they're going to get frustrated and abandon it.
To avoid that, here are a few questions to ask about the parent side of payment processing:

Do you offer family accounts

with a single sign-on?

What type of support is available for parents?

Do you offer training resources for staff to pass along to parents?

What does the payment portal look like from the parent's perspective?
Remember: Some parents require a bit more handholding than others, and staff time is limited. These answers will help you determine how easy it'll be for parents to use the school payment software and how much work it will be for staff to walk them through it.
12. Focus on Ease of Use and Mobile Responsiveness
Parents need a simple way to add money to lunch accounts, pay for field trip fees and more, anytime and anywhere. That means paying from their smartphones, tablets or laptops at any time. Make sure your school software has a mobile-responsive design that accommodates on-the-go payments. The ideal school payment software will be user-friendly from any device and available 24/7.
13. Pick a Software Provider That Allows for Multiple Deposit Accounts
If you set up multiple deposit accounts, your district can rest assured funds are going to the correct location. Automating this process means fewer people need to handle the money, which leads to fewer errors and hours of time saved. Streamlining this tracking and depositing will also increase transparency between departments. It's a real win-win.
Find out if you can deposit into multiple bank accounts with the school payment software and how long it will take deposits to arrive in your bank accounts.
14. Pay Attention to Your District's Reporting Needs
If you don't already know what reports your staff needs, now is the time to find out. Talk with departments in your district to find out what type of reporting you'll need (or want) from your school payment software. Then, ask the online payment processor these questions…
What other types of reports does

the

software

offer?

Is there a report you can post to your

district's

general ledger?

Can

staff

create custom reports

?

Can

district

s

request

special reports?
Comprehensive reporting tools could be enough to nudge your district toward a particular payment provider.

15. Meet Parent Expectations with an Online Store
You know how important it is to keep parents happy. And the best way to do that is to make things easy for them – like letting them pay student fees online. You're already looking for a provider to do that, but you can take it a step further with an online store. Look for a school payment software that includes a customizable online store, and ask about these options:

Is there a single checkout process?
Can schools add, edit or remove fees?

Can districts brand their online store?

Does the online store connect with

student information systems?

If yes, which ones?
16. Choose a Provider That Specializes in Schools
There are plenty of online payment processors out there – looking at you, PayPal or Square – that would work for some of your fees. But they're simply not built for K-12 districts. Don't settle for a processor that isn't designed to handle the unique funding needs of your district.
Instead, choose a payment provider that specializes in schools and understands what districts like yours need. For example, time-saving features including fast reconciliation and easy refunds are important for schools. Find out how long the school payment software provider has served schools, and what features they offer to support their needs.
17. Read Reviews and Ask for Testimonials
You now have a list of questions to ask and topics to cover when vetting school payment software. But what's even better than hearing from the payment provider? Hearing from their customers!
Some companies have testimonials or reviews right on their website, while others have them available by request. Ask for them! Then, find out if any schools in your area are using their school payment software and ask:
How long have they been using it?

What type of fees do they collect with it?

How did parents react

when they introduced online payments?

How much time did

the school payment software save staff?
Bonus Tip! Find Your Ideal Partner by Thinking Beyond Payments
Our tips so far have focused on connecting you with the right school payment software. After all, that's your goal: Eliminating cash and checks by accepting fees online. But this final recommendation is to think beyond payments when searching for the perfect partner:
Do you want to reduce

registration paperwork and collect forms online?

Do you want to automate

parent communication?

Do you want to customize your

parent portal?
You're making a huge decision for your district, so it's OK to be picky. When choosing the ideal school payment software, think about the features that could save your staff the most time and reduce friction for parents.
The right school payment software for your district is out there. At RevTrak, we've helped thousands of districts across the U.S. save time by processing every student fee online. Our custom Web Store simplifies fee payments and streamlines reconciliation.
Want to Simplify Payments for Your School or District?
Get our free eBook, "Online School Fees Payment Systems: Everything You Need to Know" to learn how you can save your team from countless hours of tedious busywork.