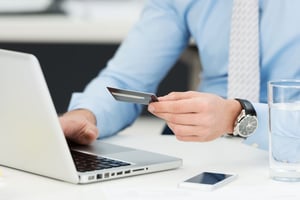 It's likely that, by now, you are familiar with online payment processing for school districts. In fact, it would be a lot more unlikely if you did not know most schools are taking some of their payments online. Most districts are working to create a completely paperless and cashless campus. If your district is lagging behind in online payments, or if you haven't taken steps toward a cashless campus, we put together six reasons why you need to process school fees online.
Reasons to Take Online School Payments
Simplified Reconciliation
Payments made online should be automatically tracked by your online payment provider. This should enable you to access reports online. Online reports will give you the ability to reconcile with ease by simplifying your reconciliation process.
The more payments you process through your online payment system, the fewer payments you will have to manually track. Working toward a completely cashless campus can help you reconcile in 10 minutes or less.
Peace of mind
With your current process, you might wonder where each payment is. How can you be sure payments are deposited into the correct accounts? How can you be sure there hasn't been a mistake in your accounting?
Online processors take some of the worry out of school fees. If you find a provider that uses multiple deposit accounts, you can be sure that each fee will be directly deposited exactly where it needs to go. Some providers even guarantee the payments made through the online payment system, ensuring that your district will receive all the funds.
Fewer Mistakes
There will be much less struggling with the calculator when each payment is automatically tracked. Payment processors pride themselves on accuracy. The detail and accuracy of their service is a main reason you choose to process payments online. You won't need to worry about triple checking every report with electronic fee processing.
One central location for payments
You probably have many different accounts for school fees. Lunch payments, registration fees, school age childcare payments, spirit wear purchases, and others all need to go to a different department. You can avoid using a hodgepodge of payment methods when you process payments online. An online payment processor gives you one central location for every payment in your district. This means you will have access to more comprehensive reports, and be able to view any deposit, in one place.
Improved internal controls and increased transparency
Mistakes happen. Money can be misplaced, miscounted, or deposited into the wrong account. Your staff might not even know if a mistake was made. When you collect payments online, you have a record from the moment the payment is made to when it is deposited into an account. Reports show you who made the payment, who logged into the account, and more. Some payment processors make it possible for you to adjust user rights, as well. That way, you can limit processor access by job title, so staff members can only access what is necessary to do their jobs.
Easier for parents
The life of a parent is a busy one. It is hard enough to remember to write a check in the hectic schedule of work, errands, and carpools. An online payment system saves parents a trip to the district or the post office. Most processors work with mobile devices or have an app parents can download to make payments on the go. Parents will be happier knowing they can deposit a lunch payment from their cell phone. Happier parents mean fewer calls to the business office and happier staff members.