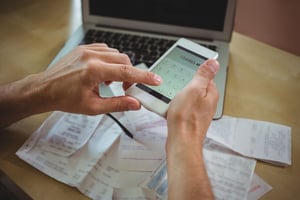 Child care professionals are experts who can maximize a family's investment in their child's care. They have the knowledge and tools to provide physical, emotional and academic enrichment in children. Many child care professionals use their expertise in psychology, education and childhood development to found and manage their own child care program. However, managing a child care program includes establishing a solid foundation for child care billing.
Founding and managing a child care program requires a lot of dedicated time and effort. Most importantly, it requires financial knowledge. Though it can be challenging, child care providers can develop a comprehensive child care billing policy that serves as the financial basis of the program. It's crucial to do your due diligence to ensure you make informed financial decisions, and this guide is the perfect place to start.
This guide will explain the basics of child care billing, provide tips on how to establish a billing policy for your child care program and recommend the tools you need to achieve it all.
What is Child Care Billing? Why Is It Important?
Billing is one of the core financial aspects of a child care program, as it makes up the bulk of a program's income and influences its cashflow. It is the cost and related fees charged to clients for a student's enrollment in the child care program. The income you make from child care billing will directly influence your cash-on-hand total and dictate the size of your budget for operation.
How you handle billing is completely up to you. While it's important to prioritize maximizing success and growth, it's also important to consider how much families can afford to pay and when. As it can be challenging to find the perfect price point for your child care program, you'll have to take the time to optimize your billing policies and procedures.
It may be prudent to sit down with an accountant or financial planner before making a final decision. They will be able to walk you through expenses. They'll also help you determine how much income you'll need to grow. Child care providers often need guidance when it comes to the best financial business practices. However, with the right professional guidance, you can ensure that your child care program experiences success and growth for a long time to come.
Setting Your Child Care Billing Rate
Setting the right rate for your child care program is critical. The billing rate you choose will have a lasting impact on your success, so you'll have to access your finances and perform research before coming to a final decision. Here are some things that your rate will influence:
Competitiveness: If you are faced with a lot of child care competition in your program's area of operation, the rate you set can make your program more or less attractive to potential prospects.
Income: The income and profitability of your program will depend on the rate you set in conjunction with other factors such as enrollment and operating expenses.
Student enrollment rate: The number of students you'll have to maintain to stay above the red will be determined by the rate you set. If you set a higher rate, you'll need fewer students. With a lower rate, you'll need more students to stay afloat.
When setting your rate, you'll need to start with your total operating costs. Any costs associated with keeping your program running, including utilities, rent, salaries and more, need to be accounted for and recorded. At minimum, you will need to generate enough revenue through your billing to meet this number. When it comes to profitability, you can set your own program goals. A finance professional can help you scale your program's growth and profitability in a stable, manageable way.
Child Care Billing Policy
Once you've set your rate, it's time to decide how you'll collect them. Establishing your childcare billing and payment policy will enable you to collect payments more efficiently. Additionally, you'll be able to regulate your income with timely payments from clients and streamlined payment options. Here are some things to consider when creating your child care billing and payment policy.
Billing frequency: At what frequency will you bill clients? The frequency of billing can ensure your program has cash on hand for emergency events. Many child care programs bill quarterly with advance payments. However, parents enjoy the flexibility of a tiered payment model or monthly payments.
Refunds: Will you provide refunds? If so, under what circumstances? Refunds can be tricky to navigate. You don't want to lose out on money you've earned, but it's important to be understanding of situations with extenuating circumstances. Setting your refund policy should be done with care. Be sure to note your policy on enrollment contracts.
Late payments: What will your late policy be? Will you offer a grace period? Nobody wants to spend time chasing down payments. Your late payment policy should be clear with enforceable consequences ranging from late fees to un-enrollment. Again, this should be clearly written on enrollment contracts.
Accepting payment How will you accept payment? Digital payments are becoming increasingly common and more convenient. However, checks and cash payments still have their place. Choosing multiple payment methods that make it easy for families to make their payments on-time is critical.
Raising your rates: It's possible you may have to raise your child care billing rates. If you do so, you'll need to include the possibility within your enrollment contract. Drafting a form letter including the raise's cost, when the new rates will take effect and contact information to your office can save time in the future.
Track Child Care Billing With Vanco's Smartcare Software
Child care billing can be challenging to get right. There are many variables to consider to ensure your billing practices are effective and profitable. It'll take time and effort to put together the best billing practice for your child care program. That said, ensuring you take the time to establish billing practices designed to benefit your child care program and your clients is essential. You'll need the right child care management software to make it happen.
Vanco's Smartcare software is one of the premier child care management software systems on the market. When it comes to billing, you can use Vanco's Smartcare software to automate billing for your child care program. Families can make secure payments on the software's platform within its self-service portal. Parents can split payments and track payments within the app.
Most importantly, you don't have to spend time chasing down payments from families. Vanco's Smartcare software can send automated reminders when payments are due or late.
Want to manage child care billing for your daycare? Discover what Vanco's Smartcare can do for you!
Discover the Secrets to Simpler Child Care Program Management!
Download our free eBook with expert tips that will not only help you improve your child care program, but show you how to simplify its management, so you and your team can enjoy a much needed breather.