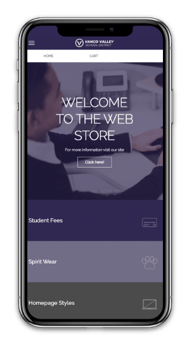 Looking to open an online store for your school?
You might want to provide a convenient way for parents to access school supplies. Alternatively, you may want to make school memorabilia more available. With an online store, you can fulfill a variety of goals.
Keep reading to learn what online school stores can do for a district's bottom line.
1) Fundraise to Make Up for Budget Shortages
Due to the budget shortfalls many districts face, school leaders must now come up with contingency plans for vital school operations. In part, this task includes figuring out how to continue to raise sorely needed school funds. For this reason, districts need to take a good look at their current school fundraising plans.
If you're looking for how to run school store fundraisers, we've completed a detailed guide to help you get started. In it, you'll find best practices and ideas for fundraisers.
2) Give Your School Prestige with an Online Shop
An online store also helps you build credibility. For example, billions of consumers shop online. Nevertheless, only a fraction of organizations that can benefit from e-commerce follow through with establishing an online store. Conversely, every major organization has an online presence.
Your online school store can help to build your brand. It can make your school look like one of the big players. A functional, professional-looking web store speaks volumes about the integrity of your school.
3) Monetize Your School's Brand
Whatever you do, don't underestimate the power of your school's brand. Your colors and logo are big sellers that can boost the sale of many different types of products from branded school supplies to apparel.
Generally hoodies, shirts and other apparel are the top sellers for most schools. If you're looking for ideas on how to get started, we've built a guide with 21 amazing school spirit wear fundraising ideas for you to choose from.
Though apparel is a big revenue maker, don't forget that decals, school materials and a variety of other products can sell at a premium with your school's brand emblazoned on them.

4) Promote Your School's Events
Even a small school district has countless events to coordinate and promote. With an online school store, you can use the simple, and intuitive, e-commerce platform to sell tickets.
Having one place for the parents and the community to visit makes it easier for them to find events and purchase tickets, boosting your school's bottom line.
5) Monetize Your Facility
With the monetary strain that many state and local governments have placed on schools, districts need to maximize the value of their assets. With an online store, it is easy to sell parking passes for high school students wishing to drive to school and park.
You can also sell gym memberships for individuals to use the workout facilities or swimming pool after school hours. Monetizing your facilities in such a way will help you generate extra revenue to make up for shortfalls.

6) Collect Fees
Throughout the year, schools need to collect a variety of fees from students including payments for school lunches, activities, field trips and much more. Simplify the process by letting parents pay for these items in one, easy-to-use hub, your online school store.
Doing this will not only simplify work for school staff, in some cases cutting the budget reconciliation process down to only 10 minutes, but it will also keep parents happy. And when parents are happy, it cuts down on calls to the head office and the time it takes for staff to manage parent concerns.
7) Accept Donations

When their schools face hardships, districts can look to the charity of those within the community to find solutions. After children within one Minneapolis school couldn't easily gain access to food, the community stepped up, donating 30,000 food kits. The school had only expected to get 150 (Washington Post).
Another powerful example of a school receiving help from their community is the Maine Township High School District 207. During the COVID-19 pandemic, when remote learning first began, this district had to find a way to get meals to all their students in need of free or reduced lunches.
The demand for free and reduced lunches also increased, as more parents were out of work. To ensure all students in need were fed, the district quickly set up an online store to raise funds from the community. Through their online fundraising and adjacent efforts, the district was able to raise $86,000.
Online stores make it easy to accept monetary donations from parents, local businesses and large, multinational corporations. In many cases, all schools need to do is give the option for someone with the means to step up.
If you're looking to request donations and are unsure of how to ask, don't worry. We've built several free school fundraising letter templates to help you get started.
Getting Started with Your Online School Store
When getting started, you'll need to find the right tool and have a strategy for promoting it. Follow the three tips below to begin.
1) Get the Right Online School Store Software
When choosing a service provider for your online store, it's a good practice to select a provider that can consolidate your entire payment system. Imagine a single system that integrates student information, food-service software, payment collection and other administrative tasks.

With a centralized management system, you can get rid of multiple software applications and manual administrative tasks. Furthermore, you can use the system to accept all kinds of payments online. With a cashless school, you can free your staff members from repetitive manual tasks.
With the right technology, you can bring your district together. Furthermore, you'll make the lives of students, families and employees easier. For example, a leading technology vendor will provide you with a system that works across a range of devices. In doing so, parents and students can easily access your school offerings and services—whether at home or on the go.
One solution used by more than 1,200 school districts across the country is a Vanco Web Store, which provides a one stop shop for all your school sales and payments. The Vanco Web Store makes growing revenue easy, simplifies the collection of payments and streamlines your school's reconciliation. To learn more about it, watch the short video below.
No DIY Needed
Aside from simplifying payments for staff and parents and increasing revenue, many schools choose Vanco because building the online school store isn't a process they have to DIY. Vanco's team listens to what products, fees, services and other items you want to feature and creates a tile for each within your web store. As your school ads items, all they have to do is reach out.
This makes it a great solution for already overburdened staff, freeing them from extra responsibilities while streamlining existing work.
2) Use Your School's Built-In Marketing Channel
Setting up your online store is only half of the equation. You'll also have to get the word out about your school store.
When it comes to online marketing, Schools have it much easier compared to for-profit businesses. Parents are much more likely to read an email sent by a school rather than a commercial advertiser. You can take advantage of this circumstance to promote your online school store.
Using your existing email list, you can send out emails informing families about your new online store. Already, you have a free, built-in way to market your school merchandise. At this stage, all you need is your school email list and a little creativity.
You can also use email templates to make managing your mail list easier. A template will help you market your school store items in an engaging way.
Furthermore, an email marketing system will help you reach thousands of parents easily. Digital marketing is much more cost-effective compared to managing catalog sales.
With your email messages, you can guide parents right to online ordering forms. You can also promote upcoming school events. In time, you'll find that your online store makes nearly every task involved with promoting your school much easier.
3) Building Community Awareness with Social Media
Your online store will establish a presence that makes it easier for you to do business. However, technology can provide you with many ways to market your online store. For example, with an online school store, you can take advantage of one of the latest business trends—marketing on social media.
Today, both students and parents use social media sites like Facebook, Twitter, Snapchat and Instagram every day. You can use your store to provide the immediacy demanded by today's consumers.
With the right marketing plan, you can develop a long-term loyal customer base. By doing so, you can generate repeat business that extends beyond students' graduation.
Your online store will automatically collect information, such as purchase history and email addresses. This information will enable you to create targeted marketing and promotions for potential buyers. With it, you can save time and build a loyal base of repeat shoppers.
Don't Wait, Get Started Right Away!
Some schools hesitate to launch an online store for one of several reasons. For example, you may think it takes a lot of work to set up a school store. Alternatively, you might think it costs too much to launch an online store.
However, the benefits far outweigh the challenges and costs. An online store is convenient for schools, students and parents. Furthermore, setting up a school store is less challenging when you choose the right technology partner.
If you're looking to learn more about how an online school store can work for your district, sign up for a free, online demo.
During the on-demand video, you'll see what the system looks like on the front end and back end. You'll also see what it can do and learn how easy it is to set up.