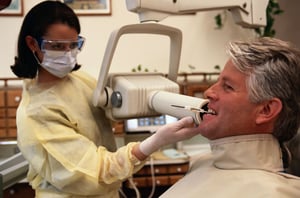 College isn't for everyone, and there's a multitude of careers available to people who are not suited for four years on campus. That doesn't mean, however, that these jobs don't require some sort of education before taking them on.
Career training programs – offered by school, community college, municipal or other community-based adult education centers – provide the skills necessary to succeed in fields that, even though they don't require a bachelor's degree or higher, can be very high paying.
A lot of these careers are attainable with two years or less of training, according to TradeSchools.net. So, without further ado, here's a list of the top 10 careers available via career training programs:
Dental Hygienist: Believe it or not, the person who cleans the teeth at the dentist's office can make up to $101,000 per year, according to the U.S. Bureau of Labor Statistics. These jobs are in high demand and, in community dental offices, often offer long-term job security.


Varied medical fields: While a doctor has gone through four years of college, four years of medical school, an internship and a residency, healthcare technicians also are at the forefront of patient care. Careers such as diagnostic medical sonographer, respiratory therapist, cardiovascular technologist, surgical tech and lab technician are necessary complements to the work that doctors and nurses do.


Electrician: As technology use expands, the need for more complex electrical wiring grows, meaning demand for qualified electricians increases, according to a piece published by Online Trade Schools. Most electricians must attend a trade school or career training program, and several states require licensure.


Plumber: This trade can offer wages surpassing $50,000 per year, and demand is increasing because of the ongoing construction boom in the United States. Career training is necessary in this field, as there is considerable risk of injury because of the materials being used – steel or other metal pipes – and exposure to gas, sewage, pressured water and flames from welding. Licensing is also required by most states.


Heating, Ventilation and Air Conditioning (HVAC): This growing trade industry works hand in hand with plumbers and electricians. HVAC workers need career training to understand how temperature-control and airflow systems work and interact with a building's electrical systems. Training often involves apprenticeships.


Computer Programmer: Many schools offer to teach programming skills in a matter of months – and students can take advantage of that education to make a median salary of $82,240 and a top salary of $132,530, according to the BLS. A degree in computer science is not required.


Multimedia Artist/Animator: For the creative designer, many community education programs offer web design and/or animation classes, and even full-fledged programs. With new video games hitting the market every week and movies/TV shows relying more on special effects than ever, demand for these lucrative positions is growing.


Court Reporter: Many community education programs offer court reporting courses, which last about a year before certification. The court reporter keeps the official transcript of trials and must often read back testimony when asked. A full-time gig can pay almost $50,000 per year, according to the BLS.


Commercial Diver: Scuba enthusiasts can make some money off their hobby with just a little more training. The job-growth rate is expected to be 37% from 2016-2026, according to the BLS, and full-time divers can make more than $50,000 per year. For those who aren't yet into scuba, many community education programs offer training.


Paralegal: This is at the bottom of the list because more and more law firms are insisting that their paralegals have at least bachelor's degrees. However, many still hire from among those who earn an associate's degree or a certificate from an adult education program. The BLS reports that paralegals' median salary is above $50,000 per year, with top pay more than $81,000.