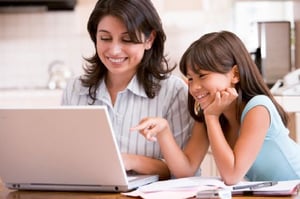 The school year begins at different times in different parts of the country, but by early September most campuses are up and running. That means the chaos and rush to pay transportation, activity and athletics fees has passed and that school districts using online payment systems have already benefitted greatly from the efficiencies they provide.
But the Web Store doesn't just go into hibernation once all those start-of-the year transactions are complete. One school district's accountant said she noticed that parents were making online payments "every day of the year…Christmas, Thanksgiving, late at night." That's because various fees pop up throughout the year.
Field Trip Fees
Take field trips, for example.
Instead of sending cash or a check with their children to give to the teacher – with the inherent risk of loss or forgetfulness – the Cashless Campus concept allows parents to pay field-trip fees online, when it's convenient. E-mails are sent to the parents (in addition to fliers given to students) informing and reminding them of the trip, fees and timelines, and a couple of mouse clicks take care of payment.
The Web Store software automatically reconciles the payment into the correct accounts, so the business office and the teachers know who has paid and who hasn't.
Before-School and After-School Program Fees
Many online payment systems include the ability to pay for before- and after-school programs on a weekly or monthly basis. Parents pay their bills through the Web Store anytime they want, and they don't have to worry about bringing a check to the front office, lest their child be refused care.
Again, in this instance business-office efficiency is enhanced, since accounting clerks don't have to manually input each payment and make sure each account is credited appropriately. The software automatically posts the payment to the correct ledger, minimizing the chance of error.
School Meal Payments
Let's not forget lunch (and breakfast). For those Cashless Campuses that include reloadable meal cards within their systems, adding money to a student's card can be done at any time, often in response to an e-mail or other notification that reminds the account holder when funds are getting low.
School Bus Transportation Fees
Many urban and suburban school districts partner with municipal and regional transportation authorities to offer reduced-price transit passes for students – and some of the districts make payment available through the Web Store.
A Web Store for Your School
The Web Store is called such for a reason, and sometimes parents and students can actually shop on it. Spirit wear, some school supplies, snacks and other materials can be purchased year-round through some schools' Cashless Campus systems.
Summer Programs, AP & SAT Test Fees
As the end of the school year approaches, several school districts make registration and payment for tests and summer programs available through online payment systems. Parents or students simply choose the programs or tests they're looking for, sign up and pay. The automated software does the rest.
Everything Else
Finally, there are the day-to-day fees and charges that come up in the normal course of the school year. New activity, lab or other fees can pop up at a moment's notice. Students could owe library fines. Athletics fees may be charged on a seasonal basis, rather than all at the start of a school year.
In other words, while the online school store may have been at its busiest at the start of the school year, it's going to remain a workhorse until the final bell and beyond.