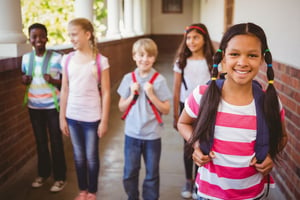 Your school district is probably processing some, if not all, of your school fees online. There are systems for just about everything these days. From school age childcare to required fees to instrument rental, your options abound.
With many options comes great responsibility. How can you be sure you pick the best online payment processor for K-12 school districts?
The answer is, there is no "best" K-12 payment processor, but there is the best option for your district. We put together tips for making sure you choose an online payment option.
Choosing a K-12 Payment Processor
Pinpoint your payment processing goal.
Maybe you are just starting out with payments and want a solution that is easy to start and can be scaled up when you are ready to add more payment items. Perhaps you are an old pro when it comes to online payment systems and need a more sophisticated solution. Your goal might involve easier reconciliation, better tracking, or even simplicity for parents.
Whatever it is, make sure you settle on one before you start shopping around. This will help narrow down your choices and guide what questions you will ask during the selection process.
Determine what kind of fees you will be processing.
Do you only need something that will process required fees? Are you looking for a way simplify how you manage school age childcare registration fees? Will you need to process every fee in one place?
With so many options, you will find some payment solutions that are more specialized than others. A system that might take lunch payments, for example, might not enable you to collect optional fees as well. When you are searching for the ideal payment solution, make sure you clarify whether or not it will process every fee you need.
Do you need a payment process that integrates with existing software?
Let's face it, in a perfect world, your payment processor would integrate with your existing SIS software. Sadly, the theme of this post is that nothing is perfect. There will be some payment processors that do not integrate with your software, but there will be plenty that do integrate with something you use.
Determine if it is a necessity that your payment processor integrates with your software. If you use more than one product, decide which is the most important integration. Again, this will further narrow your pool of options and get you closer to the ideal match for your district.
Do you need any special features?
By now, you probably have a good idea of which processors would be better choices for your district. It's time to get picky. Think about what features would help your staff save the most time. Do you need to collect online forms alongside payments? Do you need modules suited for registration? Would multiple deposit accounts and simple reporting make things easier for the business office? What about a responsive design so parents can pay from mobile devices?
Whatever you decide, make sure that the processor you like best will be able to give you what you need.
Choose a business that specializes in schools.
From PayPal to Square, there are many processors out there that might be able to do the job, but won't be able to do the job well. You are a school district. The day-to-day of your funds is trickier than those using processors for retail.
Why settle for a less convenient option when you could use a payment processor that was designed specifically for K-12 school districts? Those processors have reports and features that will help you solve the problems you face on a regular basis.
Those are the basics. Use them to guide you to find the solution that helps your district save the most time. If you are interested in taking payments online with a processor who does specialize in K-12 districts, we can help you with that.