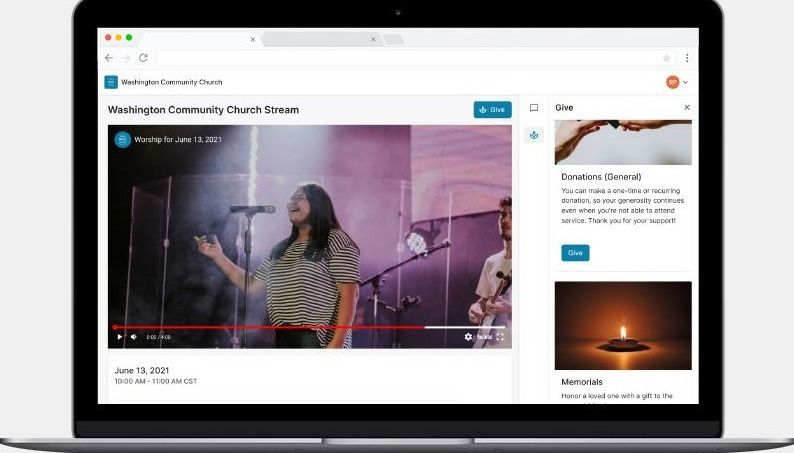 Thanks to modern technology, arcades, movie theaters and libraries are now in our living rooms. Why can't church sermons be too?
According to Livestream, a popular streaming platform, 2,778 houses of worship across 59 countries broadcasted 166,700 services, meetings, and ceremonies in 2016.
A church live stream setup is not only convenient for the members of your congregation, but it may be the only option for those who can't attend services due to age, distance or disability.
Have you been thinking about setting up live streaming at your church or broadcasting your sermons from home? It's not as complicated as you think.
Live streaming tools are more user-friendly than ever, so with the help of this guide, you will be broadcasting your church sermons online in no time.
In fact, you can use Vanco Live (which works with your current streaming tool) to broadcast services and include member conversations and giving all in one window.
What To Keep in Mind Before You

Start
What many people fail to consider is how church leaders, choir singers, band members and church members, in general, feel about being filmed and broadcasted online.

Even confident church leaders may feel insecure in front of the camera or worry that their message won't seem genuine if it's broadcast to the masses. It's vital to discuss this decision with everyone in your church family to ensure it's the right move for your organization.
To decide to live stream your sermons because it's popular is not enough. You should only invest in a live stream set up if:
You want to extend your reach.
Your members think it's beneficial.
It won't strain your budget.
It will help your house of worship reach its goals.
According to the same Livestream study previously mentioned, one church saw an increase of 70% in online viewers' giving. However, you shouldn't expect the same results until you've done your research and the work to make your live stream successful.
If you're a newer church, you may find it easier and more beneficial to record and upload your sermons to your website instead of live streaming during services. If you're not sure if live streaming is right for your church, ask yourself:
Is there someone in your leadership that can dedicate time to this project?
Why do you want to do this?
Can live streaming improve your members' experience?
It's crucial to set measurable goals and check in often to determine whether live streaming is effective. If you decide it's not as effective as you hoped, you should have a plan in place to improve it.

Setting Realistic Expectations and Measurable Goals
Yes, new opportunities and new technology are exciting but don't jump into organizing a live stream for your church without setting realistic expectations first.
Your expectations and goals must be clear so that you can measure how well live streaming is going after you implement it.
Your goals should be focused and specific. For help, follow the golden rules of goal setting:
Only set goals that motivate you.
Set SMART goals (specific, measurable, attainable, relevant, and time-bound).
Write your goals down.
Make an action plan.
Stick with your plan and review often.
For example, maybe you want to expand your reach from 200 members to an additional 500 viewers each week. Or you wish to increase tithing by 10%. Perhaps your only goal is to increase engagement among church members.
Whichever goals you choose, set them before you buy equipment and begin live streaming. With your goals in place, you can
determine whether live streaming is valuable for your organization's needs.
What Do You Want to Produce?
Next, decide what type of live stream your church will provide. While some churches strive to produce high-quality content in everything they do, others value authenticity and want to create reality TV-like productions that aren't so polished.
The reality is that most small churches do not have the resources or budget to produce high-quality, production-level live streams. You may only have one or two people who can dedicate time to a live stream, so you may need to keep your setup simple.
Best Practices
Once you've made the decision to begin live streaming, it's time to consider the format of your live stream experience. Here are some best practices to consider along the way.
Which Parts of the Service Should You Stream?
Unless you're singing music that was written before the 1920s, there's a high chance that you're performing copyrighted material. Sure, there are ways to gain permission to stream this content, but it's complicated, and you should choose to skip it for legal reasons.
To be safe, consider cutting the music portion of your service from your production. If you frequently open your sermon with church announcements or address specific issues, keep in mind you're broadcasting to a worldwide audience.
You also need to ensure your camera isn't recording minors or other protected individuals such as victims of abuse. This is not only for their safety but for legal purposes.
Should You Stream Traditional Preaching or Something Else?
The best live streams aren't created by a camera in the back of the room recording content but are supplemented by a speaker engaging with live comments. This engagement can occur during the sermon or after—either via comments or in person.
If your congregation is entirely remote, you may feel most comfortable sticking with the traditional preaching method. However, if you're looking for something different, you can consider engaging viewers by asking them to comment or give feedback that can be addressed following the service.
During the sermon, whoever is running the camera can monitor the comments on a separate device and prepare them for discussion afterward.
You may also choose to live stream in a hybrid or dialogical format, breaking up preaching with designated Q&A times or engaging the audience to interact through the video. If you don't care about limiting the audience, you can use Zoom or another more direct medium for this.
How Should You Point the Camera and Set the Stage?
The best camera placement for live broadcasts is when the angle is eye-level with the speaker. In a live-only broadcast, the speaker will talk directly to the camera, so it looks like they are making eye contact with their viewers.
Stay away from angles from below the speaker, as they can be unflattering, to say the least.
You don't have to spend thousands of dollars on lighting. You can keep it simple with a ring light, lamps, or a basic lighting kit. This amount of lighting and engaging with the camera can go a long way toward improving your video.
How Much Should You Invest in a Church Live Stream Setup?
The question of how much money to invest in your live streaming venture is difficult to answer for any organization, but especially for a church.
You can choose to start with no budget using a free streaming platform and a smartphone. Today, you'll find that several church leaders are bound to have the latest iPhone (or something similar). While it's not always possible to produce a high-quality stream, it's certainly an option and ideal for a church without much of a budget.
If you're entirely new to live to stream and aren't super tech-savvy, don't throw a lot of money at your live stream setup. It's easy to invest thousands, especially if you walk into it without research, but this isn't necessary. Begin with a simple, affordable live stream setup. Maybe you can upgrade later when you see how well your congregation interacts with the new technology.
Look for a lower-cost camera and a free streaming platform, to begin with. As a nonprofit, some businesses may offer you a free camera or a deep discount. If they don't offer outright, it never hurts to ask. While the camera will be your most significant expense, it's a one-time cost, so it's easier to swallow.
When you're just starting, you can easily live stream your sermons for less than a few hundred dollars. However, if you're excited and want to go all out, you can easily spend any amount of money. After you have your equipment, the only other expense is investing in a live streaming platform.
Choosing a Camera
Now that you know that your camera will be your most significant and most important investment, let's discuss what to look for in your live stream camera.
There are several types of cameras to choose from, including webcams, camcorders, DSLRs and action cameras. There are also cameras explicitly marketed as live streaming cameras, which are also a good choice.
To use a webcam, you'll need to attach it to a laptop. This isn't ideal, as the computer may get in the way of the person speaking or members watching the sermon in-person. However, a webcam is one of your cheapest options.
Most professional photographers prefer DSLR cameras, as they're designed for high-quality photo and video. Camcorders are usually reserved for shooting video, so they're an obvious contender. For best results, choose one with Wi-Fi or HDMI capabilities.
Unless you're planning on shooting active live streams, you probably don't need an action camera. However, if you or whoever is speaking moves around often, you'll benefit from an action camera because they provide the most stability.
What you're probably most concerned about are the pricing and the features of each option.
Each of these cameras costs anywhere from $100 to over $2,000. Don't make the mistake of going with the most expensive because you think it has to be the best. Talk to someone who knows their stuff and get only what you need for your church.
Lighting Arrangements and Techniques
Even if you have a top-of-the-line camera, your video won't look nearly as good without adequate lighting. If it's too bright or too dark, your viewers may lose interest or get distracted. You want them engaged, so they listen to the message of the sermon.
If you're new to shooting video, it's sometimes hard to determine the difference between what you're seeing and what's displayed on the camera. You might see the pastor in perfect light with small lamps to either side, but the camera only picks up the dim shape of a person.
Instead of placing a light on either side of the speaker, try three-point lighting instead.
This lighting technique uses three lights called the key light, the fill light and the backlight. A backlight with the key and fill lights placed in front of the speaker at 45-degree angles drastically improves what the camera picks up. However, don't forget to play around with the brightness to make sure the lighting is just right.
If more than one person is present on your broadcast, install adjustable lighting or add multiple areas of mobile lighting that you can control from your computer or tablet.
Other Equipment to Consider
If you want a more elaborate live stream setup, you may choose to invest in audio equipment as well. If you only plan to stream one speaker and a choir in the background, you can get away with the single microphone on your camera.
If not, you will want to invest in special microphones that feed back into your camera. You'll likely need multiple wireless microphones for more complex setups. These mics will connect back to your camera through the main audio and video controller. This controller can be a laptop or tablet with audio software installed.
You'll also need software and a host of other tools to create, edit and promote your live stream. If you're looking to know what free or inexpensive tools and resources are available to you, check out this guide.
Choosing a Video Encoder
There are more expensive cameras that include built-in video encoders. Suppose you buy one of those, great. If not, you'll need to purchase one. Encoders can be software or a physical piece of equipment.
There are a few reasons to opt for a hardware version, such as they use less bandwidth, are easier to configure and are usually cheaper than the alternative.
However, software video encoders are just as effective. If you use the software provided by the live streaming platform you're subscribing to, you may be charged based on the number and length of services you stream. Some charge a flat rate.
Pricing varies significantly for stand-alone encoder software—anywhere from $100 to over $1000 depending on features.
Using a Live Streaming Platform
Once you've settled on your equipment, it's time to choose a live streaming platform.
You'll need one of these for people to view your sermons online.
If your church has its own website, you can dedicate an area of your website to host your live streams. Streaming tends to use more bandwidth than a typical non-profit website would. Keep in mind that you may have to pay your hosting provider more. However, it's ideal to have your live stream in the same place as your other content.
If you don't have or want to use your church's website, you can use a service dedicated to livestreaming. In this case, it's essential to carefully compare services to determine which features and pricing structure works with your church's budget.
Many streaming services have their own equipment for purchase to make live streaming easier for churches. The kit from these providers may cost less than purchasing everything separately on your own. Some even offer free trials to make it easier to compare services.
Free vs. Paid Platforms
The features mentioned above are standard in premium options, but what about free platforms? There are tons of free options available, but the two most popular are Facebook Live and YouTube Live.
With Facebook Live, you can set up live streaming events in advance. This is entirely free and advantageous if your church already has a large following on Facebook. You can easily live stream on Facebook using a camera or your smartphone.
If you're considering Facebook Live for your live stream, check out our list of helpful ideas to make your virtual service shine.
YouTube Live is a lot like the regular YouTube platform, except the videos are live. Before you can get started live streaming on YouTube, your account must be in good standing.
When considering platforms, keep in mind that you'll get better support through paid services. However, if you're just testing out live streaming for your church, free services work well enough to start with, so they're worth a shot.
How to Encourage Members to Engage
Now that you're ready to set up a church live stream, it's time to increase engagement. One of the most efficient ways to do this is to tell your congregation to engage.
With Vanco Live, engagement is as simple as it can be. It does this by delivering an immersive, engaging virtual ministry in a single window. And, it doesn't require any technical expertise.
Most people use social media platforms that provide various engagement methods to maximize your organization's reach. For example, Facebook adds engagement buttons to live streams so that viewers can click on them to engage with comments and posts during the broadcast.
While you likely won't want to stop the sermon to encourage viewers at home to engage, you can prompt them to at the beginning or end of your service. It can be a simple statement such as, "To those watching from home, please take a moment to like our page and subscribe, so you never miss a sermon in the future."
Many organizations also use a call to action that asks at-home viewers to fill out contact cards so that someone from the church leadership can follow up and invite the viewers to join in person. Little acts of kindness like this encourage those who have never attended in-person to show up.
You can also add text to your live stream broadcasts or include graphics that ask viewers to "Subscribe to keep in touch" or "Comment and let us know where you're from!" This is a simple way to add a CTA every 5-10 minutes throughout your sermon without disrupting the service.
Reaching Older Generations With Live Streams
If a significant portion of your congregation is older, it's essential to make everyone feel connected. Take the time to ensure that you are effectively reaching all generations in your church.
Some older individuals may be leery of new technology, so be proactive and teach them how to use it before implementing live streams. You can record a tutorial that shows how to join your digital service and how to give online.
Email a link for your digital service to your church members in advance to make it as easy as possible to join the sermon.
If you have the resources and church volunteers, consider creating a team of members who offer to help people get set up to watch live-streamed services. This initiative goes a long way in showing your congregation that you care.
Looking to Start or Improve Your Virtual Ministry?
Vanco has created a detailed resource that covers every aspect of setting up a virtual ministry. Click on the resource below to get your own copy!