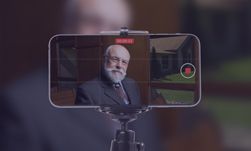 A Complete List of Inexpensive Virtual Worship Tech Tools
Most churches, especially those just transitioning into the realm of virtual worship, don't have a ton of resources. Low-cost solutions for creating a virtual ministry exist, but they aren't easy to find. That's why we created this list to guide you to solutions that are either free or low cost.

Giving Virtual Worship a Home – Building a Website

For your virtual worship to be successful, your members, guests and newcomers need to be able to find it. This means you'll need a website. If you already have a website, you can skip ahead, but if you don't, or have a website that is difficult to manage, consider these low-cost options that won't require you to hire a web developer.

The days of needing to pay hundreds or thousands of dollars to build a professional website are over. With DIY website builders, all you need to do is choose from a list of available templates, make a few edits to match your church's distinct personality and that's it. Even the least tech-savvy users can build a website from the following providers in just a few hours.

1. Wix – What's nice about Wix is that you don't even need to commit to buying a website before building your website. This allows an aspiring virtual ministry to see if this solution is right for them. Wix is used by many small businesses because it costs very little and doesn't take professional skills to use. If you're looking to see what the system looks like for yourself and how to use it, Wix has put together a list of ten video tutorials that will help you go from a website newbie to a master in no time.

2. Squarespace – Squarespace is very similar to Wix, and it is used by individuals in churches and small businesses across the country. This means there are a lot of resources for creating a Squarespace website. If you're looking to see what creating a website on this platform is like, check out this video, describing how you can build a webpage within minutes.


Each of these providers charge very little per month—under $30 in many cases—and the plan covers your domain name and hosting, expenses you would need to pay for any website.

Bringing Your Services to the Masses – Livestreaming

The most important activity for any church, including virtual ministries, are Sunday services. Fortunately for virtual ministries, creating online services has never been easier. There are several free and low-cost livestreaming options that are easy to use.

3. Facebook Live—Did you know 69% of adults in the U.S. use Facebook (Pew Research)? Facebook's livestreaming service offers the perfect solution for churches wanting to offer Sunday worship online. You can use it for free and setting it up is easy. Just how easy is it? Well, in just over two minutes, this pastor demonstrates how to set up a livestream for a church service.


4. YouTube Streaming— According to FacTank, even more adults use YouTube than Facebook, which makes it another tech tool you can use to livestream your services. When streaming your Sunday services to YouTube, it is slightly more complicated. You'll need to first meet YouTube's requirements. Then you'll need to have a YouTube channel and some type of streaming software. Fortunately, there's streaming software available for free, and Google helps guide you to a list of options. Overall, the process is still simple, but it may take new churches 20 to 30 minutes to set up their first stream. If you're interested in trying out YouTube, check out this video.


5. Zoom—Since COVID-19 closed in-person services across the country, many churches got acquainted with Zoom. Most found the software affordable and easy to use, and when it comes to livestreaming services, it provides the simplest way to broadcast livestreams. Using a simple trick, churches can broadcast through Zoom, YouTube and Facebook Live simultaneously. Because so many of your visitors have familiarity with one or more of these platforms, it allows members to access your video stream through their preferred medium.

Getting the Right Hardware—It's Cheaper Than You Think

If you have a smartphone, you can easily create professional videos while spending less than $100. Here are just a few inexpensive worship tech tools that can help you turn your smartphone into a high-end piece of recording equipment.

6. Smartphone Tripod Adaptor and Tripod – This equipment will allow you to connect your smartphone to a tripod to give a steady visual display. The tripod adaptor lets you easily mount your smartphone to the tripod. Many companies manufacture this equipment, and it is easy to find a kit at a low cost.

7. Lighting – For your online visitors to feel as if they are attending in person, you'll need to address the lighting. Using a simple ring light attachment that connects to your smartphone will make a world of difference. When it comes to light attachments for a smartphone, you can spend anywhere from $10 to a few hundred dollars. Whatever you decide, any sort of attachment will improve the quality of your video.

8. Microphone—Many smartphones have high-grade cameras included within them. Unfortunately, they don't have spectacular microphones. Because your online viewers need to hear the messages conveyed by your pastor and the songs from your band or choir to be uplifted by your Sunday services, you will need to have some additional hardware. But don't worry, this piece of equipment won't set you back much.

Any external microphone will significantly improve your sound quality, but if your Sunday services focus on the pastor and their sermon, you'll want to use a lavalier microphone that can clip onto a shirt. This is a cheap way – you can find one for less than $20 – to focus on your pastor's voice as they deliver a sermon or convey key messages.

9. All-in-One Rig Set—This is one of the easiest ways to get all the necessary equipment to maximize your smartphone's video recording capabilities. These portable sets generally work with any type of smartphone. They come with easy-to-use lighting systems, a microphone and a tripod. In many cases, they are less than $40, such as the set demonstrated in this video. What's particularly neat about the set demonstrated in the video is that it has handles, which allow you to smoothly pan and adjust the camera without shaking the picture. This will help your camera operator provide better footage of the service for online viewers.


If you have a large budget, you can opt for the more high-end equipment for each piece of hardware, but it isn't a requirement. Most members and visitors won't expect studio-level videos right away. They will simply be grateful they're able to view services online when they aren't able to physically attend church. If you find your online services are a hit for those in the community, you can easily upgrade your equipment without breaking the bank.

24/7 Church Services—Recording Church Services

If you're already livestreaming services or plan to do so, you should consider offering recordings to your members and visitors. Aside from giving members the convenience of accessing past services whenever and wherever they like, you can use the recordings to expand your audience. When new visitors are looking for a congregation to join, it helps for them to have an accurate depiction of your services, and nothing does that better than a video recording. Here are a few worship tech tools to help you get started.

10. Zoom Recordings—Getting started with video recording is especially easy if you use Zoom for livestreaming. You can find the steps to the simple process here.

11. OBS—If you're looking for a way to enhance your livestreams with edits or to simply create a shareable recording, this free software will do the trick. OBS is not only easy to use, but it has many of the features offered by paid editing software, which can cost hundreds of dollars for a yearly subscription. Check out this 30-minute video tutorial to see if this software is what you're looking for. It will help you get up to speed so you can start creating professional videos in no time.

Tools to Help Broadcast Virtual Worship

12. Social Media—When it comes to promoting a church on social media, we're specifically talking about Facebook. Facebook has far more online users than any other platform, and it is usually among the top search results when individuals search the web for your church's name. Although Facebook will require you to pay for expansive reach, there's plenty you can get for free. By creating a local page, you can have your church's information such as name, address and phone number prominently displayed on search engines like Google. You can also share important events with members and connect private Facebook groups for individual members to have conversations with each other. If you haven't created a Facebook page yet, here are the instructions to get started.

13.Google My Business (GMB)—Don't be fooled by the word "Business" in this tool's name. GMB works great for churches. By creating a listing for each of your campuses, your guests can easily receive driving directions. Your church's GMB listing will also display at the top of the search results with a panel that details your information for queries relating to your church. And most importantly, it will help you appear at the top of local search results when new residents are looking for a congregation to join. If you don't have a GMB listing for your church or wish to optimize an existing listing, check out this video.

14. YouTube Channel –One way to attract new visitors and offer a space for existing members to view your previous services is to create a YouTube channel and upload videos to it. Both actions take very little time and are easy to do. Get the instructions to get started.

15. Blog—A blog is a great way to expand your reach into the community and beyond. However, it can be hard to find time to create the content for it. One simple solution is to embed your videos from your YouTube channel onto your website's blog. The process of embedding a video is easy if your website uses WordPress, Wix or Squarespace. Because almost a third of websites in the U.S. use WordPress, we've included the instructions for embedding your YouTube video to your WordPress blog right here. For instructions on Wix, click here. And you can get the instructions for Squarespace right here.

Once you've embedded your videos of sermons or Sunday services, you'll want to optimize your post. Start by optimizing your video post with a description of your church's service or sermon. The description doesn't need to be a lengthy masterpiece. Simply write what your pastor talks about in the sermon, the name of the music played and any other notable snippets. The reason why these few words helps is that search engines need text to better classify what a certain video or image is about.

16. Canva—If you're looking to give your church's promotional material a professional look without hiring a graphic designer, Canva is the perfect solution. With thousands of readily available templates and photos, your church can quickly create professional materials without spending a lot. Canva has a free plan that includes thousands of materials. You can browse through the available templates that include presentations, social media posts, flyers, newsletters, Zoom backgrounds and more here.


Generate Funding

For your church to share its message in the sanctuary and the web, you'll need resources to keep the lights on. That's where financial stewardship comes in. Managing financial stewardship has never been easier thanks to online applications that make giving simple, while encouraging repeat giving.

We would like to put an emphasis on repeat giving. In our decades of work with tens of thousands of churches, we found that to be the best financial stewardship tool available to churches. And it's not just us, according to Philanthropy Daily News, monthly givers donate 440% more over their lifetimes than one-time donors. The other key advantage besides increasing donations is that automatic giving helps make weekly or monthly donations consistent, erasing odd spikes and lulls in gifts and making it easier to budget.

Here are just a few low-cost, worship tech tools to help you encourage automatic giving.

17. Mobile App—When giving is easy, members donate more often. With a mobile app, your members can give within a minute through their smartphone wherever they are. It also allows givers to make recurring gifts.

18. Text Giving App—Giving with a text message is the easiest way for members and guests to donate. Like the mobile app, givers can choose to make their donation recurring. In the case of GivePlus Text, users are prompted through a text message with a query asking if users want to make their gift recurring.

19. Online Giving Page—An online giving page is a great way to direct website users to contributing. Through the online form on the giving page, donors can choose to make their gifts recurring as well. An online giving page is a little more complex than the other two options, which is why there are several strategies you should use to maximize the efficacy of your donation page.

20. Free Virtual Ministry eBook - Vanco has created a detailed resource that covers every aspect of setting up a virtual ministry. Download the eBook to learn...
Why every church needs to offer virtual worship.
How to build the foundation of your virtual ministry.
An easy way to build a virtual home for your church without spending a fortune.
A full list of inexpensive or free worship tech tools for setting up your online church.
The steps that will show anyone how to produce a high-end production for an online church service.
How to engage members and guests beyond church services.