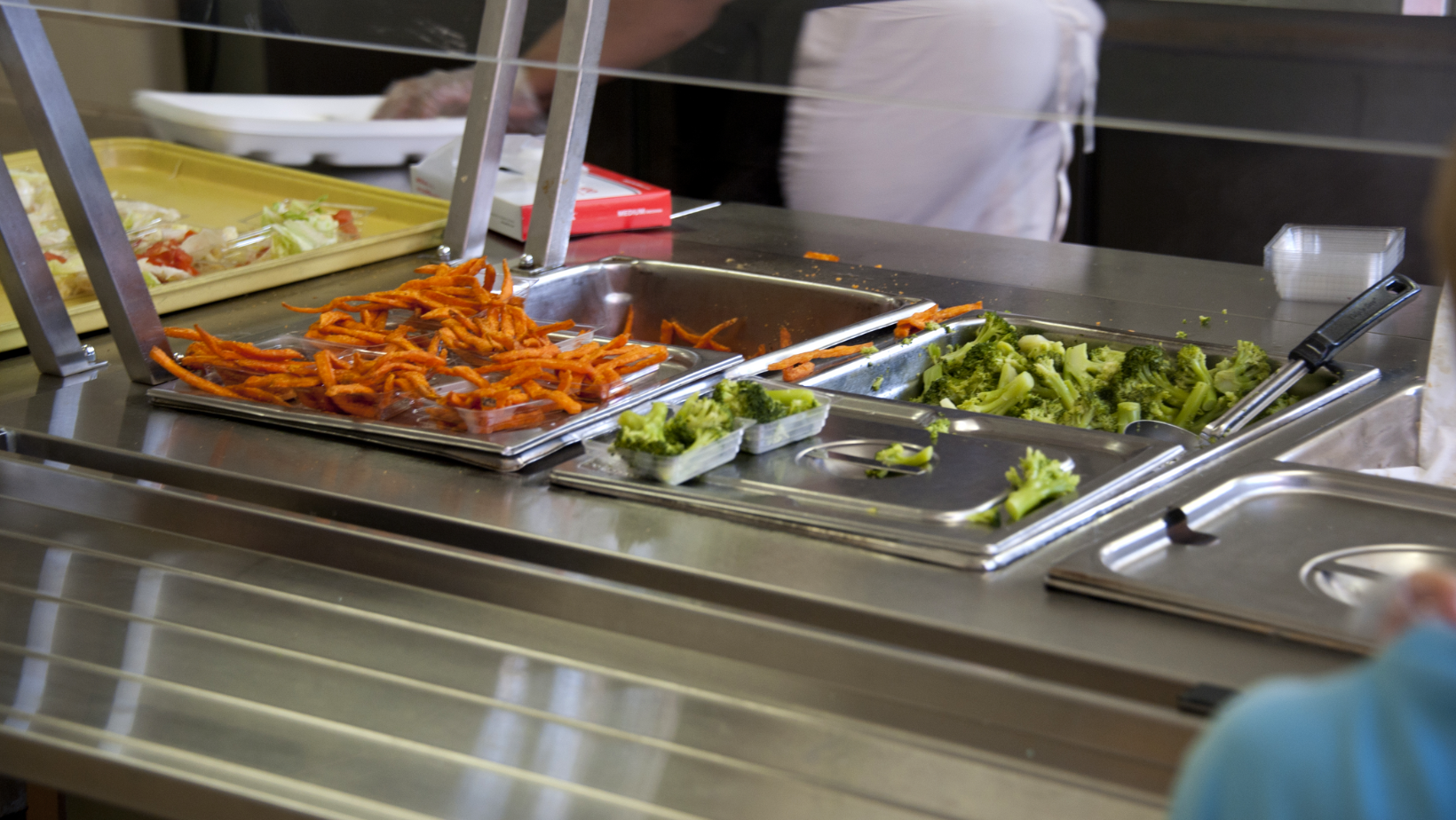 For many schools and school cafeterias, ongoing discussions center on how to improve school lunches. With so much information about and sources of healthy alternatives to standard school lunches, now is a great time to make changes that will improve students' health, benefit local food producers and potentially offer cost savings.
So how can we improve school lunches? Here are 39 practical ideas on improving school lunches to help K-12 schools make healthier meal options available for students while boosting lunch participation. By following these steps, your schools can create sustainable lunch programs that provide nutritious and appealing meals while also being mindful of cost efficiency.
Table of Contents:
Why Improve School Lunches?
Lunch is an important part of the school day for many reasons, such as the social and nutritional benefits it provides. But many schools are grappling with how to make this needed break as helpful as it can be. Let's look at why and how improving school lunches is important and who is involved.
Approximately half of the K-12 school students in America pack their lunch. Schools that have higher school lunch participation rates enjoy economies of scale to purchase better food at lower prices. They can also sell items à la carte to increase funds for lunch programs. Improving school lunches can help your district improve meal quality and program participation.
How to Improve School Lunches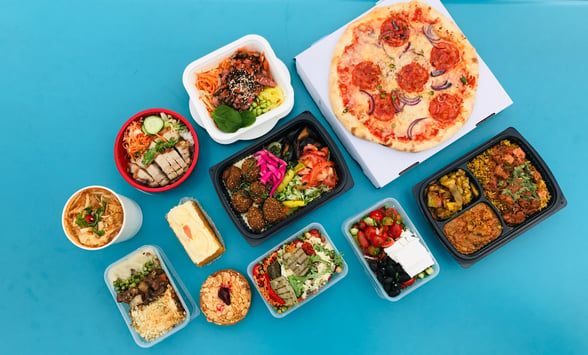 Is your lunch program suffering from low participation, or do parents question if it meets their children's needs? Well, fret no more! In this article, we will share 39 practical ways to improve school lunches. From simplifying lunch payments to offering organic food and getting help from local businesses, we have researched and compiled the best tips and tricks to make school lunches more enjoyable for students and healthier and more sustainable. Keep reading to learn how to improve school lunches so you can boost quality, satisfaction and participation.
1. Survey Students and Parents
It's important that your lunch program meets the needs of your key stakeholders: students and parents. These groups have differing concerns when it comes to school lunches. Students want items that are tasty. Parents usually want food to meet their children's nutritional needs.
To help you learn how to improve school lunch and increase participation, we built customizable survey templates. We offer an age-appropriate template for students and a comprehensive template for parents. Collecting feedback from both groups will help you understand what's working and where to make improvements. Use this feedback to create a lunch program that meets the needs of your entire school community.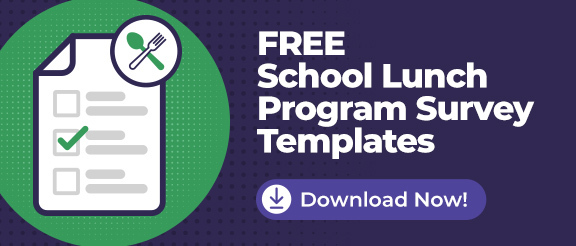 Consider the Source
To improve school lunches, the most important part is the food itself. Consider these resources and ideas on expanding the sources of the food you buy for the cafeteria.
2. Enroll in Farm-to-School Programs
The National Farm to School Network offers invaluable resources to help K-12 school cafeterias. It helps to incorporate and promote local foods, with the support of the USDA Farm to School Program. These resources, along with grants for educational activities, are fantastic ways that schools can improve their lunch programs.
Research has found that having a farm-to-school program can foster healthy eating habits. It makes students more likely to try nutritious fruits and vegetables. If you're looking for ways to improve school lunches, look no further than the National Farm to School Network!

3. Increase Gardens in School
Across the U.S., school gardens are becoming a popular way to teach students how to improve school lunches and snacks. For example, in a school in Vermont, indoor tower gardens provide an opportunity for students to learn how fresh ingredients can be grown and used in healthy recipes.
In New York City, raised beds give students access to a variety of fresh produce. And in tribal communities, native food gardens provide students with a unique chance to learn how to incorporate traditional ingredients into their meals.
The 2015, USDA Farm to School Census indicated that there were more than 7,000 school gardens across the country. In addition, Alice Waters' Edible Schoolyard Project at a middle school in California includes a one-acre garden and a kitchen classroom.
To ensure that students understand how to use the fresh ingredients they grow, nutrition education should be part of the curriculum. This can be done through field trips to the garden, special lessons about healthy eating habits and other interactive activities that help students develop a better understanding of how to make nutritious meals.
By teaching nutrition education through school gardens and various curricula, schools can create healthier food environments and help students learn how to improve their own school lunches. By implementing these ideas, schools can create healthier lunches and snacks that students will enjoy and benefit from.
4. Source Health-Focused and Sustainable Foods
Making the switch to higher-quality, more nutritious and locally sourced food can help schools create healthy school lunches students enjoy — all while working within a budget. Preparing more meals on-site can also be a great way to improve the quality of school lunches. With the right approach, schools can make positive changes to what their students eat.
In 2016, the Oakland Unified School District in California made a groundbreaking decision to partner with the Center for Good Food Purchasing. This decision enabled the school to source food from local farms and companies that provided nutritious, minimally processed ingredients.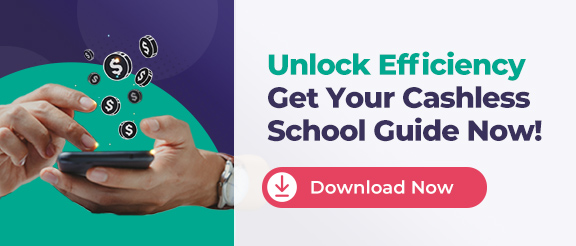 Additionally, these sources were expected to follow fair labor practices and pay employees a living wage.
In just two years, the school district managed to reduce its animal product intake by 30%. The meat that was still served was sourced from carefully chosen pasture-raised sources.
Improve the Ingredients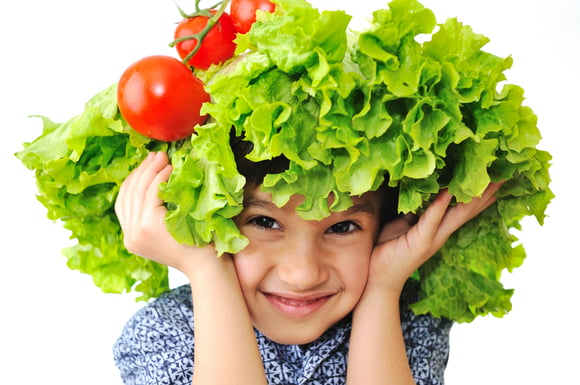 Once you expand the sources and quality of the food you're buying for the cafeteria, take a closer look at how you're using that food to create menus and meals. How can you make the meals healthy, varied and interesting?
5. Add More Salad Bars
The Let's Move Salad Bars to Schools program, which was initiated in 2010, is a collaborative effort between renowned chef Ann Cooper, produce associations and grocers. The mission of this alliance is to have salad bars available in all K-12 schools across the United States.
By providing a wide variety of fresh produce options, salad bars give students the freedom to choose how they want their meals to be composed, while also encouraging them to try and consume more fruits and vegetables. Evidence shows that having salad bars in school cafeterias increases children's intake of nutrient-rich foods.
In short, implementing salad bars in schools is an effective way to improve school lunches.
In addition to salad bars, there are other ways to improve school lunches. Consider serving whole-grain foods such as brown rice, whole-wheat pasta and 100% whole-grain bread and tortillas. These foods contain more fiber and essential nutrients.
6. Eliminate Processed Food and Unhealthy Ingredients
If you're wondering how to improve school lunches, one way is to remove certain types of products. Processed food and unhealthy ingredients contain a lot of added sugars, fats, sodium and other additives.
This can hurt children's health in the long run. So, if schools eliminate those types of food from their lunch programs, they will be providing healthier options for students.
Because many processed foods lack important nutrients, eliminating them from lunch menus can help ensure that students are getting the vitamins and minerals they need to stay healthy. This would likely lead to an overall improvement in students' learning performance as well as their physical health.
By including whole foods and fresh ingredients instead of processed ones, schools will be helping set healthier habits for their students as they grow. This in turn could lead to long-term benefits for both the students and schools. Therefore, eliminating processed food and unhealthy ingredients is an important part of how to improve school lunches.
The Berkeley Unified School District in California has taken steps to make school lunches healthier by eliminating processed foods. This includes hydrogenated and partially hydrogenated oils, high-fructose corn syrup, refined sugars and refined flour, as well as chemicals, dye additives and nitrates.
In addition, school cafeterias are serving local organic milk and local and/or organic fruits and vegetables as much as possible. These changes are helping to create healthier meal options for students. This has led to an overall improvement in student health and learning.
7. Switch Up Ingredients
Many schools include chicken nuggets, hot dogs and corn dogs on their lunch menus. However, these foods contain unhealthy ingredients such as processed meats and high fat content. Schools should consider switching up the ingredients to make them healthier. Here are some ways to improve school lunches by switching some ingredients:
For chicken nuggets: Consider using lean cuts of real chicken breast that are grilled or baked. This will reduce the amount of fat in the nuggets and provide a healthier option for students.

For hot dogs: Consider using lean cuts of turkey, chicken or beef that are low in sodium and free from nitrates. These can be served steamed, boiled or grilled to reduce fat content.

For corn dogs: Consider using lean cuts of turkey, chicken or beef that are low in sodium and free from nitrates. These can be served steamed, boiled or grilled with a cornmeal batter to reduce fat content.
By offering healthier options like these, schools can ensure they are providing students with nutritious meals that promote their health and well-being. This is an important part of how to improve school lunches.
8. Include a Wide Variety of Vegetarian Options
Schools need to include vegetarian, vegan and other dietary options in their menus to help ensure students are getting enough nutrients even if they don't eat meat or particular food groups.
Some great vegetarian options include bean burritos, lentil soup, black bean burgers and veggie wraps. These types of dishes provide a good source of protein, fiber and vitamins that students need to stay healthy.
In addition, schools should also consider offering vegan options such as salads made with quinoa or tofu, hummus and veggie wraps. These dishes provide a variety of nutrients that are important for students' health and well-being.
By incorporating vegetarian and vegan options into their lunch menus, schools can ensure they are appealing to a more diverse range of students' dietary and nutritional needs, so they can stay healthy and perform well in school.
After a successful pilot program of providing plant-based school lunches at seven Los Angeles schools, the Los Angeles Unified School District could become the first in the nation to offer a vegan lunch selection at every school.
Lila Copeland, a student and youth director for Earth Peace, pushed her proposal forward to provide California students with a daily vegan entrée and nondairy beverage option by the time she graduated high school in 2020.
New York City public schools also have plant-powered lunch options available at 1,200 locations and even three all-vegetarian elementary schools. These alternative menus provide diverse meals such as lentil sloppy joes, braised black beans with plantains and teriyaki crunchy tofu.
If you are looking for ways to improve school lunches, these initiatives show how plant-based meals can be incorporated into the everyday school menu. Incorporating more vegetarian options into school lunch programs is an effective way for K-12 schools to provide healthier food choices for their students. With these changes, we can help create a healthier and more sustainable future for our children.
If you are struggling to come up with ideas on how to make vegetarian meals delicious and appealing, here are some ideas for how to improve school lunches with new and different vegetarian options.
Bowls
Bowls are a great way to offer a variety of nutritious foods at once. Try adding quinoa with black beans and veggies, zoodles with veggies or lentil salads to your school lunch menu.
Buddha bowls are also a great option, combining grains or starches with colorful vegetables, legumes/beans or tofu, and sometimes fruit all in one dish. For some plant-powered ideas, check out Forkly's Buddha bowl recipes.
Burritos and Wraps
Burritos and wraps are a great way to offer students more healthy options for school lunches. Try incorporating some of these delicious recipes into your lunch program: bean burritos, tahini and red pepper rolls, plant-based chickpea "tuna" salad, collard wraps, veggie sushi rolls and plant-powered pita pizzas. Not only are these recipes nutritious, but they make for an exciting lunch that your students will love!
Sandwiches
Sandwiches are a great way to get creative in the lunchroom! Try preparing cucumber and hummus, apple and nut butter, avocado and veggies or veggie burgers for something different. Hummus is a classic sandwich spread, but why not mix it up by making white bean hummus or adding other ingredients like peas and mint?
Pasta Salad
Try giving your students a healthier version of pasta. Simply make whole-grain or bean-based pasta, then add beans and veggies along with your favorite sauce for an easy, delicious meal. It's an easy way to provide healthy options to your school lunch program.
Salad in a Jar
Meals in a jar are perfect for those who want to make healthier lunch choices. If you're looking for easy, portable and tasty options, there are plenty of creative ideas to try. Recipes like crunchy Asian salad, Mexican black bean salad, fruity kale salad and Greek chickpea salad all work well.
Healthy Sides and Snacks
Sides and snacks are essential for a balanced school lunch. To make them more nutritious, try adding some fresh fruit and seeds, roasted chickpeas, kale chips, celery logs with nut butter and raisins, energy balls, homemade granola bars, chia seed puddings and veggies with hummus.
9. Try Meatless Mondays
To encourage students to eat a wider variety of foods and try different meals, one option is Meatless Mondays.
More than 50 school districts across the United States have implemented Meatless Mondays. This program aims to promote healthy eating habits and reduce meat consumption, which is beneficial for both our health and the environment.
In New York City, 15 public schools in Brooklyn are participating in a pilot program to launch Meatless Mondays. If successful, the city's entire public school district could soon follow suit.
This initiative is just one way to improve school lunch programs to provide healthier and more sustainable options. With the right knowledge and resources, there are plenty of ways to promote healthy eating habits among students.
10. Ban Processed Meats
Eating processed meat can lead to several health problems. Overconsumption can cause issues such as:
Higher risk of cancer

Higher risk of cardiovascular diseases

Increased cholesterol levels

Weight gain and obesity

Poor nutrition

Type 2 diabetes

Gastrointestinal diseases such as irritable bowel syndrome and colon cancer
By reducing the use of processed meats in school lunches, you can improve students' health. Processed meats are high in saturated fat and salt, which can lead to an increased risk of heart disease, stroke, cancer and other health problems listed above.
Offer higher-quality meats and increased plant-based options. Encourage students to adopt a flexitarian diet, which has been proven to reduce the risk of heart disease, stroke and some cancers. Schools can help by providing healthier meals that are lower in saturated fats and higher in protein. Meat substitutes can be made from plant-based proteins such as tofu, beans, nuts and seeds.
11. Get Inspiration from the World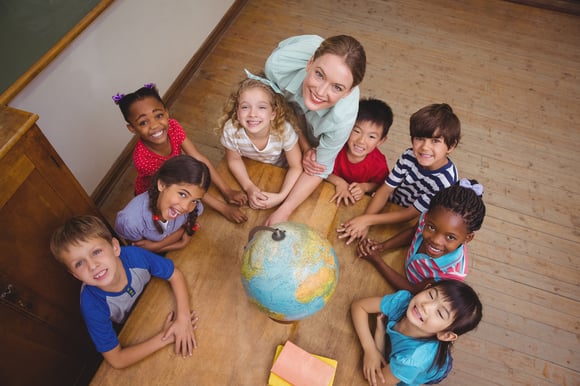 Many countries are striving to provide quality meals for students at an affordable cost. Here are some encouraging developments regarding school lunches.
France
In France, by law, at least 50% of school lunches must include vegetables. Additionally, in 2017, the European Union announced plans to invest in a new program that would help cover the costs of school lunches and subsidize the inclusion of fruits and vegetables. This is a great step toward creating healthier school lunch options for students around the world.
U.K.
In the U.K., a public campaign is striving to improve plant-based food options in schools. The mission of this movement is to make several important changes: having meat-free meals available every day, offering different types of meat-free meals that are separate from meat-based dishes, and mandating one completely vegetarian day per week.
Japan
In Japan, school meals are a source of national pride and serve as an example of how to improve school lunches. Food for school lunches is sourced locally whenever possible and is almost always fresh rather than frozen. This approach is something that all schools could learn from to provide healthier meals for their students.
Brazil
Nutritionists in Brazil are taking steps to ensure that students have access to healthier lunches. They create lunch menus with a 30% minimum quota for organic agricultural products sourced from local farmers, and food handlers prepare meals fresh and from scratch. This is how they are improving school lunches nationwide.
Think Beyond the Food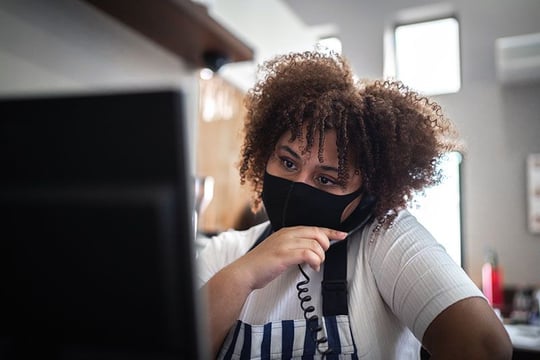 Expanding and upgrading the sources of your food, food preparation and menus is a huge part of improving school lunches. But there is another important part of school lunch — the cafeteria and its operations and environment. Consider these ideas on ways to improve school lunch, including the physical and social aspects of your cafeteria.
12. Define Rules and Expectations for Students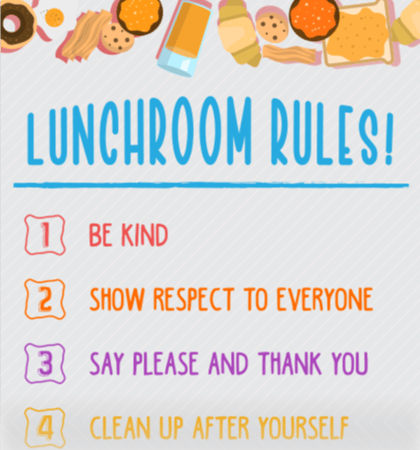 Lunchtime is a crucial part of a student's day, providing them with the energy they need to focus and learn. However, without clear rules and expectations in place, the cafeteria can quickly become a chaotic and unpleasant environment.
When school cafeterias are clear about student rules and expectations during lunch, it creates a more organized and efficient environment. This, in turn, can lead to improved behavior and better overall student experiences. It also helps to ensure that students are eating healthily, and that they are disposing of their waste properly.
Having a clear set of lunchtime rules can also reduce bullying and promote inclusivity in the cafeteria. Students know what is expected of them, and they are less likely to engage in behavior that could harm or exclude others.
Need Help Setting Rules and Expectations?
Our free school lunchroom rule poster templates are what you've been looking for.
With our two visually appealing templates, you can easily edit and print your own unique set of rules. Our templates are designed with simplicity in mind, so they are easy to read and tailored to meet the specific needs of your school. And the best part? They're completely free!
So why wait? Download our Free School Lunchroom Rule Posters templates today and start improving your school's lunchtime experience. With just a few clicks, you'll be on your way to building a better cafeteria and creating a positive learning environment for your students.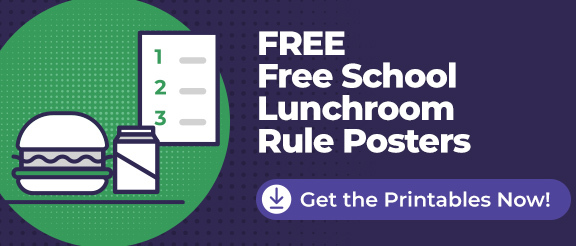 13. Expedite Service
Approaching the lunch line with a sense of urgency is important for getting the students served in a timely fashion so they have enough time to eat before going back to class.
To help speed up the lunch line and improve lunch safety, we created a guide with nine tips to help you get started.
Another key tool for expediting service is a point of sale (POS) system, which is a computer system that keeps track of student information such as name, dietary restrictions, allergies and monetary balance of their lunch program account.
The POS can also be beneficial for schools that have the pre-order option and for keeping a record of how many of each meal has been served, as well as tracking how many are left to serve (just like a restaurant). This system can be operated by the students as a touch screen or manned by the cafeteria staff.
Moving the students through the lunch line quickly will prove that the cafeteria can be efficient, allowing more to participate in the program instead of bringing their own food. That's how to improve school lunches.
Because so many schools are looking to speed up their school lunch lines, many have sought to use biometrics to hasten checkout. This tool, which involves scanning a fingerprint, offers the fastest way for staff to check out student lunches.
14. Get All the Details and Share Key Information
When parents complete their children's permission slips for school lunch, give them space to fill in any allergies, dietary restrictions and food likes and dislikes. This is a good way to gather information when planning your menus.
Gather financial information as well. This can make it easier for parents to sign their students up for free or reduced-fee lunch.
Teachers and staff want their students to succeed, and if students can't afford lunch, hunger will get in the way of student success. Arm your teachers and staff with the free and reduced-fee lunch program information parents need to sign up their children.
Try creating a guide or offering a collection of online resources such as:
15. Spread the Word
School newsletters and weekly emails that are sent home to parents are a good place to mention the importance of the students participating in the school lunch program. If students stop participating in the program, it could be in danger of dying out. The more students participate, the easier it is to drive down costs due to economies of scale. So, if you want to know how to improve school lunches, the answer is a robust school lunch program with plenty of participation that makes it easier for schools to provide quality lunches at a lower price.
In the school building, you can create bulletin boards to promote the school lunch program. Perhaps even get the students involved in making them.
Use the bulletin boards to talk about health facts, new menu items, menu themes and other cool aspects of school lunch. You know the school lunch program is great. Now communicate that to the students.
16. Lunch with Parents
Another way to improve school lunch is to think outside the box. How about inviting parents to join their children for a free lunch in the cafeteria when they sign up for the school lunch program? This gives a unique incentive to sign up, and a chance for parents to taste the cafeteria food and live like their kids for an afternoon.
17. Give Cafeteria Tours During Open House
While parents are attending open houses and meeting with their children's teachers, give them a tour of the rest of the school, including the cafeteria. If you are trying to boost student sign-ups for lunches, connecting the dots for the parents will be helpful.
18. Introduce the Cafeteria Staff
Give the cafeteria staff the respect they deserve, but so often do not receive. Introduce them in the school newsletter or on the school's website as you would do for the teachers and principal. Post pictures and brief bios for these employees to help students and parents get better acquainted with them.
19. Encourage Nutritious Eating
Students often do not get enough sleep. Whether they are staying up too late or getting up too early, their growing bodies simply require more rest than they can get. The next best thing is to encourage them to eat a decent meal so they can fuel up and be ready to learn.
20. Boost Breakfast
Though the goal is to get more students signed up for the lunch program, boosting breakfast can be a key answer to the question of how to improve school lunches. The most important meal of the day is breakfast, especially for students. Having more students ordering breakfast in the cafeteria will inevitably get them to sign up for the lunch program too.
The cafeteria already has the equipment and facility to prepare food, so it shouldn't require any additional purchasing besides the food. Expand the menu to include breakfast as a trial run for a few months before the school commits to it. Chances are it will catch on quickly.
21. Make Monthly Menus
Meal planning a month in advance is not a new concept. This works well for several reasons. The cafeteria can order supplies in advance, prepare different elements of meals ahead of time and stay on budget without last-minute spending.
Students enjoy knowing what they'll have for lunch days or weeks in advance. Even parents can appreciate a planned menu because they can plan their own menus at home without conflicts. They also can get insight into their children's nutrition.
22. Offer Pre-Order Options
Students will love being able to pick their lunches (or breakfasts) before the bell rings. When their meals are waiting for them, it is one less thing to think about during the school day.
Allowing students to pre-order meals will help keep the lunch line moving swiftly. The cafeteria workers will appreciate this because they will know exactly how many of each meal they need to prepare without having a lot of leftover food. This keeps down costs, allowing you to improve the quality of the food you serve.
23. Offer Allergen-Free Meals
As food allergies become more common, facilities serving meals should be aware and cautious. The facility may even go as far as to restrict things like peanuts from being served or used in any meals as this is one of the most common food allergies. An important way to improve school lunch is to be sure students know your cafeteria is a safe space for them. And their parents will be more likely to sign them up for the lunch program.
24. Cater to Dietary Restrictions
Dietary restrictions do not always mean that a person is allergic to a food.
Diabetic children need low-carb and sugar-free options. Gluten-intolerant students need gluten-free options. Vegetarian and vegan kids need their meat-free options too.
25. Honor Religious Beliefs
Dietary restrictions because of religious beliefs are another important consideration. Kosher meats and meals should be available as well as Halal meals. During Lent, Fridays should have meat-free options.
Menus should list what these students' options are, so they (and their parents) know without having to ask or question the food. Educate cafeteria staff on what the differences are, and what is considered to be appropriate for each religion observed by students participating in the lunch program.
26. Respect Food Choices
Bullying comes in many forms and is especially common among students. Enforce the rule that students respect their fellow students' food choices. "Mind your own tray" is the slogan of the day. So, to understand how to improve school lunches at a higher level, you must make it a safe and enjoyable time for everyone.
27. List Ingredients and Nutritional Information
Posting the ingredients of a meal and the nutritional information is a way to be completely transparent with students and parents. Some people don't mind turning a blind eye to the contents of their food, but more people are tuning in to the truth of it.
28. Keep It Clean
Believe it or not, holding the cafeteria to a very high standard of cleanliness will improve your lunch program numbers. Instruct workers to routinely wipe down the entire lunch line area, switch out dirty serving utensils and sweep the floors.
Cleaners should be sprayed on to cloths, not on to counters and surfaces. This helps from overspraying and contaminating food.
29. Give the Lunch Line a Green Makeover
Going green is an environmentally responsible decision and a great way to improve school lunches beyond food. Help the environment. Switch to paper or biodegradable straws and compostable silverware instead of using plastic. Using a compostable silverware dispenser will prevent you from having to purchase individually wrapped items.
To stretch your budget, stay away from single-use items. Purchase silverware and items that can be washed instead of thrown away or recycled.
30. Train Kitchen Staff
Delicious and nutritious meals start in the kitchen with the cafeteria staff. Proper training includes certification for food handlers. The certification program covers health hazards, proper cooking temperatures, education on cleaning processes and strategies like FIFO.
While training kitchen staff, take the time to educate them on their allotted budget and prices of the items they are using. Encourage them to keep waste to a minimum to keep costs down.
Be Fun, Be Flexible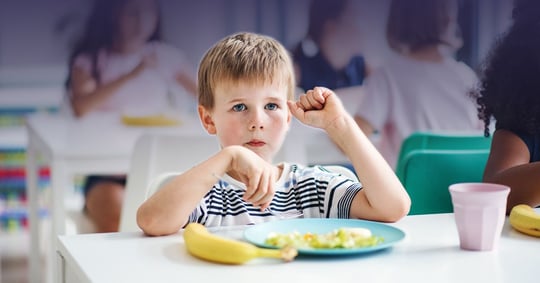 To improve your school lunch program, the way forward is to be flexible and not get stuck on serving the same old menu items and following the same old rules and processes. Progressive thinking is effective because we are all going through shifts and changes. A school lunch program must shift with us and our needs.
Another bonus of being flexible and changing regularly is that as food costs fluctuate. You can move the menu around accordingly to stay on budget. Keep the tried-and-true student favorites as a steady option or switch them in and out as a monthly surprise.
And finally, if you're still wondering how to improve school lunch, make it fun! Students should enjoy a break in the cafeteria while they're getting the best nutrition possible.
31. Make the Cafeteria More Interesting
Allow students to be actively involved in the artwork on display in the cafeteria. Rotating decorations is easy using blackboards or whiteboards.
32. Create Menu Themes
Giving school lunch menus themes makes them more interesting and appealing to students. Run contests for students to name menu items and create menu art. Tie in the themes with events happening at the school to unite learning and lunch.
33. Go on a Trip Without Permission Slips
Take students' taste buds on a trip around the world with stops in different countries for international cuisines. You can also stay within U.S. borders and make each state's most popular sandwich.
A menu like this is sure to keep students entertained, and it makes the cafeteria workers' jobs more interesting because they aren't serving the same old items all the time.
Students also get the chance to learn about geography and other cultures.
34. Have a BBQ and Picnic Day
Weather permitting, take the lunch line outdoors. Who doesn't love a good old-fashioned cookout? Train the cafeteria staff to use the grills and follow safety precautions, including blocking off the grill area from students.
Set up blankets for students and serve picnic-friendly foods to go with the theme. Don't forget about meat-free options for those with dietary restrictions. Throw on some fruit kebabs for a grilled dessert.
35. Get Social
Social media is the way to a youth's heart, and it can be the way to their stomachs too. Make an Instagram page, a Facebook account, even a Snapchat that students and their parents can follow.
Posting pictures of food is a great idea because we eat with our eyes first. If you can capture school lunch menu items with good angles and lighting, you will get the "likes" and "shares" you need.
In addition to posting pictures of menu items, share random food facts, videos of food being made and polls on what students want to see on the menu. Make it as interactive as you can.
36. Make Mondays Something Special
Mondays are notorious for being tough, especially on students that live for the weekend. By the time Monday comes around, they are exhausted and dragging their feet as they walk into school. Why not give them something to perk up their moods and flip the switch on the typical doom-and-gloom Monday.
One way to improve school lunch is to make Monday's lunch menu something to look forward to. Maybe it could be a student choice. Have them vote on what they want to see on the menu and make it happen.
37. Build Local Business Ties
Serving food that is familiar to students is something they can relate to on a totally different level. Provide pizza Fridays from a popular local pizzeria, or Tuesday tacos from the best local taqueria that the kids frequent with their families. Tying in the community is good for everyone, and the restaurants may even give you a discount.
38. Mark Seasonal Celebrations
Celebrations of a festive holiday, such as Valentine's Day or Christmas is a great way to spice up a school lunch menu. Create holiday-inspired menu items based on any holiday in any part of the world. Encourage your cafeteria staff to get into it and be creative.
39. Simplify Payments

Gaining more participants in your school lunch program may mean that you have to simplify the method of school lunch payments. If your program charges for meals, there should be options for online payments or automatic payments when student balances are low.
Several companies offer online payment options, so be sure you know what you're looking for before you choose one. Get up to speed by downloading our free guide.

Don't spend thousands of dollars and countless hours on the wrong choice. Save yourself a lot of headaches by making an informed decision for your school. Download our free guide to get the questions you need to ask before making this critical decision.