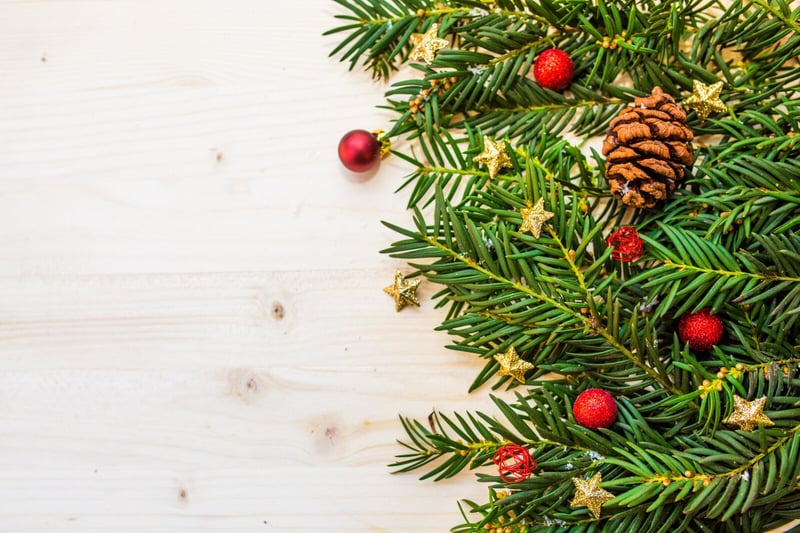 The holiday season is one of the best times to raise money and a great time to host Christmas fundraisers for schools or holiday fundraisers for schools with a diverse population of students and teachers. In fact, the numbers show that 20% of yearly donations in the U.S. are made in December. The giving season begins in October and continues to be strong throughout November and December with a total of 37% of all charitable donations given during these three months. That is why the holiday season is an ideal time to take advantage of the giving spirit and now is the time to begin thinking about holiday fundraising ideas for schools.
The following article details Christmas fundraising ideas for schools and includes some fun nondenominational activities that are sure to get students, teachers and parents excited this holiday season.
1. Plan a Holiday Fun Run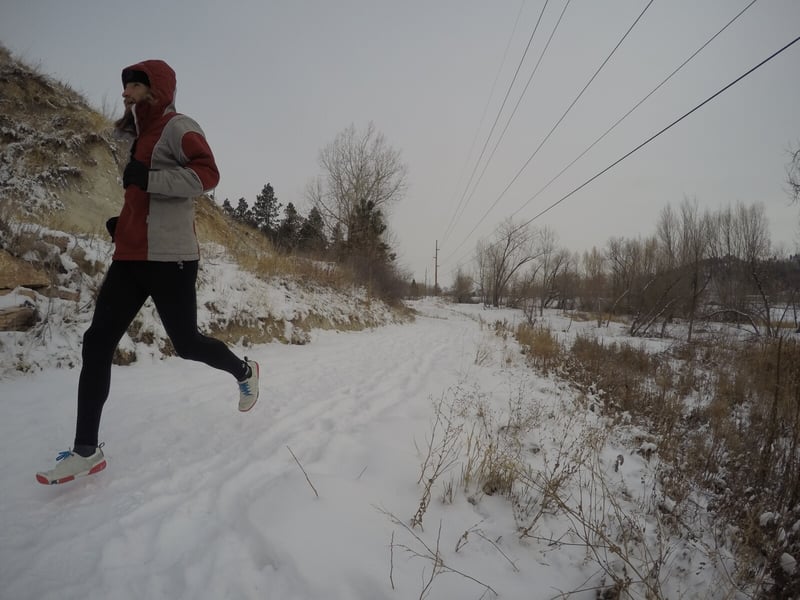 To plan a holiday-themed fun run properly, first decide on a theme. The more specific you can get, the better. For example, host a Santa Sprint, Turkey Trot or New Year's Eve Fancy Run. The idea is to get students and their families excited to show up in costumes ready to run. Next, come up with a catchy name and theme for your race. This will help to promote your event and get people talking about it.
Be sure you create a route that is both safe and challenging. Map out a course that takes runners through the most scenic parts of your school grounds or local community. Likewise, have plenty of refreshments on hand for after the race.
Finally, don't forget to promote your event in the weeks leading up to it. Hang posters around the school, send out email blasts and get word-of-mouth going by telling everyone you know about the holiday-themed fun run you're organizing.
To make selling and tracking tickets easier, look into an online ticketing system like Vanco Events.
2. Throw a Holiday Gala with Silent Auction
If you're looking for Christmas fundraisers for schools that can be held both in-person and virtually, why not consider hosting a holiday gala with a silent auction? The items for sales can be only Christmas themed or can be extended to Hannukah, Kwanza and other cultural holidays.
First, be sure to send invitations in plenty of time so that your guests can mark the date on their calendars. Be sure to include all the important details, such as the dress code and the in-school organizations, groups or initiatives that will benefit from the silent auction proceeds.
In terms of the logistics of the fundraising efforts, you'll need to collect donations from local businesses or individuals for the silent auction. Be sure to get a variety of items, so there's something for everyone.
To reduce costs, it can be helpful to ask for donations from local restaurants and service providers to help cover the costs of food, decorations and other similar expenses. And, use an event planning checklist to ensure the event goes smoothly.

3. Host a Brunch Fundraiser
If you're able to, plan a holiday brunch fundraiser at your school on a Saturday or Sunday morning so that parents can enjoy some alone time with other adults. Make it feel a bit upscale, relaxing and like a mini morning retreat away from the chaos of home during the holidays. If you're interested in making it fun for the whole family, host a Breakfast with Santa event. Have school volunteers whip up holiday-themed dishes, make hot cocoa and decorate the cafeteria like a mini-Santa village.
Charge guests a fixed price for bottomless buffet-style brunch or offer tickets for a three-course set holiday brunch menu. If Santa's there, you can sell photo sets with Santa.
Either way, this is a great fundraising idea that allows you to offer something that a family would participate in on a weekend morning anyway. It makes it easy to fit into their schedules.

4. Hold a Holiday Raffle
Whether it's part of a larger event or a standalone fundraiser, raffles are a pretty simple idea to integrate into your list of Christmas fundraisers for schools. Raffles are designed to raise money for your school anytime but during the holidays you can have some great Christmas-themed and holiday-themed items up for grabs. Some great holiday raffle ideas include:
A weekend stay at a bed and breakfast.

Christmas gift baskets that feature donated items from local stores.

Gift certificates to help families save after holiday spending.
The idea behind a successful holiday raffle is to make whatever you're raffling off relevant to the time of year. In this case, parents are likely exhausted from all the festivities and are running low on cash. Therefore, any way you can help them remedy those situations is going to be best.
If you're including a raffle as part of a holiday soiree or multicultural fair, then we suggest making the raffle relevant to that event as well. This just helps create a cohesive theme for the fundraiser.
5. Organize a Dining Out Event in the Community
As is the case with any fundraising idea, it's best if you're able to positively impact businesses in your local community while you raise money for your school or organization. This makes a dining out event one of the best school fundraising ideas regardless of the time of year.
To start, reach out to local restaurants in your community and propose a deal that works for both parties. In this case, you'd be sending families to eat at a specific restaurant on an evening or for an entire week. In return for sending them more business, your school would receive a portion of the profits (this is usually anywhere between 5% to 25% but it's up to you and the restaurant).
If you want to really stick to the holiday theme, see if the restaurant is willing to craft holiday-themed dishes or add special desserts such as gingerbread cookies, pumpkin pie or even Kwanzaa dishes.
6. Host a Holiday Concert Series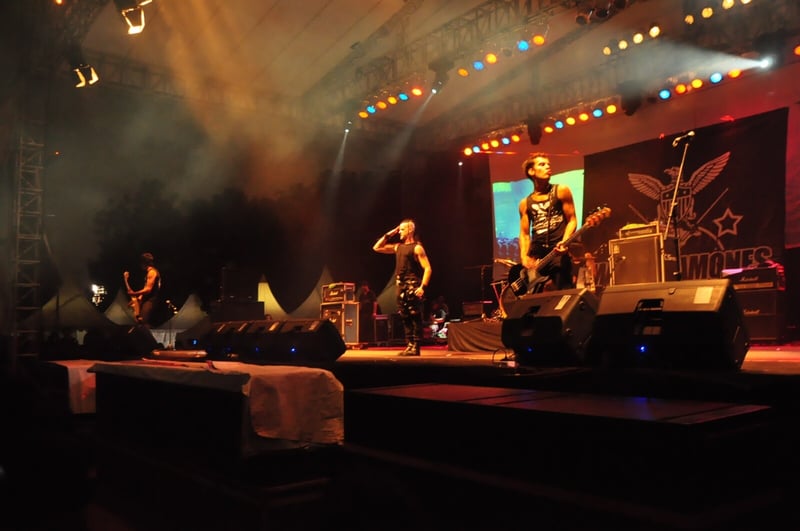 What better way to showcase your students' talents than by hosting a holiday concert series? After all, parents love seeing their children engaged in special activities and the holidays are a great time for anything musical.
To pull off this type of Christmas fundraiser for schools, however, you're really going to need to ensure you're on top of event planning. We'd suggest having a great ticketing system in place to sell tickets. In the case of a larger concert, it's ideal to assign seating so your school ticketing platform should provide you with the ability to do that as well.
To further increase the value of the event you're hosting, you can sell or offer refreshments, create eye-catching programs for the concerts and decorate the stage with a holiday or winter theme. Overall, however, ensure the music is engaging and traditional for everyone to enjoy!
7. Sell Homemade Decorations
This is one of those fundraisers for schools that doubles as an engaging activity for students as well. Throughout the holidays, it's likely that your teachers are engaging in holiday-themed activities with their classes. Have teachers plan a day or two of decoration workshops where children get the chance to craft their own ornaments, wreaths and other decorations.
Then, during a bake sale, holiday gala or even during the concerts mentioned above, offer the decorations for sale. Most families are willing to purchase these handmade decorations as they perfectly capture the sweetness and innocence of children during the holidays.
8. Plan a Holiday-Themed Quiz Night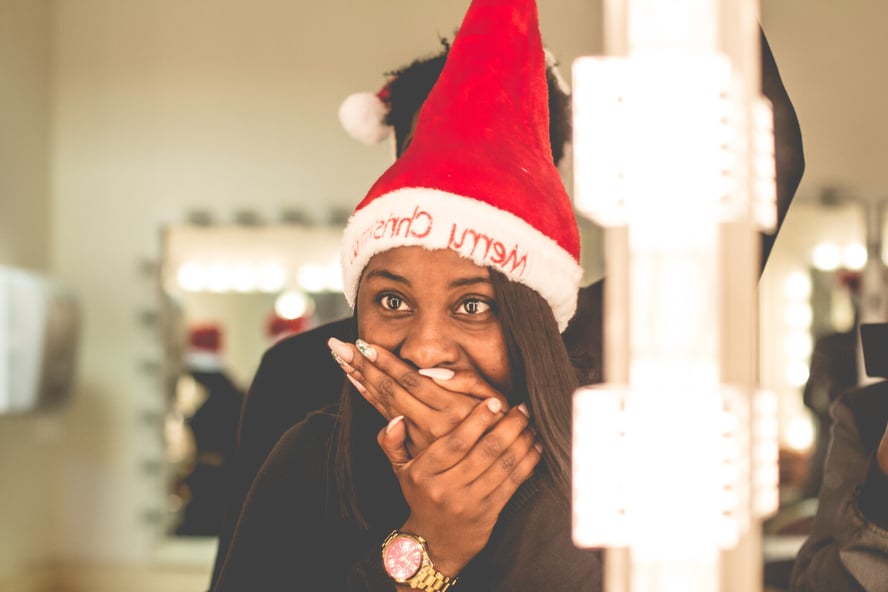 Adapt this idea to fit parents or students (or both). It doesn't matter; everybody can get behind a little competition around the holidays. To get started with this Christmas fundraising idea for schools, simply come up with a list of holiday-themed trivia questions. You can find inspiration online or in holiday movies and TV shows. Once you have your questions ready, send out invites.
On the night of the event, divide your group into teams and let the fun begin. The team with the most correct answers at the end of the quiz will be declared the winner. Offer a prize to the winning team, whether that's a week of "wear your pajamas to school" for students or something school-related like "free school lunch for a week" for parents of children that attend your school.
To make things even more festive, you can decorate your quiz space with holiday-themed items like garlands, lights and wreaths. And don't forget to serve up some holiday snacks and drinks.
Gingerbread cookies and hot cocoa are always a hit. And, to increase the amount of funds that you're able to raise, consider charging for premium snacks and drinks.
9. Sell Chocolate or Candies
Selling holiday treats is always a hit this time of year. And while it might not seem like you can raise a lot of money selling chestnuts and candies, it's actually a great way to raise a lot of money.
Because families and members of the community can purchase smaller items, they're more inclined to make the investment. So, think of what you'll sell. This could be anything from chocolate bars, chestnuts or decorated gingerbread cookies.
Then, choose from one of two options:
Set up a stall at your local mall, community center, or at the entrance of your school.

Let students order boxes or kits of chocolates or candies and sell them to family members and others.
If you opt for the second choice, then you'll need to set up some sort of prize system. Typically, this means offering a prize or incentive for the top seller in each grade.
However, you choose to set up this type of sale, make sure you're ordering high-quality food items. If the chocolate or candies are a hit, then families will be begging for you to bring them back next year as one of your Christmas fundraisers for schools events.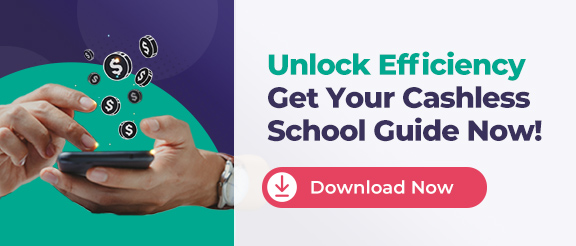 10. Plan a Series of Movie Nights
Are you looking for a convenient way to manage ticket sales, assign seats and process refunds? Check out our Box Office Software for School!
We all know parents need a break during the holidays. Yet, it's so hard to find a sitter because everybody else is busy, too. So, plan a series of holiday movie nights at school. If you can afford to, purchase a large projector and host the movie night in the gym or auditorium.
Set a "cinema" schedule with a movie each week or even twice a week. Popular family-friendly holiday films to show include The Grinch, Klaus, The Nutcracker, The Polar Express, Arthur Christmas and Frozen. Decorate the area like a winter wonderland or like a real movie theater. Then, allow parents to purchase tickets so that their children and their friends can view the movies.
While this requires parent or teacher chaperones to monitor the event, it's a great, simple way to raise funds for your school without too much planning.
11. Set Up a Gift Wrapping Station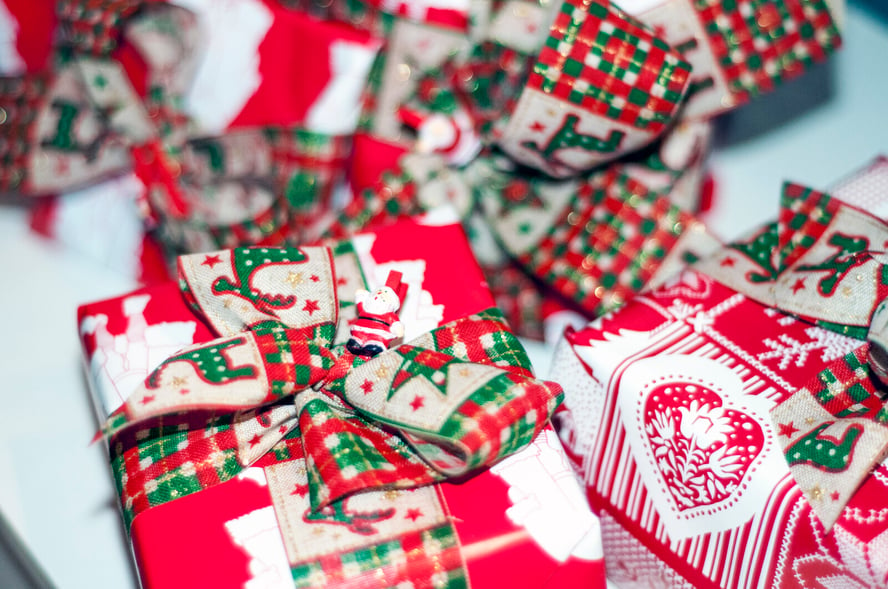 Another Christmas fundraisers for schools idea that can be extended to all cultures is to set up a gift wrapping station in your library. Create flyers, email blasts and social media posts about the gift-wrapping options and promote them to parents.
Sell the service for a small price per package. To make it even easier, offer the option of having parents drop off all gifts in one batch instead of coming in to have gifts wrapped one by one.
Create an organizational system and allow parents to pick the wrapped gifts up at the end of the school day.
*Note that you'll need to find a way to make this discreet. You don't want any students finding out what they're getting for Christmas.
12. Host a Multicultural Fair
A multicultural fair is not only a great school fundraising idea, but it's a fantastic way to promote various cultures and traditions around the holidays. Allow students or families to set up booths talking about various topics. For example, one child could have a booth about the different foods their family eats during Kwanzaa. Another could set up a station where other kids can spin the dreidel as part of Hanukkah traditions.
Sell tickets to the fair at a small price and add some other school fundraising ideas to the event. This could include a gift wrapping station, a cake walk or even simple holiday snacks such as hot cocoa, eggnog and Christmas cookies.
13. Sell Holiday Greeting Cards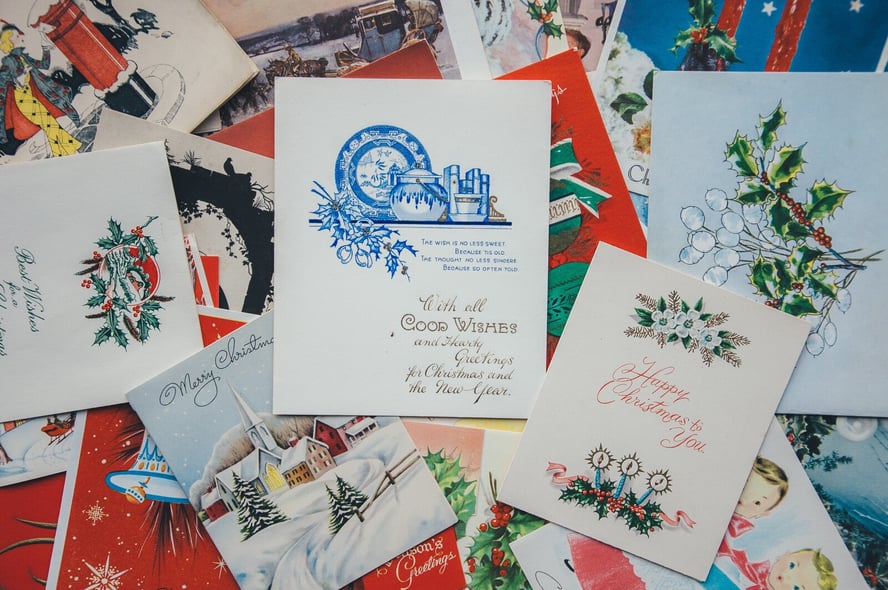 Most families send out cards around the holidays, and most families find it difficult to take photos and design the cards to send out. So why not offer this service to them? You can get as creative as you'd like with this Christmas fundraisers for schools idea.
This includes hiring a family photographer to take holiday-themed photos of families to put on the cards or working with a local design company to offer premium, personalized design services.
In any case, the goal is to help make the holidays easier for your students and their families. This way, you're offering something of value that parents will be happy to invest in. Even better - they'll get a precious holiday memory they'll cherish for years to come.
14. Organize a Polar Plunge
If your school is located somewhere where it gets cold around the holidays, host a polar plunge. The plunge should be held on a day when the weather is cool, and the water is not too cold. A good location is a nearby lake or pond. Then get the word out by posting fliers around school and sending emails to parents and guardians. Be sure to include information about why the money is being raised and how it will be used.
In terms of ticketing and fundraising, it usually works one of two ways with a polar plunge:
You can require that attendees pay a set registration fee.
You can require attendees to get sponsors. (These sponsors pay a set amount for each second or minute that the attendee stays in the cold water.)
Now it's time to take the plunge! Cheer on your participants as they take the plunge into the cold water. Be sure to have towels and warm clothes on hand for after the swim.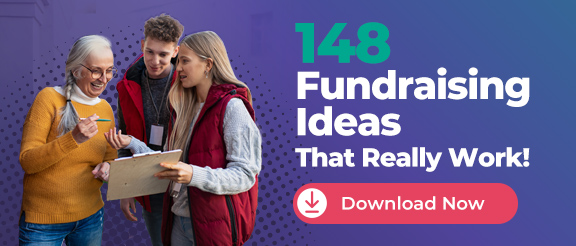 15. Create Santa's Village for Visits
Sure, parents can take their children to the mall to see Santa each year, but we all know how crowded and unpleasant the mall can be during the holidays. Instead take advantage of the mall chaos with some Christmas fundraisers for schools including building a special Santa Village at school.
Some unique ways to make this even more fun and interactive include setting up a "reindeer" petting zoo, having a decoration-making station and offering a reading corner where volunteers read Christmas stories to children.
Charge an entry fee for the "travel ticket" to Santa's Village and then sell treats around the event wherever it makes sense. Be sure to set up a Santa Tracker station, too!
16. Offer Christmas Tree Disposal Services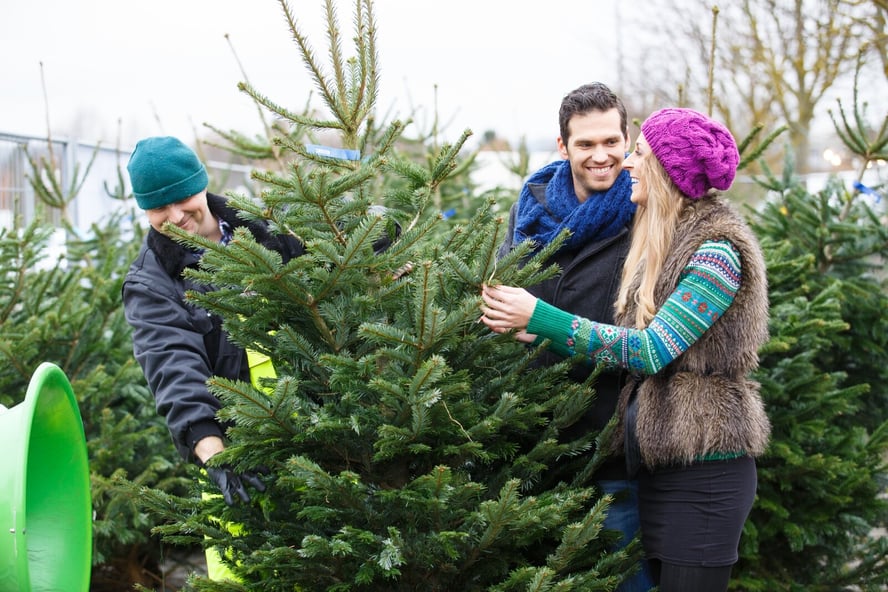 It may seem counterintuitive, but Christmas fundraisers for schools can be extended beyond, well, Christmas, Hanukkah and Kwanzaa. One extended holiday fundraising idea for schools is to offer tree disposal services to families. Send out an email to parents about a week before the holiday break at school to let them know they can schedule their pickup via an online system. Then gather volunteers to help you make the rounds.
Visit the address listed on the pickup request and remove the Christmas tree from the family's house. Even better, work with a local recycling company or farm to ensure you're disposing of the trees in an eco-friendly manner.

17. Host an Ugly Sweater Contest
It wouldn't be a list of holiday fundraising ideas for schools without an ugly sweater contest. To turn this type of contest into a fundraiser, participants pay an entry fee to potentially win a prize for having the ugliest sweater.
To further promote the event, post pictures of everybody who enters on your school's social media pages. Get them involved in voting or upload entries to a webpage where families can directly vote on their favorite. If you really want to ensure students are engaged, have all your teachers participate. Students love nothing more than watching their teachers dress up in silly clothes, so this could increase the engagement of the fundraiser.
18. Plan a Polar Express Pajama Party
All aboard the Polar Express with one of our favorite holiday fundraising ideas for schools. This fundraising idea is similar to the Santa's Village idea. However, instead of creating Santa's Village, you'll be creating a set that's similar to the train the Polar Express. If you can contact your local train station or railway company to see if they'd be willing to host the event for you then that'd be even better. However, you can also create the setting in your school's gym or auditorium as well.
Sell "Polar Express train tickets." If you want to get really creative, offer "first class" tickets to families interested in accessing "first class" spaces with more games, snacks, or activities.
Polar Express-themed snacks are always a hit. This could include a hot chocolate bar with different toppings like marshmallows, whipped cream and sprinkles. Make sure you have enough food and drinks for everyone.
And of course, you'll need a copy of the Polar Express movie to play on a big screen or projector. Have a plan for activities during the movie. Some ideas include making holiday crafts, playing Polar Express bingo or writing letters to Santa.
19. Organize a New Year's Eve Lock-In
You can easily extend the Christmas fundraisers for schools' season into the next year. New Year's Eve is a popular time for school-age kids to stay up late and celebrate. But why not take the opportunity to also raise some money for your school? A New Year's Eve lock-in is a great way to do just that.
First enlist the help of some parent volunteers. You'll need at least one adult per 10 kids, and more if you have a large group. Next, set a price for admission and start promoting the event. Put up flyers around school and in the community. Spread the word on social media, too.
On the night of the event, check everyone in at the door and collect the admission fee. Then it's time to party. Set up some fun activities like karaoke, dance competitions or board games. And don't forget the snacks. Once midnight arrives, ring in the New Year with a bang and send everyone home with a goodie bag full of New Year's treats.
20. Plan a Winter Carnival
If you're able to really go big with your fundraiser and aren't interested in hosting an adults-only holiday gala, then we suggest hosting a winter carnival. This is also a great way to incorporate
different holidays into one event that's non-denominational.
Some popular carnival games include snowman building, cookie decorating and hot cocoa drinking contests. You'll also need to decide on food options and arrange for music and entertainment. This is a great opportunity to promote local artists and even student bands.
21. Host a Bake-Off
This last holiday fundraising idea is for all the bakers in your school's community looking for the recognition they deserve. Sell entry tickets to the contest per dish. This means that if one parent wants to enter five dishes into the contest then they'll have to purchase five tickets.
Then you can either have a team of teacher judges judge the best dish. Or, to add a special twist, have a small group of students judge the contest. Post their comments about each dish with the results for an additional element of fun. Post the winner of each category on social media and offer a small prize for their efforts.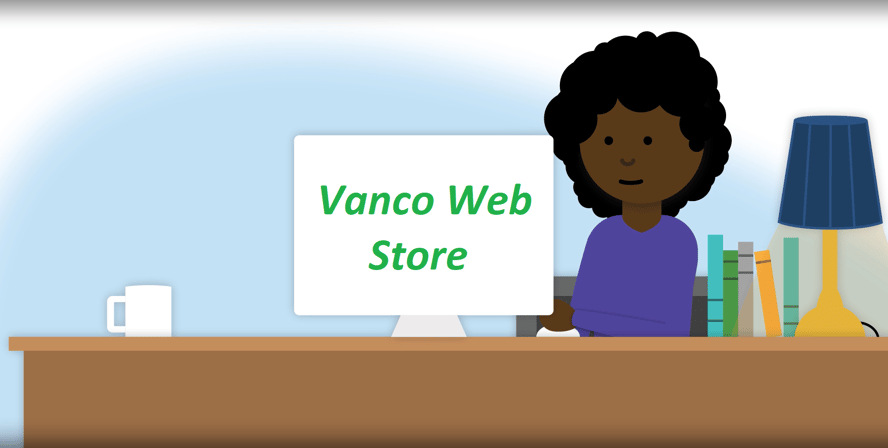 One of the best Christmas fundraisers for schools is selling holiday-themed school pride items. However, selling school spirit is in vogue year-round in your online school store. Depending on the fundraising software you use for your school, you can have a whole ecommerce store set up for you, no DIY necessary. This store will run around the clock, raising revenue for key programs that might not have enough traditional funding. Discover how easy it is to get started with one of the most powerful fundraising tools available, Vanco's online school store software. Take just seven minutes to get started. Watch our short online demo.
https://www.vancopayments.com/education/blog/school-fundraising-ideas