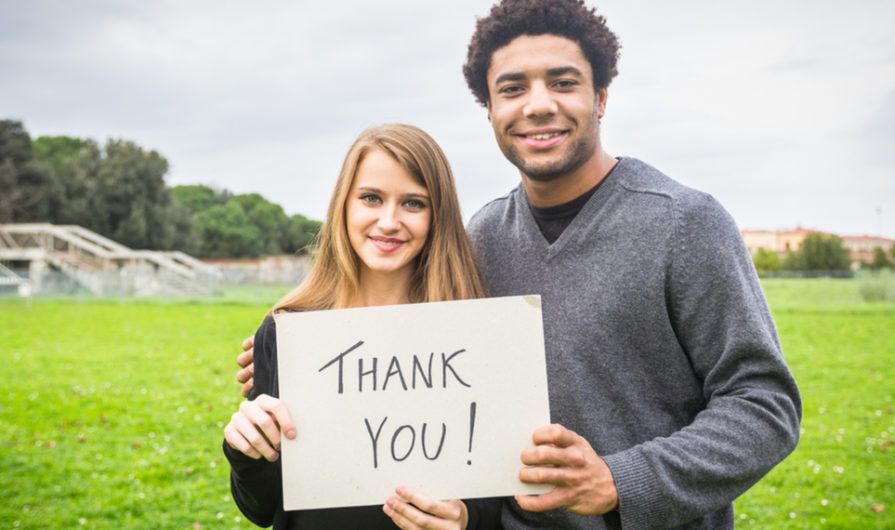 The number of church leaders I engage with who have no process for saying "thank you" to those who contribute to and support local church ministry is shocking to me. I've heard just about every reason you can imagine:
"Well, that's what they're supposed to do. Why should I thank them for minimum behavior?"
"We don't want anyone to know that someone knows what they give."
"We don't want to appear as though we are playing favorites."
"We don't want to give special treatment to those who can afford to give."
"God will reward them for their generosity."
Deep within those justifications is the real heart of the matter: Free-will tithes and offerings are quite simply expected of the people in the pew by many of those who stand in the pulpit. Why should you thank someone if you expect them to do it? That assumption is a fundamental obstacle to leaders who wish to create a culture of stewardship and generosity in their congregation.
When was the last time anyone thanked givers in your church?
I don't mean a generic, blanket statement from the platform. I mean a specific, personal and thoughtful expression of gratitude. I bet that most people would say never. This is truly astonishing given that the frequency and size of the average gift in most churches is exponentially higher than most nonprofits experience.
Experts tell us there are roughly 1.2 million to 1.5 million nonprofits in the world today. If there are roughly 360,000 churches, then that means there are three to five non-church entities competing for the share of mind and share of wallet of every church member who sits in your pews. Without a more thoughtful approach to thanking the people who support the church, you risk redirecting funds from the proverbial offering plate to other causes and nonprofits.
Developing a culture of gratitude will ultimately impact the generosity of the people who occupy your pews. And the good news is, it's easier than you might think to get started. I often recommend four areas that offer opportunities for gratitude: first-time giving, annual giving, special giving and capital giving.
First-time giving
The first time you recognize someone as a giver isn't necessarily his or her first gift. It's the first time he or she has given in a way that can be identified and attributed to a specific donor or family. I could easily give to your church, and you might never know it. I could do that through something as simple as a cash donation or a slightly more complex vehicle, such as a donor-advised fund. But when I give to you in a way that can be tracked, it's because I want you to take notice.
This isn't about the need to affirm someone for good behavior. Rather, this is about appropriately recognizing that a spiritual event has taken place. If giving is an outward sign of an inward commitment, then the first recognizable gift is a mile marker.
I suggest a three-tier approach to responding to first-time gifts:
$1 - $999 – Letter on church letterhead that includes the giver's name and a real signature. The letter itself can be typed and printed, and I recommend that you use church stationery.
$1,000 to $4,999 – Personalized handwritten note from the senior pastor.
$5,000+ - Personal phone call from the senior pastor.
You want the giver to know that you recognized the gift, reaffirm you have a plan to use it and discover what prompted it. That will give you clues as to what resonated with the individual to cause the gift and how you might keep the giver engaged moving forward.
Annual giving
This is probably where most church leaders drop the ball. There are those in your church who steadily and faithfully give 12-24 times every year. You count on this stable middle tier of givers to give consistently and incrementally increase their annual gifts over time, yet this segment is often the most overlooked and undervalued.
Here is one tactic I've used successfully many times:
Host a "thank-a-thon" at least once a year. The best time to do this is around Thanksgiving, but you could also do it in the spring. Have a bank of volunteers make phone calls to everyone who has given at least $100 or more to your church in the current fiscal year. No volunteer knows what a person has given. The goal is simply a personal touch.
The script might go something like this:
"Hi, I'm Ethel, and I'm calling on behalf of Your Favorite Church to say thank you for your generosity. I have no idea how much you have given, and I'm not calling you to ask you for more. I simply want to say thank you. We can deliver on our mission to reach people and minister to others in meaningful ways because of you."
You'll stop most people in their tracks. Very few have ever been called and thanked for their giving. And I promise you have a group of phone warriors that will be glad to participate. Every time I've counseled a church to do this, I receive a call the following week with stories of how much of a positive impact such a small act of gratitude made on the people who made the calls and those who received them.
Special giving
When someone makes a gift for a short-term project, initiative or goal, I recommend that whoever is coordinating the effort reach out in a personal way (a handwritten note or phone call) to express excitement about the gift. Reaffirm the purpose of the project and the impact you intend to make. Then invite the giver to participate in the mission delivery, even if you have to get creative.
Special giving is a wonderful way to inspire first-time gifts, invite your regular givers to stretch and even invite some to be exceptionally generous. It's vital that your plan to engage, encourage and grow your special project supporters be tied to your core systems, as this can be an important entry point for new givers who are more inclined or familiar with project-based giving rather than ongoing operational support.
Capital giving
Lots of time and energy is spent preparing the congregation to make a stretch goal. It often involves amending lifestyles, choosing to delay certain activities like buying a car, foregoing vacations or simply prioritizing philanthropic support. If you aren't careful, broad-based communication can make an individual sacrifice feel unimportant.
A capital giving commitment, unlike most gifts, is often substantial by design. You should honor that through personalized storytelling that is relevant to the life stage and interest of the giver rather than generic project updates.
Segmentation, storytelling and filling in the gaps between Sundays is essential. Find ways to deliver an ongoing stream of stories that consistently reaffirm how gifts are being used and the difference they're making. Again, if possible, invite segments to participate in the mission delivery to make it tangible and real for the giver.
Giving thanks to those who faithfully support local church ministry should not be a chore or luxury. It is at the heart of encouraging people of faith to act in faith and make an impact through their church. Building a culture of gratitude, communication and transparency will result in trust, commitment and support that can and will fully fund your ministry plan.
Never underestimate the power of saying "thank you" to a giver, supporter or donor. It means you noticed, which means they matter. You'll change a life and multiply your future ministry funding potential. I promise.
Reflect: Does your church exhibit gratitude in how you communicate and engage your supporters? Do you have a defined process and owner who is responsible for designing and deploying a system around giving thanks? How would your relationship with your financial supporters change if you were intentional about saying thank you in relevant, timely and specific ways? What impact might that have on their future financial commitments?