If you're seeking April newsletter preschool ideas, you came to the right place.
Spring officially arrives in the Northern Hemisphere on March 20. But most of us wouldn't say it was spring until about April, when the crocus and daffodils started to bloom.
April is an exciting and fun month. Spring has finally arrived and there are lots of things to do outside. The kids have been cooped up for too long, so it's a great time to plan exciting outdoor activities and colorful newsletter for parents.
What's not to love about April, after all it's the start of spring and you can now say goodbye to those cold long nights indoors. So here are some excellent April newsletter preschool ideas that brought some joy to our inbox this month. If you need some April preschool newsletter inspiration, keep reading for ideas!
April Daycare Newsletter – Use Free Templates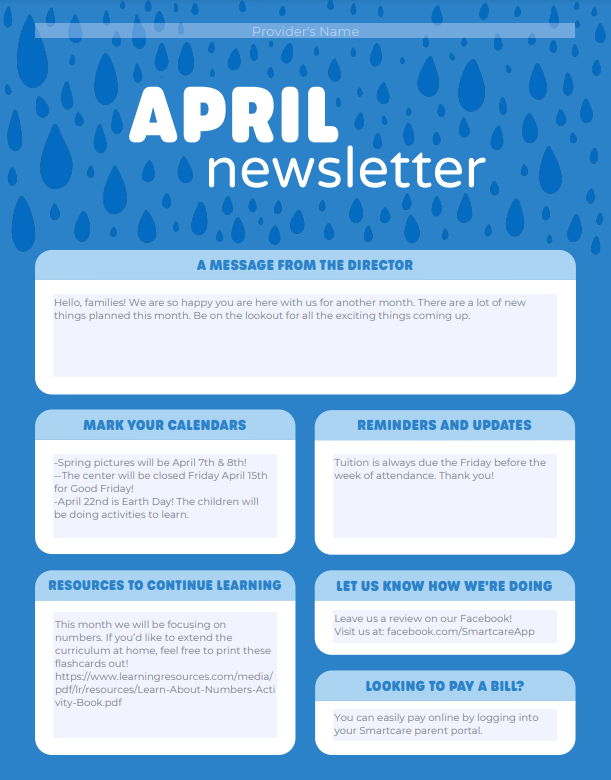 Don't worry about finding time to create the perfect April newsletter content. To save you time, we built an April newsletter preschool template. This template is editable and printable. All you need to do is remove the sample text after downloading and enter your own copy.
By using this free April newsletter daycare template, you won't have to spend time on design. You'll also get ideas for what to write with our sample text. Download the
free template now!
Want a Free Daycare/Preschool Newsletter Template for Every Month?
Download our editable and printable templates for every month of the year at no cost!

April Fool's Occasion
April Fools is the day of fun, laughter and pranks. Ensure that your newsletter is read cover to cover with a unique challenge for your readers.
For your April newsletter preschool idea, you could send your parents a game where they must guess which answers are false and which one is correct. Make your questions funny and totally outrageous.
The winner will win a prize from you! It's a fun way to see who your readers like the most and increase newsletter loyalty. It's a good April Fool's Day trick.
Earth Day
On the day that was created to remember and to celebrate the need to take care of our green Earth, we create a free ecologically based offer.
For your preschool newsletter for April, you could give tips on how to be more eco-friendly. This is a good time to begin teaching children about the Earth and how to live an eco-accommodating life!
You could also create a fun event that involves parents or just students helping plant more trees! This is a great chance to get outside and get our hands dirty.
Welcome Spring
April is the month when all of us start thinking about spring cleaning. Why not do it right now? You could inform parents about how you plan on having the kids help organize the daycare for summer! You can feature your ideas for Spring as one of your April newsletter preschool ideas.
Graduation Season
If you have older students who are beginning Kindergarten the next year or even starting preschool, this is a great time to highlight those students in your April newsletter. You could take cute caps and gown photos or share how your preschool or daycare will help prepare their children for their next journey.
Holidays
Life is made up of little moments. April is a month of many holidays, including such special times as Easter, Passover and Earth Day. It's a good month for organization campaigns to help you celebrate these family occasions and milestones.
People all over the world look forward to these special times of year. They're warm, happy and full of great memories. Help your guests enjoy the best parts of these occasions by sharing your favorite recipes and how you'll be celebrating in your daycare in your newsletter.
For Easter you could look on Pinterest for exciting craft ideas to send home to their parents or take photos of to include in your monthly newsletter, like coloring eggs.
Holidays always make great filler content if you're running low on ideas!
World Autism Awareness Day
On April 2nd, World Autism Awareness Day is celebrated. From dealing with the stigma of being different to seeing the world uniquely, everything about being autistic is an inspiring story.
Use a portion of your April newsletter to share a feel-good story with your readers. Spread awareness of Autism during April and make it a month of accomplishment, service, and friendship. You could also link to credible charities.
National Find a Rainbow Day
April showers bring flowers AND rainbows. April 3rd is a fun social media holiday! It is National Find a Rainbow Day. A great preschool newsletter for April idea is to create a month-long challenge for parents and their children to spot rain. Whoever spots the coolest rainbow wins. This idea will keep children on the lookout and give parents and their kids a fun activity to participate in together.
Share a Highlight of The Month
In case you're searching for the month-to-month newsletter ideas, a fun segment is to highlight something awesome the students learned, funny story, or a student who is really excelling.
You could also highlight helpful tips for each month. This will help you plan on what you'd like to share.
Happy Parent Reviews
At the end of each newsletter, you could incorporate happy reviews left by parents and encourage other parents to leave a review and maybe they'll get featured. Truth be told, ninety-two percent of individuals depend on the guidance of companions before committing to daycare. Reviews are amazing for business!
Looking for Newsletter Ideas for More Months?
Check out these free monthly newsletter guides to find ideas that will work for the rest of the year!