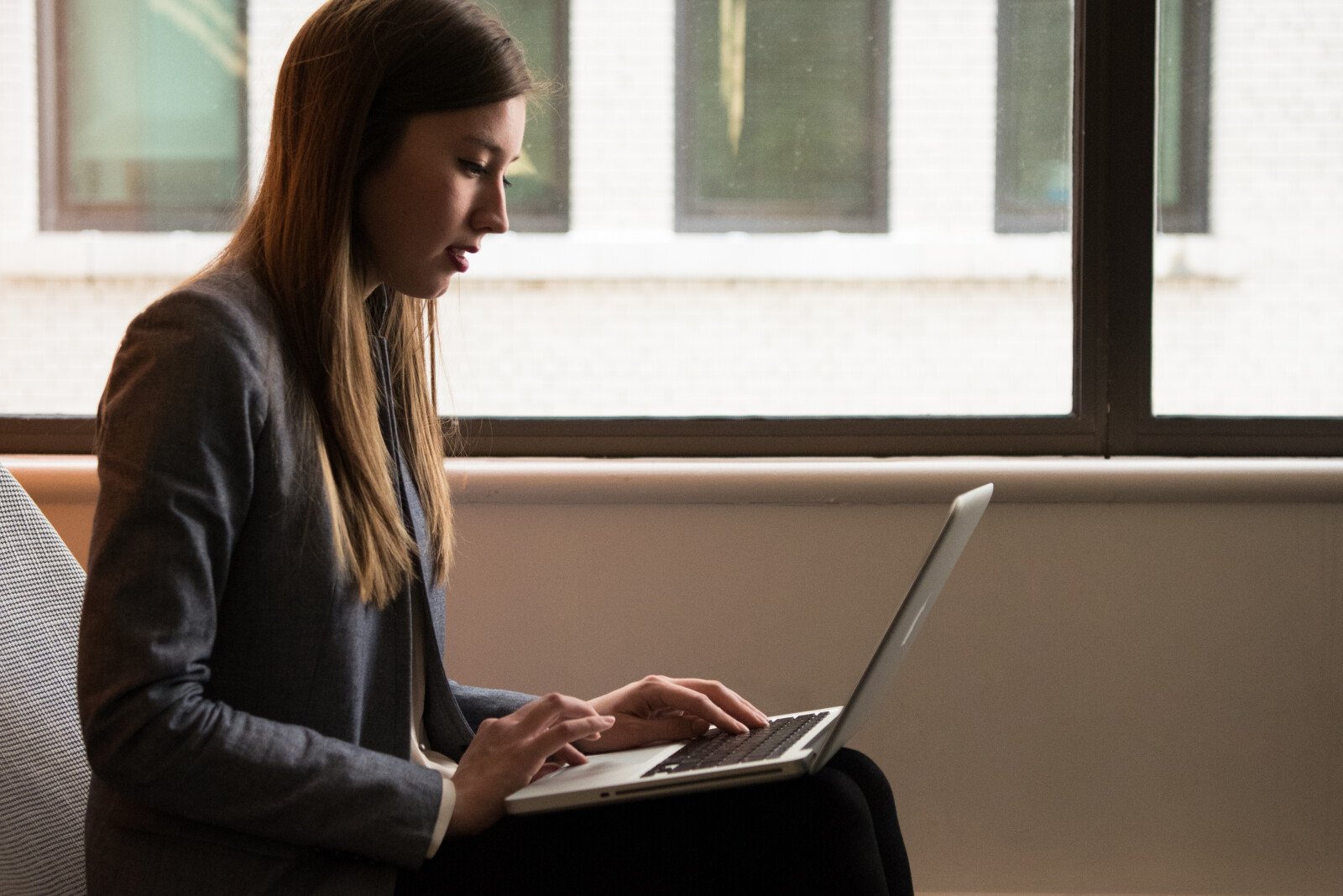 Table of Contents
There are many reasons you need to communicate to parents about day-to-day activities and operations happening in your daycare center, and some basic daycare letter to parents templates can help. From welcoming new families and children to announcing holiday closures and celebrating the end of the school year, templates make this part of your job easier.
Templates also help you create letters from daycare to parents on more sensitive topics, such as tuition increases, daycare terminations, and unplanned closings.
This guide includes several daycare letter to parents templates to help you communicate with families clearly, transparently and sensitively. Keep reading or use the Table of Contents to find information and templates on topics you need to send letters about.
Best Practices for a Daycare Letter to Parents
Writing daycare letters to parents is not always the easiest task. You need to make sure you cover all the right points and do it in a manner that is clear to both parties. With over 11% of children in America in daycare, this could be a lot of letters, which can be daunting.
So how can you write letters that work?
Read on to learn how to write a letter from daycare to parents, get some best practices and get daycare letter to parents templates that can help.
Introduce Yourself
No matter how many letters you've written to parents before, you should always reintroduce yourself to the parents of the children you teach.
Whether it is a daycare payment letter or something else, you should provide:
Your name

Your relationship with the child (teacher, principal, staff member, etc.)

Your role
Explain the Reason for the Letter
When you write a letter home to the parents of the kids at daycare, explain why you are sending it. Be direct. Beating around the bush doesn't get your point across or provide information parents need.
You should be sure to say something like this:
I am writing this letter to [insert reason].
This gives a clear indication why you are sending the letter. You should have a set list of reasons for sending letters to help you be concise, for example:
I am writing this letter to...
Welcome you to our new daycare

Inform you about payments

Give you vital contact information

Inform you about your child's progress
There are many other reasons you may send letters, but these are some of the most popular ones.
Give Contact Information
Once you explain the reason for the letter and provide all the information you want parents to receive, you need to give contact information.
Most likely, you will not get a letter back. Because of that, you should give your email address, a phone number and a backup phone number for another person who can address the concern or issue at the daycare if you are not available.
Other Best Practices
When writing a letter home to parents, also keep a few other things in mind.
For starters, be concise. It is important to get straight to the point without adding fluff. This could cause misunderstandings.
Also, keep it short. While letters will vary in length depending on what you are writing about, you don't want to make them longer than they have to be.
Finally, be kind and phrase your information carefully and professionally.
Daycare Letters to Parents Templates
Now that you have the basic best practices for writing a daycare letter to parents, you're ready for the next step: selecting a template. Because writing a letter from daycare to parents can be time-consuming, we built several templates to help you get started.
Begin the process by selecting a daycare letter to parents template that suits your purposes. We built several templates to ensure you have an example for any need. Once you select the template, read it and personalize it to your daycare and the specific situation and details.
After making your adjustments, be sure to reread the letter or have another staff member do a quick proofread to ensure it's clear and accurate. Once you've done that, you're ready to send your letter by mail, email or a physical handoff when parents pick up their children.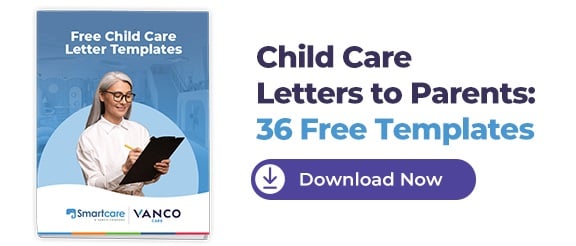 Free Daycare Payment Letter Template and Guide
Recent surveys have found that 53% of invoices are paid by as much as 60 days late. Collecting payments on time is crucial to your continued success as a small business owner.
So what do you do if your daycare customers aren't paying their invoices on time? What course of action should you take? If you don't collect unpaid invoices, you risk the success of your business.
If you find yourself in this situation, keep reading. We're here to give you all the information you need about sending a daycare payment letter.
When to Send a Daycare Payment Letter
How do you know when it's the right time to send a daycare payment letter? The first thing to do is to review your daycare policies. If you have anything about late payments or nonpayments in your policy, it may indicate how to handle this situation.
However, if you don't have a late payment clause in your daycare policy, you'll need to assess each situation separately. It's also strongly recommended to amend your policies for future reference.
Ultimately, it's entirely up to you, the daycare owner, to decide when to send a letter to parents. Factors to consider when making this decision are how often you send payment invoices, how late the payment is and how urgently you need it paid.
How to Avoid Future Late Payments
If your child care center clients are paying their invoices late, you can do a few things to change this. Let's take a look at three easy solutions.
Amend Your Daycare Policy
This will help let new customers know the repercussions of making late payments. If you will charge late fees, this is the time to mention them.
Add a Late Fee
No one likes paying more than they have to, so adding a late fee to these bills might encourage more timely payments.
Review Payment Options
If you're still collecting payments traditionally, it may be time to consider adding digital payment methods so your clients have more options.
Send Reminders
Finally, you can send out reminders before invoices are officially late to nudge your clients to be prompt with their payments.
Daycare Letter to Parents Template
If you've decided it's time to send a daycare payment letter to parents, now you have to write it. Feel free to use our template below or use it as a guide to suit your requirements. You can copy and paste the text into your own document or use the editable document our team created by clicking on the image.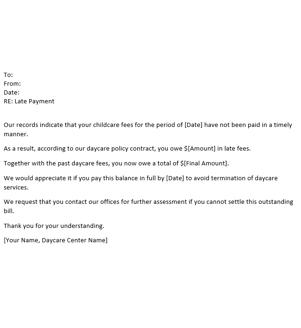 Late Payment Notice
To:
From:
Date:
RE: Late Payment
Our records indicate that your childcare fees for the period of [Date] have not been paid in a timely manner.
As a result, according to our daycare policy contract, you owe $[Amount] in late fees.
Together with the past daycare fees, you now owe a total of $[Final Amount].
We would appreciate it if you pay this balance in full by [Date] to avoid termination of daycare services.
We request that you contact our offices for further assessment if you cannot settle this outstanding bill.
Thanking you for your understanding.
[Your Name, Daycare Center Name]
Welcome Letter to Parents from Daycare Template and Guide
According to research, 71% of customers end their relationships with companies due to poor customer service. So how do you, as a daycare owner, ensure your customers are happy?
One easy way to do that is to send a welcome letter to parents from daycare. Whether you send snail mail or email, welcoming new families to your business is a great way to start these relationships positively.
But what should you include in this letter to parents? Is there a style guide to follow? Keep reading for our recommendations and templates.
Childcare Welcome Letters
Sending welcome letters is more than just an excellent way to let your daycare parents know about important information. It also helps start these relationships on the right foot and helps you build rapport with your customers from day one.
When new parents join your daycare program, sending them a childcare welcome letter lets them know you value their business and can help them feel more at ease if they need to speak to you about something in the future.
What to Include
Your daycare welcome letter should include all the information your families may need while their children are in your care. Include some or all of this information in your letter:
Daycare address

Hours of operation (including drop-off and pickup times)

Holiday closing dates

Telephone numbers (including after hours, if available)

Any fee information (such as penalties for late payments, etc.)
Feel free to include any other information you want your daycare parents to have on hand at the start of their relationship with your daycare center.
Welcome Letter to Parents From Daycare Examples
If you're stuck on what to include in your daycare welcome letter, we've got a daycare letter to parents template or two you can use for inspiration when writing your own.
Dear Parent/Guardian,
This is an official letter to thank you for joining [Daycare Name] for your childcare requirements. We are honored that you have chosen to entrust us with your childcare and can assure you that [Child's Name] is in good hands.
Here at [Daycare Name], we strive to provide a strong foundation for your child that will serve them well in their educational career. We promise to provide a challenging learning environment and a friendly and secure personal atmosphere so your child can flourish.
Please note the following essential information you need for the term ahead.
Daycare Hours: [Open Days and Times]
Drop-Off Time(s): [Time]
Pickup Time(s): [Time]
Penalties and Late Fees: Please be aware that a late fee of $[Amount] will be charged for any pickups that occur 30 minutes after closing and an additional $[Amount] every 15 minutes after that.
We would also like to inform you that a penalty fee of $[Amount] will be added to your account for outstanding invoice payments that are delayed by one week or more.
Please feel free to discuss any concerns or issues you may have with us at any time. Thank you for choosing [Daycare Name] to care for your child(ren). We look forward to providing your child(ren) with the best possible care.
Office Contact Number: [Telephone Number]
Kind regards,
[Daycare Name]
Looking for a Preschool Welcome Letter?
A preschool welcome letter to parents doesn't have to be a time-consuming endeavor. Check out this free resource that includes an early childhood teacher welcome letter to parents from daycare.
Daycare Holiday Closing Letter to Parents Samples
Whether you run a large daycare service or have a home daycare, shutting down for the holidays is essential. As a business owner, you must recharge to prepare for the following year.
As the holidays approach, you may be preparing to close for the year. But how do you let your clients know the details of your holiday closure?
If you're focusing on your holiday preparations, keep reading for our daycare holiday closing letter to parents samples to help you.
Holiday Prep as a Daycare Center
Sending a daycare holiday closing letter is essential for several reasons. The most important reason is that it gives parents time to plan alternative arrangements while the daycare is closed over the holiday period.
It's important to remember that not every parent can take a vacation at the same time your daycare closes, so they will need as much time as possible to make other plans for this period.
Your holiday preparation should include deciding which holidays you will be closed on, marking them on the calendar and letting your clients know well beforehand.
Daycare Holiday Closing Letter to Parents Sample Options
We have the solution if you are unsure what to include in your letter to parents. Below are three options to use as a daycare letter to parents template. They are ready to use as is or as inspiration when writing your own letter. You can copy and paste the text into your own document. Or you can click on the images to download the editable document.
Daycare Letter Sample #1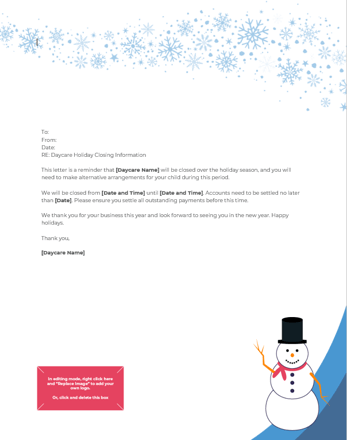 To:
From:
Date:
RE: Daycare Holiday Closing Information
This letter is a reminder that [Daycare Name] will be closed over the holiday season, and you will need to make alternative arrangements for your child over this period.
We will be closed from [Date and Time] until [Date and Time]. Accounts need to be settled no later than [Date]. Please ensure you settle all outstanding payments before this time.
We thank you for your business this year and look forward to seeing you in the new year. Happy holidays.
Thank you,
[Daycare Name]
Daycare Letter Sample #2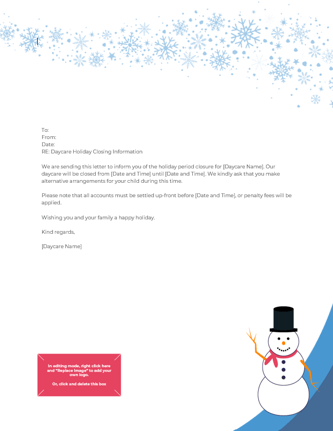 To:
From:
Date:
RE: Daycare Holiday Closing Information
We are sending this letter to inform you of the holiday period closure for [Daycare Name]. Our daycare will be closed from [Date and Time] until [Date and Time]. We kindly ask that you make alternative arrangements for your child during this time.
Please note that all accounts must be settled up-front before [Date and Time], or penalty fees will be applied.
Wishing you and your family a happy holiday.
Kind regards,
Daycare Name]
Daycare Letter Sample #3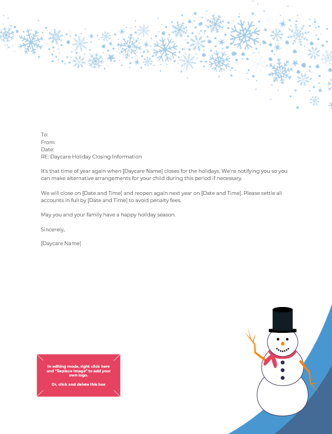 To:
From:
Date:
RE: Daycare Holiday Closing Information
It's that time of year again when [Daycare Name] closes for the holidays. We're notifying you so you can make alternative arrangements for your child during this period if necessary.
We will close on [Date and Time] and reopen again next year on [Date and Time]. Please settle all accounts in full by [Date and Time] to avoid penalty fees.
May you and your family have a happy holiday season.
Sincerely,
[Daycare Name]
Daycare Tuition Increase Letter to Parents
To grow your business and keep up with rising costs of staff, supplies, expenses and other aspects of your daycare operation, you may occasionally need to increase your daycare tuition rates. This can be unwelcome news for parents, so it is important to explain the details of the tuition increase clearly to families. To help you send this message clearly and sensitively, you can use our free daycare tuition increase letter templates.
Daycare Termination Letter from Provider
As you run your daycare business, you will encounter situations where you will make the difficult decision to end daycare services for certain children and/or families. This is a challenging situation for you and the families involved, so it helps to be prepared with prewritten letters and language. Use our daycare termination guide to help you craft termination messages with care and sensitivity.
Daycare Closing Letter to Parents Sample
There are several reasons why you might need to close your daycare center unexpectedly — from illnesses and outbreaks to natural disasters or problems with your facility. It is important for your families to understand why you are closing the daycare and what they can expect going forward. Customize our free closing letter to parents template with the specifics of the situation and solutions and your expectations for reopening.
Preschool End-of-Year Letter to Parents
The end of the school year is a time for celebration for preschoolers and their parents, as these families move on to new schools and experiences. Tell these parents and children how much you have enjoyed your relationship with them using our free end-of-year letter templates.
Get 70+ Editable Daycare Templates for Almost Every Situation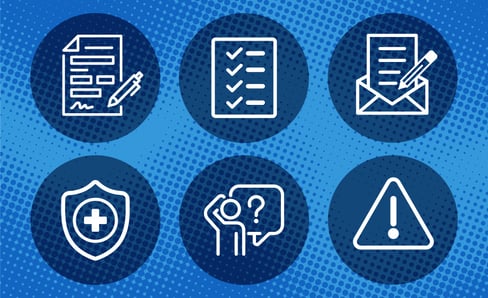 We know daycare providers like yourself are busy. That's why we made dozens of templates to help you manage the various aspects of your organization. From billing and invoicing to marketing materials, we have it all. Download all 70 today!