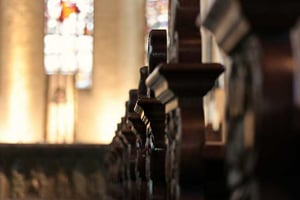 If you are unsure of where to get started when it comes to implementing effective church communication tools, don't worry—
You are not alone.
In this article, we will be answering all of your questions about the best church communication tools and how they can help your congregation thrive virtually and in-person.
The Importance of Effective Communication
In the church, communication is the key that unlocks God's message.
It may seem obvious that communication is important, but let's break down all of the different channels of communication that need to go well in order for a church congregation to work as a unit.
In order to bring the spiritual element to life, lots of logistical things need to get handled.
That's why church committees, leaders, stewards musicians, your pastor or priest and everyone in between needs to be able to communicate effectively.
Together, these individuals create a team where the following gets handled:
All elements of the service, from the sermon to the bulletin.
Planning ahead for each new church season.
Event planning. This can include fundraisers, mission trips, vacation Bible school, etc.
Budget planning. This includes church maintenance, salaries, service and more.
Crafting a message to foster a church community.
Beyond just communicating within the church leadership and committees, this group needs to be able to translate an overall message to the congregation and new visitors.
Even beyond just the church community, the church often needs to communicate to the surrounding community to coordinate events, promote a positive message and engage new church-goers.
Here are the different ways effective communication in the church can help your congregation:
Transparent and honest communication can help individuals feel safe in expressing their concerns. When people can voice themselves, they are more likely to work together to build a better church, rather than just leaving the congregation.
Open and loving communication will help your church foster a close-knit community, no matter the demographic or the size of the congregation.
Effective communication is the best way to call people towards ministry. Turning ideas and messages into action is a hope for any congregation.
Consistent communication helps to keep people informed. At the bare minimum, communication keeps everyone on the same page about events, deadlines and expectations.
Promotes giving. In a

virtual environment, effective church communication tools can help create smooth transactions and promote the importance of tithes and offerings.
Putting in the time to create a smooth, efficient, and transparent communication system between your church members, church leaders, and the community is the foundation of an amazing community.

5 Church Communication Tools to Implement Now
With so many different communication tools on the market, it can be difficult to narrow down exactly what you need for your church communication.
One piece of advice is to just get two to four communication tools, rather than overloading your staff and yourself with a ton of new tools that may be overwhelming.
Instead of looking for communication tools that just do one or two specific things for your team, find tools and platforms that offer a variety of communication options!
Here are our top 4 picks for church communication tools that you should implement today!
Vanco Mobile is a perfect communication tool for churches that have had to move to virtual services, or simply want to let members connect with one another outside of Sunday service.
Here are a few ways Vanco mobile can help your close-knit church community:
Seating capacity management: Until things fully open back up, this platform allows you to manage in-person church services and events while maintaining safety for your community. You can feel at total-ease knowing the mobile app is doing the heavy lifting for you when it comes to running an event.
eGiving: This platform will allow your members to easily view the different causes your church is raising money for and give online! They will be able to view images and posts about the different causes so that they are compelled to meet their monthly and yearly giving goals. Since the traditional tithes and offerings may be absent from the service for some time, this is a solution you can get up-and-running quickly to meet the needs of your church and community.
Overall communication: Having one application that has multiple checkpoints serves as an incredible touchpoint for your entire congregation. It will show a calendar for when in-person or virtual events are taking place and allows them to keep church communication organized.
Beyond just facilitating church services or virtual communication, here are a few ways that Vanco Mobile can help your community get back to a more regular routine of events:
Bible Study: This app will allow members to attend group study virtually.
Prayer Groups: Whether scheduling an in-person and outside prayer group, or a virtual one, Vanco Mobile allows you to connect and meet up for the power of prayer.
Volunteering: Vanco Mobile helps you organize the logistical element of volunteering. It can assist you in keeping track of attendance, fundraising, tasks completed and more.
Pastor Conversations: Vanco Mobile can serve as the touchpoint for your pastor and your church members to communicate. This makes communication more accessible for everyone so that members can get the spiritual guidance they need.
Currently, Vanco Mobile is offered for free!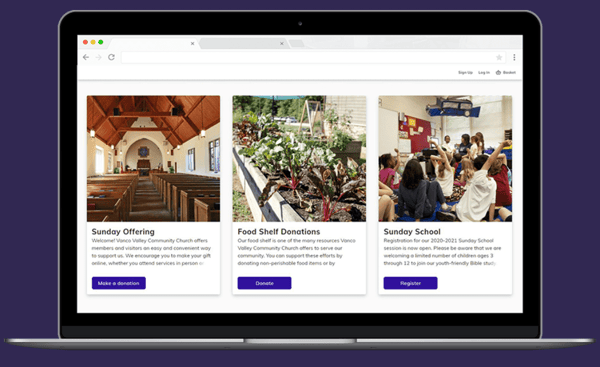 Vanco online is a platform for eGiving.
With many services moving to a virtual platform, Vanco Online allows you to set up an easy giving solution for your church members.
Church members will be able to head over to the platform to see the different causes your church is raising money for. Here are just a few examples:
Sunday Giving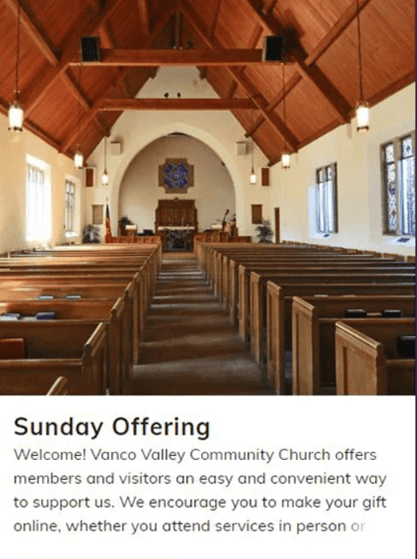 Sunday School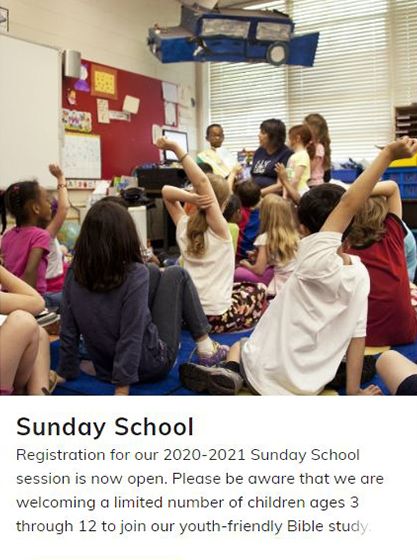 Food Shelf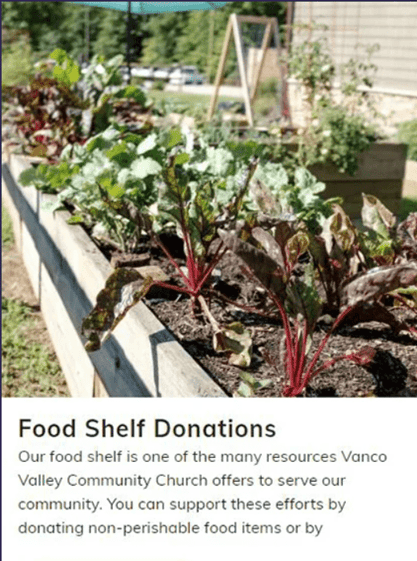 Members are able to give just one-time donations or make a pledge for auto-pay throughout the entire year. This helps families stay organized and feel secure in their weekly or monthly gift.
Since being in person and being able to tell the story behind the cause is often extremely compelling, Vanco online allows your church staff to post pictures and give a written explanation of the cause.
That way church members know exactly what their money is going to support!
This platform will be handy even when things go back to normal and people are in-person. It can be an extension of your traditional tithes and offering.
Here are a few advantages of implementing this church communication tool into your congregation:
It allows those that are not comfortable to meet in person to continue to give.
When people are traveling or on vacation, they will still have a giving option for your church.
It simplifies counting funds for your church staff.
When your congregation makes a yearly pledge, it allows your church committee to gauge a more accurate budget for the whole year.
Vanco online has been offering this service for over 20+ years, and they guarantee the strictest security encryption so your congregation can feel safe.
To get started, you are able to request a demo to see if this is compatible with your church community!
3. Facebook for Nonprofits
Creating an online presence on Facebook can help both your church community connect as well as reach the outside community and potential members.
Creating a Facebook page for nonprofits will allow your church to articulate its goals and its mission in one place.
This can assist you with a few things:
Fundraising.
Creating a brand for your church.
Organizing community events.
Offering educational resources.
Creating a Facebook page can seem simple enough. However, it can quickly fall into some level of disorganization if your team isn't intentional about it.
Here are a few guiding questions you can ask along the way to create a clear message and consistent online presence:
Who will be running the Facebook page? It is best to designate just one to two people so it does not get disorganized.
Who is your target audience? This page could serve solely your congregation or the community. Keep in mind who you are trying to reach.
How will you measure your success? At this stage, set a goal. Whether you are trying to share a piece of educational content, fundraise, etc, set measurable goals for what takes place on your page.
Creating this page is free!
4. Canva
Do you have a weekly or monthly newsletter?
Want to create an event poster?
Looking to tell a story for a fundraiser?
Then you will definitely want to add Canva to your church communication tools!
Canva makes designing different written materials easy and beautiful. They have tons of templates to use so that you can share the exact message that you are trying to get across.
Here are just a few different categories of templates they offer:
Flyers.
Resumes.
Business Cards.
Newsletters.
Poster.
Stickers.
Canva makes it easy to add graphics, add custom images and get the formatting exactly right. This platform has a free option, as well as a premium option. The free option on this platform will take you far and is totally adequate for any of your written materials.
However, they also have a nonprofit option that churches are eligible for!
Once you create your message in Canva, it is easy to share this via e-mail, print it out or post it to a website.
Signing up is easy and only requires an e-mail address. From there, you can create a specific "team" for your church committees to easily share designs between members.
Bonus Tool - Free Virtual Ministry eBook
Vanco has created a detailed resource that covers every aspect of setting up a virtual ministry, including 16 more, low-cost or free church communication tools . Download the eBook to learn...
Why every church needs to offer virtual worship.
How to build the foundation of your virtual ministry.
An easy way to build a virtual home for your church without spending a fortune.
A full list of inexpensive or free worship tech tools for setting up your online church.
The steps that will show anyone how to produce a high-end production for an online church service.