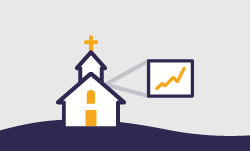 Although many Christians struggle with tithing, it is part of our faith and should be acknowledged as a joy and a blessing. Some churches emphasize the need to give so much that it comes across as desperate or as if you are "buying your salvation".
By refocusing your church's messaging on tithing, you can increase church giving. This messaging can foster a community of biblically minded individuals.
Read on to learn more for advice on increasing giving at church.
Importance of the Tithe
Participation in the tithe was a requirement of Old Testament Law. The Israelites were to give 10% of their crops and livestock to the temple. This requirement of tithing became a regular practice of Christianity.
Leviticus 27:30 says, "Every tithe of the land, whether of the seed of the land or of the fruit of the trees, is the Lord's; it is holy to the Lord." It is important for churches to emphasize the biblical roots of giving.
Many members of a congregation either feel as if the tithe is unimportant or as if the church is seeking financial support. It is important to share the biblical reasoning for tithing.
Make sure your church frames giving properly. They are inviting congregants to participate in the blessing of tithing rather than asking for a full donation basket.
Don't Always Talk About Fundraising
The feeling donors get when they feel as if they are constantly being bombarded with donation requests is "donor fatigue".
Fatigued donors feel drained and have little emotional investment to make purposeful donations. To reduce donor fatigue, don't always talk about the need for monetary donations to the church.
Constantly asking for funds makes you seem desperate. It also makes congregants feel as if you only value their financial contributions and not the community and fellowship that they add to the church.
Biblical Stewardship
By shaping messaging around biblical stewardship you are able to share the importance of living a life of giving. This also removes the pressure to give on your congregants. Biblical stewardship is taking the gifts god has planted in your life and using those gifts to continue to build and glorify his kingdom.
Christians are blessed by Jesus's sacrifice and are expected to bring all they have to their lord and trust in him. Christians should feel secure in sharing their worldly treasures with God and his church. Viewing tithing as this level of trust allows followers to take one step closer to Christ by bringing what we have before him.
It can be difficult to keep his plan in focus when churches push messages about numeric goals while passing around the donation basket. The messaging of biblical stewardship allows congregants to bring their riches to god to further glorify him.
Online Giving
Online giving has become a way to introduce modern tithing. Through the use of online giving churches can provide real-time projections of how much they have raised. Online giving also helps generate more recurring donations from members.
Automatic Giving
Individuals are able to set up a set donation amount to be donated each week or month. This ability to use a recurring payment plan can help to better forecast donations for the year. Automatic giving grants churches the ability to look ahead when defining projects which are supported by giving.
If you're interested in finding tested techniques for boosting recurring gifts, check out this free guide to get started.
Donations at Your Fingertips
Many people no longer carry around cash or a checkbook. Through online giving, you can make donating as easy as clicking a button.
Through online giving, we have seen an increase in donations. This is because credit cards and digital payment methods, have grown in popularity. By providing mobile giving, churches can provide a quick and accessible way to donate.
Mobile giving apps, can also come with additional features that simplify virtual services. This resource covers just a few of those features.
Provide Financial Coaching for the Church Community
Many churches offer services such as counseling or financial coaching. These additional learning opportunities allow for the church to provide valued resources.
Through free coaching services, churches can enlist experienced faith-driven financial advisors. These advisors can help families manage their finances. These services allow the church to give back to its community.
Financial coaching through the church can be used to help families be financially responsible and stay afloat. During these coaching classes, financial coaches can encourage you to plan your tithes to your budget.
Share Blessings That Tithes Have Bestowed
When the church's financial burdens leak into teachings it can make the tithe feel more like a burden than a blessing. It is important for church communities to discuss donating as a way of support, rather than an obligation.
This can be done by sharing the stories of blessings bestowed through funds previously raised through donation. By sharing an impactful story, people will feel much more motivated to give.
You can put a purpose behind the donation by providing testimonies. This can be sharing stories from families who are financially supported by the church. Sharing stories from missionary trips also put a sense of purpose behind the donation.
People are willing to part with their hard-earned income if they know the blessings can work towards God's plan. One of the greatest tips to encourage church donations is to show the blessings you can bestow with a donation.
Giving Is About Trusting
The tithe is an opportunity for you to aid in granting blessings on earth. Giving is not about money, it's about trusting in god.
The tithe is about trust. Giving what you have, not a set amount. For someone with everything versus someone with nothing, the tithe should still be challenging. In Proverbs 11:24 it says, "One gives freely, yet grows all the richer; another withholds what he should give, and only suffers want".
Tithing is not about being fiscally unwise. It's about being willing to give freely. It is about acknowledging that what we have is because of him and that we can give it up to further his plans. By putting your sacrifice before him, you are showing you are willing to be a tool for his plan in his kingdom.
Engage All Generations
When thinking of philanthropists, think of married couples or older members of your church. This is because these individuals are settled and have more flexibility in their income status.
However, it is important that fundraising campaigns are targeted at people in all stages of life. By targeting all generations in your messaging of giving, you are increasing your donor base.
Youth Giving Initiative
An idea to produce long-term benefit for your church community is to engage in a youth giving Initiative. Your church can challenge the youth group participants to fundraise or donate up to a set figure. This is a fun competitive way to get young people involved.
Typically, people in the youth group are not working full time and are saving money from working part-time, holiday gifts or their allowance. It is expected that a youth initiative will not be bringing in high-dollar donations unless parents get involved in writing a check.
Encouraging giving at a young age can help to foster a spirit of gratitude and giving amongst a generation.
Long-Term Growth
Instilling a love and habit of philanthropy at a young age can cultivate lifelong donors for your congregation.
By inviting youth into a generous church culture you can establish lifelong habits. Your youth fundraising campaign may not be bountiful with large sum donations. By engaging the youth you are creating a new donor base that will grow in sum as these individuals enter the workforce.
Advertise Short-Term Campaigns for a Cause
Congregants feel accomplished knowing their financial contribution created positive change. That is why creating a short-term campaign for a specific cause can lead to a jolt in church donations. Some ideas for short term campaigns can include:
Hosting an annual Christmas giving tree to provide toys to children within families undergoing financial struggles.
Sending a group of teens and young adults on a mission trip to share the gospel.
Providing a meal for first responders or for the local homeless shelter.
By providing a goal and purpose behind donations, people will feel as if they are able to take ownership in that cause. Donations become more valued with a purpose or vision behind them. Short-term campaigns for a cause are also an effective way of shaking off donor fatigue.
Promote Giving With an Event
Promoting donations outside of weekly church services is a great idea. Not only to boost numbers but to build community amongst your congregation. By promoting giving with an event, you provide a platform to bring people together and really focus on the message and vision of the church.
An event outside of regular services encourages weekly donors to donate. It also encourages members outside the congregation or part-time members to participate in the weekly tithe.
Online Virtual Event
Hosting a large in-person event may have a sizable cost. Creating a special occasion to highlight the spirit of giving can be done through an online event. Through online payment methods, you can encourage donations throughout the duration of your virtual event.
Some ideas for online virtual fundraisers for your church include bringing in a special speaker, having a virtual worship night featuring the church band or hosting a round table. At a round table, congregants get to engage in active dialogue with members of the church staff about the gospel.
In-Person Fundraiser
In-person events can raise money through ticket sales, bonus activities such as silent auctions or open donation opportunities. Churches can host in-person events such as a churchwide dinner, church concert or bringing in a keynote speaker.
In-person fundraisers allow churches to set prices for a profit or rely solely on donations to reach financial goals. Ticket sales and bonus activities may not raise funds with a solely generous intent. However, they are very effective at helping to set goals and make projections for profit from in-person events.
Community events such as community dinners, concerts and speakers allow our congregants to gather. At these events, printed materials can showcase information for online giving and a short pitch can be given on the collection. It is important that the focal point of this kind of event is not the dollar sign.
Promote Christ-Like Behavior to Increase Church Giving
Efforts to increase church giving do not have to mean pushing your congregation to give more during weekly services. Building a church centered around philanthropy is about more than wanting the donation basket to be full. Through effective framing of the tithe, you can encourage a generous church community. Sending a thank you message for all types of donations helps promote generosity within your church.
Get the Free eBook to Improve Church Stewardship
Keeping the lights on, the doors open and missions funded isn't what inspired most church leaders to pick their career, but it is key to the health of the church and the congregation. Discover how to become a master of church stewardship with our ultimate guide.