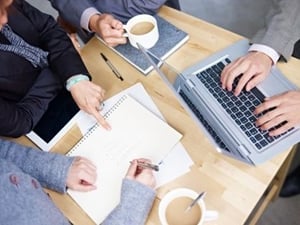 Who is in charge of church finances? It's different for every faith-based organization. But at some point key decisions – like accepting electronic contributions or tithing – are likely to be discussed and decided with the help of a stewardship committee. If you don't have a stewardship committee, you probably do have a group of senior people that oversee the financial decisions of the church. When discussing electronic giving there are four key areas that we find come up in the conversation.
1) Will this change overall giving?
With 15,000 clients using our online and mobile giving options, we can say that many clients tell us that overall giving increases once the electronic option is offered. Also, we hear very frequently that donation flow is much more consistent and even throughout the year. Will this be true for your church too? Probably, but how you implement and communicate it to your congregation will be critical.
An eGiving solution helps younger people in particular keep donation intentions and pledges since a high proportion use less cash and checks. But eGiving also helps with other demographics. It provides sort of a "fifth Sunday" each month for churches because when people cannot attend weekly services because of other obligations, vacations, etc. they can still tithe and donate on a scheduled basis. Even seniors who do not spend as much time online, enjoy the convenience of eGiving.
Whether it is the pastor making an appeal at services, marketing in the church bulletin and via email, direct mail, and your website, the churches that are most successful with eGiving put together an organized communication plan.
2) What is the impact on staff?
Your stewardship committee will want to know how eGiving affects daily operations. Launching the program is user-friendly and does not require advanced IT knowledge. We provide a customized link that goes behind a GIVE NOW button. Managing eGiving is easy too, with the ability to quickly create custom reports by account or fund, by member, by time period, and more. Marketing online giving to members does take some effort just like any new event or initiative the church sponsors. Member sign-up can be done online or with a paper form.
Also, if you are using one of the many church management systems available on the market, chances are great we already integrate our reports into their system. That means little or no additional administrative burden for the church staff.
3) What is the cost of eGiving?
The monthly cost of eGiving is very minimal, and that's why even in small congregations it is low-risk and can pay for itself with just one or two modest donations. The cost of ACH or e-Check payments are a matter of cents, not dollars, and can easily be absorbed. Other costs like transaction fees can comprise 2 to 3 percent of the total donation. Churches can provide an option for members who want to use credit cards to pay for the processing fee as part of their donation.
Many years ago churches were concerned that offering e-giving would only increase costs and not increase giving. However, today fewer people carry cash and very few people bring their checkbooks with them. Instead, we find donors appreciate that the church is taking their lifestyle and convenience into account. In return, most find that electronic donations are set up as monthly or weekly donations, deducted directly from the members' accounts.
4) How do I select a provider?
Some of the key decision points clients have told us include:
Security:

Can I trust that member information will be safe?
Integration:

Will the electronic giving solution integrate with other church management software?
Deposits:

Will the money be deposited swiftly into accounts?
Costs:

Are there hidden and inflated fees?
Flexibility:

Is there flexibility so that funds can easily be directed into multiple accounts that support operations, a building fund, mission trips, etc.?
Support:

What resources are provided to build a successful eGiving program and how responsive is the customer service team?
An important item to prepare for your church stewardship committee is an accounting of historical giving trends and current finances for your organization. In addition, showing general data about the significant drop in the number of people that carry cash or use checks, and the rise in mobile and online bill payment would explain the key drivers behind the growth of electronic giving options for faith-based organizations.
If you look up the definition of stewardship it says, the careful and responsible management of something entrusted to one's care. Your stewardship committee will appreciate knowing the important facts about e-Giving so that they can make an informed recommendation or decision.