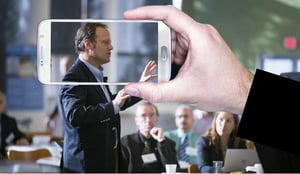 With social media platforms like Facebook, churches can now conduct services online. Today, we will look at some Facebook Live ideas for churches to use in their ministry.
For Starters
Before we proceed with these Facebook Live ideas, you need to set up the page for your church first. Start with creating your own Facebook account and then create a Business Page. This page will be where you can set up live streaming for church services.
Another factor is that you can start small with your streaming equipment. You can go as small as a smartphone capable of streaming your service.
If you want to take it a level higher, you will need to pay attention to these items. The camera and the lighting for the visuals. The sound system and then the computer that will conduct the streaming and the editing.
These would prove to be formidable pieces for your tech team. Although this opens up new duties that other ministers can join in. The church works hand in hand with this, opening up various ways to do fulfill their ministry.

Have a Welcoming Slot Before the Service
Let us look at how you can use these ideas for your church live streams. Before starting the Sunday Service, consider setting up a sort of lobby. Here, everyone can gather as they log in.
This spot behaves as a welcoming area. During this part of the live-stream, you can greet and welcome. This is a good segment for your hosts to welcome the members and newcomers in.
With this approach, they need to have the chat open so that the hosts can also respond and comment. It also allows them to answer questions raised as they welcome. This adds a human element to the service.
From this point, you can transition towards the next part of the service. You can ease in towards collective singing. Here, the worship team can lead the congregation live.

If you use a hybrid setup, this would be a good time to ease the segment in. Hybrid setups blend pre-recorded segments with live portions.
Provide Opportunities to Encourage and Discuss
The beauty of online services is in the interaction. Facebook Live has a feature where comments and reactions appear in real-time midstream. This allows a more interactive experience during the service, which helps when encouraging and ministering to people.
This can lend well in a lot of portions of the service, though this would boil down to how the flow of segments should be. One instance is the welcoming segment. Here, you can have members and viewers use the chat to greet and encourage each other.
Meanwhile, during the sermon, the members can voice their affirmations in chat. Also, viewers have an opportunity to respond during an altar call. They can even provide their prayer requests.
As a pointer for this, have people assigned as hosts for the chat. This way, they can respond promptly while also having the necessary moderation controls.
One situation you would encounter is in case someone has a prayer request that they want to raise. Another is if they have a question they want to ask. Here, the chat hosts can help them out and walk them through.
Go Beyond Sunday with Weekly Check-Ins
This is something that you can use during the week after the Sunday Service. Whether you use a broadcast, a live stream, or a hybrid of pre-recorded and live segments.
You can push towards using your church's Facebook Page. Here you have a more engaging and interactive channel for your congregation.
One of the segments that you can use is a sort of weekly check-in from the pastors. This can be a short interactive section where they give highlights or devotionals. They can even speak on a topic or offer questions and answers during the live stream.
This approach has that same feel and style as a podcast or a talking stream. Though in these segments, it can be an opportunity to teach and encourage. You can have viewers send in prayer requests.
Midweek Services for Encouragement and Prayer
In the middle of the week, you also need to find a way to run a midweek service. This can come in many approaches that you can take advantage of.
One of these is to treat it in the same degree and preparation as a Sunday Service. Where you can set it up using the Facebook Live feature.
The other alternatives you can use for this would be through a video call. Apps such as Zoom and Facebook Messenger work well for this.
With this approach, you would end up setting it as a prayer meeting. With how the platform works, you can use it as a tool to encourage and intercede together.
In case you go for Facebook Live, make sure to have the chat ready for interactions. You can opt for hybrid programming for your Midweek Service.
In this case, you have the worship segments as pre-recorded from your library of songs. You can go unplugged as the worship leader leads with the singing.
Whichever you use for your midweek services, always make it a point to cover it in prayer. You can even take the opportunity to start an online prayer ministry.
Get Creative With Segment Services
In this case, you can think of creating content for the rest of the week. These could include services designed for different age brackets and interest groups. With these services, you can also use them to reach out to new people.
You can take this in various ways. For instance, you can have a service that works as a hangout for young people.
Here, they can share their questions and thoughts. Meanwhile, you have an interview or a panel talking about a specific topic like a talk show or podcast.
Other times, you can also go for a pre-recorded episode. This is where your hosts and your guests would talk about life lessons while doing a fun activity.
For example, you can discuss life while also teaching about cooking. You can show the viewers how to prepare a particular dish featured at that time.
This is the part where you can mix creativity with teaching and encouraging. Before you go with this approach, consider checking your audience demographic in church. This gives you an insight into who you can invite and witness to this way.
Have Worship Time in Facebook Live Services
Singing together as a congregation is an integral part of communal worship. Having the opportunity to do that online makes the service feel genuine and natural. As part of the service, this is one that needs to be present.
Although there is a hurdle to overcome when it comes to music and copyright. You might need to secure a license.
This helps ensure you can play the song without causing the copyright system to flag the stream.
The type of licenses you'll need are performance licenses. These licenses allow churches to perform worship songs on stream without worry.
Mediums like YouTube and Facebook have different behaviors regarding that. So it would also need your keen eye on the matter to make sure it does not complicate.
Once you get past these hurdles on copyright, do not hold back with worshiping. This way, your worship team can lead without worrying about a copyright strike sniping down your live stream.
Encourage and Reflect with Daily/Weekly Devotionals
Ministry does not have to confine itself on a Sunday every week. You can still serve by keeping in touch with the church members. You can take this opportunity to encourage and minister through daily content.
In this case, pastors now have a means to share weekly or even daily devotionals to encourage. In this case, they can send in something as short as a snippet of their devotion entry as a post.
They can also go with a mix of photography and typography. Pastors with graphical expertise can use these to create insightful messages.
You can also take clips and snippets from the Sunday message. Take note of the takeaways and insightful quotes that come from it.
These snippets can work out as encouraging and reflective quotes. Have it include scripture as well for context.
Use Testimonies in a Creative Manner
A testimony attests and bears witness to how God moved in a person. It also bears witness to how God shows miracles in various ways. The good thing about these testimonies is that they bear the truth that can empower and encourage.
With testimonies, you can use this as a means to encourage and call believers to a moment to give thanks. Use storytelling methods and video editing. These can help you make the testimony presentable in visual form.
You can also present this in the form of an interview. The host has a predetermined set of questions that can guide and ease the testifying person to answer. It works great as it helps them open up and share.
Pairing testimonies with a good call to action helps in bringing everyone to give or to pray. Leverage these tools to minister.
Get Creative with Giving Exhortations
One of the hurdles in live streaming church services is in giving tithes and offerings. It may look like there are no channels available for giving exhortations. Thankfully, there are online solutions for that concern.
This leads us to online giving tools. With these, you provide church members and believers a channel where they can send their tithes and offerings. They also provide a seamless process, making it effortless and easy to do.
Now that we have what we would call an online offering plate, you also need a proper exhortation to encourage people to give. You can see an interesting variation with this as you go online.
You may choose to render a message in the form of a song, or you can opt to share a brief message on giving. As long as you have the means to call everyone to give, it would suffice. Take this chance to go for an inspired approach as you put it on either a live performance or as a video that you can show before directing them to the giving channels.
If you're looking for a video you can play during your online services, Vanco has built two church offering videos: one with sound and one without.
If you're looking for more videos to play during online or in-person worship, our team built prayer, welcome and countdown videos as well. To gain access to all our videos, including free instructional guides, subscribe to our YouTube channel today.
Show Scenes Behind These Facebook Live Ideas for Churches
Having a peek behind the production provides people an insight into how things work. It gives everyone a look at the tech team, the worship team and even the ministers behind logistics. You can take snaps of them in action or clips of everyone during the prep work.
This works well as part of the content you can share as you get closer to another during Sunday service. You can use these Facebook live ideas for churches to encourage and add a more lighthearted side to the production team's ministry.
You can also use this opportunity to introduce your church staff!
Getting to know more of the individuals involved in delivering the service to the viewers is a great way to make them feel like they belong. This makes it easier for them to feel comfortable as they watch more of the live stream.
Get Expert Guidance for Free
Vanco has created a detailed resource that covers every aspect of setting up a virtual ministry. Click on the resource below to get your own copy!