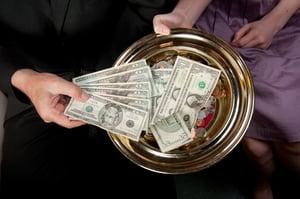 One of the most frequent questions we get from churches and nonprofits considering adding online giving options is whether e-Giving is growing the donation plate, or just replacing cash and check donations that would come in anyway.

It's a good question, and in the early days of electronic giving it was harder to make that distinction. But data now shows that online giving is growing at a much faster rate than overall giving.
How is this adding to the donation plate rather than replacing it?
- Recurring donors give substantially more per year than one-time or one-at-a-time donors. Electronic giving helps to ensure recurring donors can easily schedule payments even when they are away.
- Electronic payment options give young people in particular the means to participate in spontaneous giving options via text and kiosk, and recurring and one-time options via online donations on the church website.
- The average online or mobile donation tends to be substantially higher than cash or credit card donations.
The speedy growth of online giving points to its popularity among donors. Givers like online and mobile giving options because of convenience and control over the receipt for proof to the IRS about the donation. Some givers also like to funnel most expenditures through rewards cards to get miles and other benefits.
What many churches already using e-Giving want to know is:
- How do we increase recurring donations?
- How do we use our electronic payment tools to grow the donation plate and better fund our mission?
The success strategies of churches crushing the average
We have many clients who have found the right combination of outreach and electronic giving tools and are enjoying significant benefits to the donation plate. There are many lessons to borrow from these early adopters and you might be surprised at how non-technical the solutions are. Things like….
- Passion from the pulpit letting members know how e-Giving helps smooth out donation flow throughout the year, particularly in traditionally lean summer months.
- Putting an eGiving form in your annual mailed giving letter. Make sure to include specifics on why it's so helpful, and provide info for easy online sign-up or space to fill in manually.
- Getting your stewardship committee to help lead the way by personally getting in front of groups within the church to share what recurring e-Giving can do to help support the mission goals.
Here are some additional tips in our new case study, where eGiving has grown to a large percentage of the donation plate at this thriving church!

If you have not yet presented members with electronic payment options, you want to know – what is this going to do for us?

The data shows e-Giving is growing and it's growing the donation plate. What's holding you back? Here's a guide that answers frequently asked questions about what it's like to launch and manage e-Giving.
Download 10 Operational Questions to Ask About Online Giving
If you would like to have a conversation about your particular needs, we would love to help.